Tuesday 8th January 2019
Dealer Evening - Paula and Philip Cant will bring along their stock
(Report to follow)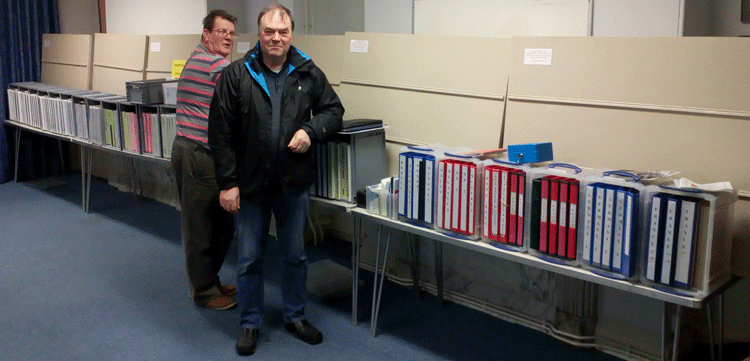 Philip and Martin setting up their stock for sale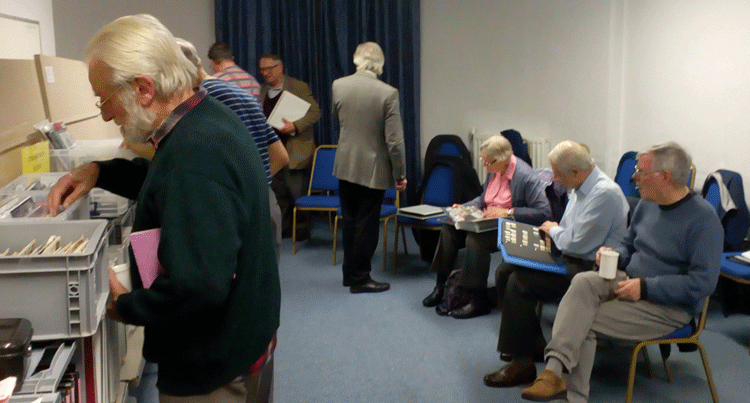 Members looking for new items
##############################################
Tuesday 11th December 2018
Christmas Meeting with Tony Flux from the National Trust with "Sir James Thornhill, a famous Weymouth son".
(Report and Images to follow)
uuuuuuuuuuuuuuuuuuuuuuuuuuuuuuuuuuuuuuuuuuuuuuuuuuuuuu
Tuesday 13th November 2018
Guest Speaker - David Muscott from Lyme Regis with "English Provincial Banknotes"

Ringwood Philatelic Society's November speaker was unusual– not only in being a prodigious collector and Dorset stamp dealer for 60 years, but having a specialist interest in English provincial banknotes. He quickly engaged his audience with superb displays of scarce material and fascinating stories. He had held various elevated positions in stamp and banknote "worlds", an example of the latter when being called as an expert court witness concerning banknote theft. David's presentation considered original South of England banknotes, demonstrating the subject's history and breadth followed by production processes and possibilities for forgery.Citing the famous Geoffrey Grant Catalogue, he described how Provincial (ie local city and town) banks were allowed to produce their own banknotes from 1780 onwards, with 1800-1830 being the main period for proliferation. A variety of locally produced notes of varying condition and rarity were displayed – many revealing skilled engraved designs and included design proofs, correspondence and orders for printing. Local banks were subject to licence fees to trade in their banknotes, taxed per note and fined for non-payment. From 1826 many banks became bankrupt not least from taxation, fraud and forgery. Note theft was prevalent and large rewards offered, for example after stagecoach robberies. From a law change in 1844, which prohibited smaller banks, many amalgamated or were taken over. All the banks now existing were from such amalgamations. All defunct notes had to be cancelled and many featured in the display. In 1921 the last English provincial bank ceased printing its own notes. Members greatly benefitted from this presentation, clearly having many philatelic links. A highly informed and experienced collector with lifetime trade and pastime knowledge, David Muscott is to be strongly recommended as a very engaging guest speaker.

| | |
| --- | --- |
| | |
| A Ringwood One Pound Note | David Muscott with President, Colin Mount |
(Gordon Masson/Paul Barry)

ssssssssssssssssssssssssssssssssssssssssssssssssssssssssssss
Tuesday 9th October
Waterlooville & District Philatelic Society visit to entertain us
Speakers: Paul Davidson & Malcolm Smith

Two eminent presentations from Members of this nearby society proved the point that 'local is good, very good'. Such evenings are usually shrouded in mystery where topic is concerned and this evening's was no exception. Paul's area of expertise was entitled 'The Exploration of the Great Southern Continent'. His display was of superb quality, well written-up and was philatelically illuminated by mainly mint stamps, postcards, covers and maps. There followed an historical account of exploration which covered in some detail the voyages of Magellan, Drake and in particular Cook, whose very primitive navigation skills and instruments were explained. The discovery of islands and icebergs encouraged further voyages, and the emergence of scientific intent, including the pursuit of the magnetic South Pole, were well described. Other explorers were celebrated, including the expeditions of Scott and Shackleton.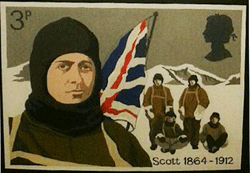 Using the full force of philatelic material in support, the second presentation was equally informative with 'Norfolk Island' being eminently described by Malcolm Smith, whose childhood collecting interests had been developed, covering this outpost of Empire. His progressive historical story-line was well partnered by stamps, some in blocks, postcards, air and official letters, handstamps and postmarks, pre-stamped envelopes, maps and a focus on the Royal Visit issue. Little known facts emerged, such as the island's use as a penal settlement. The level of information imparted, combined with enchanting, often colourful material combined to create a most memorable evening.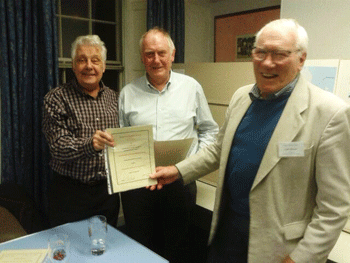 Certificate Presentation to Paul and Malcolm by Ringwood Club President, Colin Mount
(Paul Barry)
:::::::::::::::::::::::::::::::::::::::::::::::::::::::::::::::::::::::::::::::::::::::::::::::::::::::::::::::::::::::
Tuesday 11th September
Bob Neville from Headley in Surrey with "HMS Hood" and "Gibraltar Used Abroad"
The first section of this extensive display comprised a detailed study of the life and times of the battle–cruiser HMS Hood. This was the largest and most powerful battle-cruiser in the world in its time, the pride of the British Navy. In telling the story, the speaker, Bob Neville made excellent use of numerous mint and used stamps, correspondence, including postcards, an on-board baptismal certificate, photos and the front page from the News Chronicle, reporting the ship's loss and subsequent 4 day chase and eventual sinking of the German battleship 'Bismarck' by The Dorsetshire on 24th May 1941, some 400 miles west of Brest. The second area of study featured mainly Victorian Gibraltarian stamps, covers and correspondence. A special emphasis was concerned with famous printing varieties, one of particular note being a red 10 centimos stamp having no printed value. Alongside this rarity was compared a strip of 3 forged examples, these being the subject of expert consideration by the Royal Philatelic Society. The photo shows Society member Bert Burton, himself a specialist in these two topics, thanking Bob Neville for presenting his most interesting and scarce material, much appreciated by all present at this,
the first meeting in the annual programme.
| | | |
| --- | --- | --- |
| | | |
| Lettercard from HMS "Hood" | "HMS Hood" at sea | Flat "O" on top of "centimes" |
| | |
| --- | --- |
| | |
| Baptism Certificate from "HMS Hood" | Bert Burton presenting Bob Neville with his certificate |
(Paul Barry, Publicity Officer)
:::::::::::::::::::::::::::::::::::::::::::::::::::::::::::::::::::::::::::::::::::::::::::::::::::::::::::::::::::::::
Tuesday 10th July
51st Annual General Meeting followed by
"President's Guest Entertains"
Following the well attended AGM with award presentations, the Membership were greatly entertained by the President's Guest Speaker, Michael Elliott, Fellow of the Royal Philatelic Society London. His subject 'Aspects of Finnish Philately' provided a superb display of this little known collecting area, depicting stamps, postcards, covers and postmarks, further enhanced by write-up and exposition. Michael had inherited a lovely collection, which had provided the inspiration for further development. Emphasis was on the 1940s with 'the Winter War', the 'Continuation War' and 'Women at War'. This miserable slice of European history saw Finns fighting alongside German military against common enemy Russia. His knowledge was advanced by a most recent meeting with a local 93 year old lady who had nursed Finnish troops. The display contained a recently acquired postcard selection. Members were privileged to have access to this unique and scarce philatelic material, strongly emphasised by the vote of thanks.
| | |
| --- | --- |
| | |
| The President giving his Address | David Etchells receiving his two certificates from President, Colin Mount |
| | | |
| --- | --- | --- |
| | | |
| Map showing the 33 stations | 1997 miniature sheet showing the early trains | Cancelled TPO stamp as used from Helsinki to St Petersburg from1862 to 1918 |
| | | |
| Estonia Vounteer Army Censored cover to Finland with Deutche Feldpost mark | Estonian Volunteer Navy cover from Finland to Pernaud with blue cross showing insufficient postage paid | Women Soldiers singing in an Open Air Service, 1941 |
Paul Barry
=====================================
Tuesday 12th June
Guest Speaker - Paul Latham-Warde from Salisbury
with "And I still don't know what to collect"
No one felt sorry for Paul not knowing what to collect because by the end of the evening he had displayed some twenty different topics, some interconnected, giving a bird's eye view across the world of philatelic collecting.
Starting with a letter from Mary Murray to the Inspector of the Poor in Scotland complaining that she was not receiving enough support, Paul gave an illustrated and detailed insight into the Poor System which existed up to its replacement with the Poor Laws of 1834, which were harsh and draconian, designed to deter dependency on handouts. The Andover Workhouse Riots were covered and then the introduction of State Pensions in 1907, Health Stamps in 1911, Unemployment Stamps in 1920, all leading up to the National Insurance Contribution system in 1948. All this social history was illustrated by correspondence, covers, and seals of the time. This led into the topic of cinderellas, which Paul illustrated with part of his collection of the first 60 years of Christmas cinderellas issued by Boys Town, Nebrasca. He then showed his 9 sheet thematic slogan competition entry on the promotion of the British Telephone in the 1930s, closing the first half with another 9 sheet Open Class competition "Protest" covering a wide range of Protest movements, explaining for example the Suffragettes had chosen their colours of Green, White and Violet to represent Give Women Votes. A nice example of one of their seals was displayed.
Paul opened the second half with examples from the Irish Hospital Sweepstakes, whose lotteries were linked to horse racing raising millions of pounds from across the Atlantic for the smaller hospitals of the day. Money and tickets were sent through the post, but aliases and agents had to be used to avoid the ban on movement of these items from foreign sources. This led to two frames on postal fraud, fraudsters and a wide range of fraudulent practices, as well as fraud prevention measures - a whole subject in itself.
Moving on he displayed his collection of high value Castles, which though plentiful and cheap as stamps are not so when used on certificates, telegrams, inter-bank high value parcels, examples of which were illustrated. Then came a display of stamps and covers featuring barbed wire, patented in USA in 1874, of which there are currently 384 varieties. Next was concentration on a specific stamp, in this case the 5c Canadian Jubilee issue of 1897, displayed in a multitude of forms; then the first 25 years of rotary winged flying machines; colourful telegrams including the rare first use of the Valentine design; the British designer Andrew Restall; the 100th anniversary of the RAF and RAF censored mail, and finally a damaged letter from Calcutta with its ambulance envelope.
There was something and more for everyone and inspiration to find a topic and develop it - what an evening!!!
| | | |
| --- | --- | --- |
| | | |
| Essays for 1911 Unemployment Revenues | Christmas Cinderellas from Boys Town | Votes For Women Logo |
| | | |
| High Value Parcel label | Barbed Wire Miniature Sheet | Plate block of 4 x 5 cents |
| | | |
| The first ever Valentine Telegram | Ambulance cover for the Damaged Letter | The rescued letter from the Comet crash |
(chris wheeler)
oooooooooooooooooooooooooooooooooooooooooooooooooooooooooooooooooooooooooooooooooooooooo
Tuesday 8th May:- One Page Competition Evening
Congratulations were given to David Etchells for his winning entry "Earth Impact Events" with 24 points. Chris Wheeler was second with 22 points for his "Gerald Scarfe and his Stamps", with John in third place with 14 points for his entry "Straits Settlements Local Overprints".


The five entries in the 2018 Competition
____________________________________________________________________________________________________
To see reports and pictures of meetings from 2012 to early 2018, please click here