(The programme for 2021 has during the first part of the year been comprised of a series of five newsletters, called UNHINGED, which are now available to be read Ringwood Society's history page: please click here).
Subsequent issues of Unhinged will not appear on the Society's webpages
PROGRAMME FOR 2022 AND 2023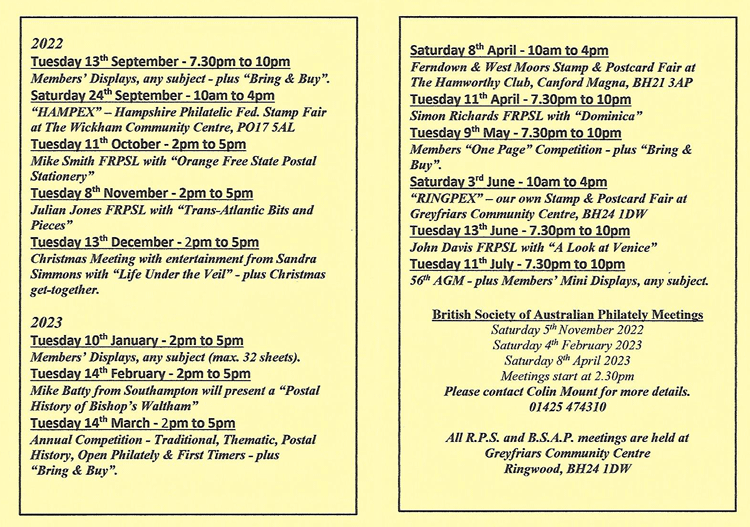 *****************************************************************************
PROGRAMME FOR 2021 AND 2022
********************************
RPS Members: Please be advised that the meeting due to be held on 11 January has had to be cancelled. The next meeting is now "Exploring Forgeries in your collection" on 8 February.
********************************
2021

14 September

7:30
Members' mini displays, plus Bring & Buy
12 October
2:00
"Basingstoke along the A30"
Martin Appleton
9 November
2:00
"The History of the Salvation Army", then "The Cause, Cure and History of the Plague Pandemics"
Chris Wheeler
14 December
7:30
***CANCELLED***
2022
11 January
2:00
***CANCELLED***
8 February
2:00
"Exploring Forgeries in your collection"
Members to bring along items from their collection
8 March
7:30
Annual Competition - Traditional, Thematic, Postal History, Open Philately and First Timers, plus Bring & Buy
12 April
7:30
"The Australian KGV 1d Red - The Early Story"
Colin Mount
10 May
7:30
Members' "One Page Competition" plus Bring & Buy
14 June
7:30
"Smithy and his Bus"
Susan Burn
13 July
7:30
55th AGM plus Entertainment
Past Meeting Reports
To see reports and pictures of meetings from 2012 to 2020, please click here
*********************************************************************************************************
Report on meeting held on Tuesday 14 June 2022

'Smithy and His Bus' by Susan Burn

Ringwood Philatelic Society welcomed again a much regarded speaker, Susan Burn, who as a major authority on the early history of Australian and New Zealand flying, presented her second display to RPS entitled 'Smithy and His Bus'. Her presentation was of very high quality in terms of research, philatelic content and write-up and her lively delivery all combined to create a truly memorable afternoon.
Building on Sue's superb 2021 zoom presentation 'Flying Boats Across the Tasman Sea', RPS members were given a further insight into Australian aviation, its development, successes and set-backs, routes, personalities, business interests and philatelic implications. Taking as her aviator champion, Charles Kingsford Smith, the presentation developed the extraordinary talents, the daring-do, the sheer determination and his achievements. Referring to the fascinating book, 'Smithy...The Life of Sir Charles Kingsford Smith', by Ian Mackersey, Sue set out key themes and findings of her own lengthy and in-depth study of this amazing character, and of course his aeroplane the Southern Cross, which he affectionately named 'My old Bus'!!
Philatelic display content was rich indeed. Included were numerous maps, pilots, photographs, correspondence, newspaper cuttings, stamps, cancellations, memorable signed banknotes, but perhaps the most fascinating were the numerous flight covers. One which rises to prominence celebrated the UK – Darwin First Solo Record Breaking Flight 9-22 October 1930.
Another superb meeting for RPS.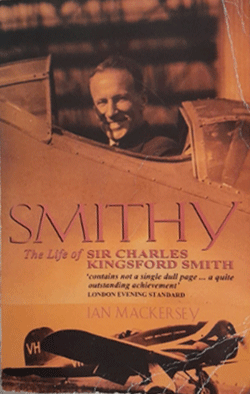 (further images to follow)

Paul Barry Publicity Officer
****************************************************************************
Members' "One Page Competition", 10 May 2022
The Winning Entry by David Etchells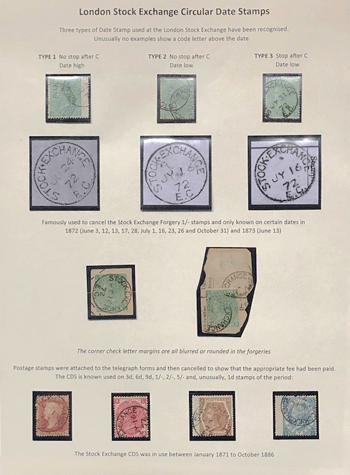 London Stock Exchange Circular Date Stamps

(paul barry)

*****************************************************************************************

Report on meeting held on 12 April 2022

The Early Development of the Australian King George V 1d Red

Colin Mount FRPSL

In yesterday's playground it was a cry of 'How many stamps yer got?' In refined and developed philatelic circles of today, we will find not only a consideration of scores of stamps and associated postal history from across the globe, but the minute study of a single issue or indeed a single stamp. Ringwood Philatelic Society was entertained to the latter and this meeting of the Society was memorable to say the least. Presenter Colin Mount FRPSL, the Society's President, locates prime speakers for the annual programme...but this evening he had secured his own services! Where does one begin?! This very considerable display was exquisite in all respects. Superbly well written up on cream paper and with huge attention to presentation, it covered the far reaching history of this Australian KGV 1d Red issue, looking in fine detail into such matters as 'shades', 'papers', 'watermarks', 'perforations', 'printing firms' and 'plates'. Research was much in evidence, with for example a photo of an English paper mill and workers. Colin traced the stamp's development and it was clear that this was soon to become a war-time issue. Here begins the major part of the story, since 1914 saw the commencement of war shortages, including inks from Germany and paper from the UK. Changes in production were quickly apparent with the emergence of new shades and papers.
The presentation covered scores of aspects and fine detail. Members were able to observe coil machine stamps, mint blocks large and small, gum variations, experimental printings and war-tax overprints. An impressive section dealt with the huge subject of printing plates and their degradation through wear and rust, resulting in numerous flaws...a study in its own right. Covers and correspondence supported the display, together with an examination of forgeries! Of great significance were recent superb additions to the collection. To quote Colin, 'The four states of the die proofs have been achieved over the past 18 months. These are very scarce and do not come on the market very often. These four states can be counted in single figures and it has taken me over 45 years to secure these.' Colin is most modest in manner, however it is evident that his sizeable collection with its great depth of treatment, including rarities, has to be perhaps the finest in the UK, indeed the envy of fellow Australian collectors. One might venture to say that Her Majesty Queen Elizabeth might be interested in doing a deal to enhance her own significant Royal Philatelic Collection! Colin, of course will not be budging...the Tower awaits!!

RPS Members were much privileged in having this rare insight into such a fine collection and superb presentation, the result of decades of study and acquisition, an ongoing exciting activity in Colin's busy philatelic life!

Paul Barry, Publicity Officer

************************************************************************

Report on meeting held on 8 March 2022

Annual Competition - Traditional, Thematic, Postal History, Open Philately and First Timers, plus Bring & Buy

(not available yet)

************************************************************************

Report on meeting held on 8 February 2022

"Exploring Forgeries in your collection" - Members

Speaker Paul Leonard FRPSL

Members of Ringwood Philatelic Society were greatly rewarded for stepping out on a cold February afternoon to hear Paul Leonard FRPSL not only address the fascinating subject of the exploration of forgeries in collections, but to also study at close hand a major associated exhibit. This was a display for the London 2022 International Stamp Exhibition entitled 'Forensic Philately' being the work of the Expert Committee of the RPSL.
Paul traced a little of the history of 'The Royal' and then concentrated on details such as how Members of this Committee are employed and details of forensic philately, highlights and challenges and submitting established material. As Paul presented each Display sheet, he made a summary of its content, prior to audience examination. Reference was made to Sperati and other notable Victorian fraudsters. It became clear that the major thrust was to apply forensic principles to a world of mischief, misleading information and hard evidence to support or dismiss authenticity. Over time many stamps have been examined by the RPSL in great detail, including supposed rarities, including the 1 Cent Magenta!! A major input for consideration comes from 'the Trade' - dealers and auctioneers, but private collectors feature too, in pursuit of establishing truth...or otherwise!! Of course disappointments abound, especially when owners are convinced, with their cry of 'I have the only one!!'
Apart from Committee expertise, opinions and information come
from numerous directions. These are often underpinned by the support of the latest technology such as perforation gauges, magnifiers, ultraviolet lamps, watermark detectors, indeed allthings digital.
A major area of consideration surrounds the subject of 'shade'. A vast fortune may be within grasp if a rare or unique shade is ascribed. This exciting RPSL display provided much insight into the workings of the Committee, its methods and reporting, together with interesting stories of success and intrigue!
Another great philatelic event in the RPS Programme.

(P Barry Publicity Officer)

************************************************************************

Report on meeting held on 9 November 2021

"The History of the Salvation Army", then "The Cause, Cure and History of the Plague Pandemics"

by Chris Wheeler


Providing two top quality competitive presentations at one meeting is a challenge, but when it is is understood that this 'open' display material was sourced and superbly written-up within 10 months, jaws drop and eyes bulge!! ('done from scratch') In Wendy Buckle's vote of thanks, she very accurately voiced the opinion of members present
...'a major achievement – immensely impressive'.
Both displays made significant reference to historical sources, and were well supported by early correspondence...a signed letter from William Booth gives a clue to research quality. Within the presentation on the Salvation Army, much stress was made on the 19th century's severe social and economic backdrop, concerns being so great that the founder quickly discovered a huge swell of ready supporters. He tapped into the emergence of influential groups – Anti Slave Trade, The Earl of Shaftesbury and funding, Dickens' publications on poverty… Motivated by both social and Christian principals and convictions, the organisation rapidly developed and made huge impact on deprived areas, and society at large. Chris described all this so well and noted that 'The War Cry', red bucket collections, considerable musical developments and world war missionary work, combined to establish this 'incredible worldwide society'.
The presentation display of the Plague Pandemics was equally superbly researched, revealing much endeavour and insight. Commencing with a human biological analysis, the study moved on through bacterial invasion, detection and remedy. A major consideration was given to the study of the history of the Plague, and its huge and important changes...social, economic, climatic and cultural. Interesting research into the Doomsday Book, the Feudal System and its fall, provide just a flavour of content. As with the first display, Chris made excellent use of supporting philatelic and other material, including here some notable stamp issues from GB, France, Switzerland, Russia and China. The Black Death, the 2nd Global pandemic was also fully considered, as was the work of The Pasteur Institute.
The two presentations combined to create a truly memorable meeting in
Ringwood Philatelic Society's programme.


(Paul Barry Publicity Officer)

************************************************************************

Report on meeting held on 12 October 2021

'"Basingstoke along the A30"
Martin Appleton

Stamp dealers may be among the very best placed to build up not only a grand personal collection, but also a huge knowledge of a given theme or subject. Speaker Martin Appleton is no exception here and Ringwood Philatelic Society Members were gifted a truly wonderful afternoon. His presentation, seeped in Basingstoke postal history was fascinating, colourful, informative, decidedly humorous, and bursting with postcards, covers and philatelic gems. Martin regaled Members with numerous stories of life in and around the town and the A30 over many years, including the military, railways, solicitors' archives and not least those emanating from public houses! It was evident that Martin had grown up in the town with a keen awareness of history all around him and his understanding of this, combined with his collecting expertise and turn of humour, provided the ingredients for this powerful address to the Ringwood Philatelic Society.
Crimean War 1856 (May 31st). Envelope to George Lamb in
Basingstoke with a clear arrival and clear Post Office/British Army CDS in green
P Barry Publicity Officer
***********************************************************
Report on meeting held on 14 September 2021
Members' mini displays, plus Bring & Buy
(not available yet)
******************************************************
Report on meeting held on 13 July 2021
'The Western Desert Campaign 1940-43'
Gavin Fryer FRPSL

Following a lengthy period of lockdown, Ringwood Philatelic Society was very pleased to re-convene with Gavin Fryer's engaging presentation: 'The Western Desert Campaign 1940-43'. This was a rich historical philatelic journey into a major and pivotal part of the war. It was superbly supported by maps, newspaper cuttings, stamps, original covers and letters, telegrams, censored mail, Christmas cards, detailed information sheets and fine exposition. Over many years, Gavin had made an in-depth study of this subject and his knowledge was most impressive. His presentation followed a strict chronology, commencing with April 1940 when Sir Henry Maitland Wilson, Commander of British troops in Egypt, formed the Western Desert Force. There began a period in which Allied and Axis forces were at war in huge numbers involving many nations. Gavin considered the conflict from both sides, covering key decisions, commanders and command and the essential focus on supply. Operations, offensives, sieges and retreats were all looked at. A closer examination of major personalities was engaged, such as Rommel and Montgomery. A major emphasis dealt with the concluding episodes of the conflict, which finally saw nearly 240,000 German and Italian soldiers captured, with Alexander's signal to Churchill stating 'The Tunisian Campaign is over...we are masters of the North African shores'. The vital supply of oil to progress the European war had been achieved.
Underpinned by rich military and historical content, this quality of presentation was exceptional and much appreciated by RPS Members...an excellent start to the Society's emerging programme.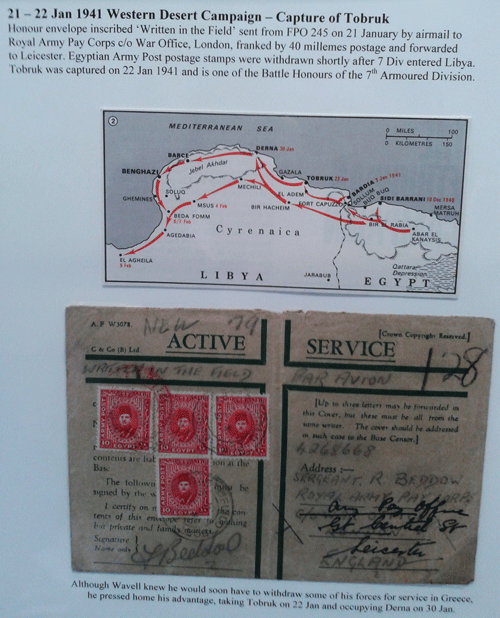 (Paul Barry - Publicity Officer)
**********************************************************