Tuesday 14th May
Members One Page competition and Bring & Buy
(Report and Images to follow)
****************************************************
Tuesday 9th April
Guest Speaker - Colin Mount FRPSL with "A Pig in the Post"
'Pigs might fly…'well on this philatelic occasion they really did!! Ringwood Philatelic Society President and eminent Guest Speaker Colin Mount, Fellow of the Royal Philatelic Society London, presented a superb display on postal pigs. This revealed his long term specialist career and very considerable knowledge in the pig industry, which was skilfully illustrated through a rich mixture of pigs depicted on stamps, covers, postcards, postmarks, advertising material, stock development information, historical, geographical, political aspects, farming economics, professional associations, photographs and documents. Amongst the porky stories were insights into war-time propaganda, poems and literature (eg.'The Little Pigs'), Christmas and Valentine cards, and the stories and facts behind the piggy bank and such well known sayings as 'pig-in-a-poke'. Wild boars in rural UK also had a mention! In the Speaker's usual informative, friendly and jovial manner, Members were drawn in to a most enjoyable presentation. Chairman Paul Barry warmly expressed the Society's appreciation for this most entertaining and enjoyable evening in the Society's programme.
| | |
| --- | --- |
| | |
| Pig on Cover, on Introduction Page | A cut-out pig from a stamp adhered to an 1873 cover |
| | | |
| --- | --- | --- |
| | | |
| Meter mark of the National Pig Breeders' Association, founded in 1844 | 1955 10 Bani Romania stamp, illustrating pig husbandry | Hangary stamp depicting man hunting pigs |
| | |
| --- | --- |
| | |
| Picture on postcard sent from Army PO No. 3, the Transient Camp in Boulogne, 1916 | Address and Message on the postcard sent from Army PO No. 3, the Transient Camp in Boulogne, 1916 |
paul barry
[[[[[[[[[[[[[[[[[[[[[[[[[[[[[[[[[[[[[[[[[[[[[[[[[[[[[[[[[[[[[[[[[[[[[[[[[[[[[[[
Tuesday 12th March
Annual Competition Night - Traditional, Thematic, Postal History, Open Philately and First Timers
The 2019 Annual Competition of the Ringwood Philatelic Society saw excellent displays, two of which were of such quality that they were promoted to compete at local 'Interclub Level'. (Ferndown & West Moors Philatelic/Postcard Club's 20th April Fair) The Judge for the evening was Colin Mount FRPSL, RPS President. Scoring highest was David Etchells' entry (Postal History) which was a superb study of 'The Cancellations on the 1841 Penny Red'. Taking 2nd place was John Davis with his 'Venice 1796/1866' (Open Class). Other displays also saw much interest, including naval 'Gibraltar 1914-18', and 'The Quest for the Inner Man' (both Burt Burton), with 'Novice Class' -John Nicholson's 'Liberia' and Clarewyn Smits' 'Dick Findlay' (celebrated South African Painter). This much enjoyed evening again demonstrated Members' increasing ability to engage in quality competition presentations.
Competition Results

| | | | |
| --- | --- | --- | --- |
| OPEN | John Davis | Venice 1796-1866 | 71 |
| POSTAL HISTORY | Burt Burton | Gibraltar 1914-1918 | 77 |
| | David Etchells | A Study of the Cancellations on the 1841 One Penny Red | 81 |
| THEMATIC | Burt Burton | The Quest for Inner Space | 73 |
| NOVICE/FIRST TIMERS | John Nicholson | Liberia | 65 |
| | Clarewyn Smit | Dick Findlay | 53 |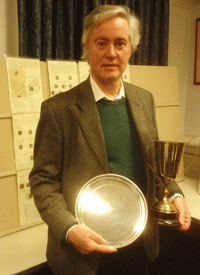 David Etchells, the overal winner
Paul Barry
@@@@@@@@@@@@@@@@@@@@@@@@@@@@@@@@@@@@@@@@@@@@@@@@@@@@@@@@
Tuesday 12th February 2019
Members Entertain

This was a quickly assembled home-grown evening owing to a sudden change in the Society's published programme. Eight Members provided interesting displays on diverse subjects. 'GB late Victorian Stamps' on cover and document revenues proved interesting. 'New Zealand Health Stamps' provided a more extensive study, having been a 31 sheet presentation, created by an early Hon. Member (now sadly deceased). This prize winning display ('The John Cup') was superbly well written up and well promoted with its abundance of mint stamps and special mini-sheets. On a very different theme was 'The Heart of the Matter'. The Member presenting had a sister who had been part of the medical recovery team supporting Dr Christian Barnard and therefore was well placed to here expound the pioneering work in S.A. in the 1960's. Much background information was imparted and this combined with stamps, covers and photos did much to promote the work on blood and organ donations and heart transplants. A 30 sheet quality display followed on the subject 'Submarines'. The presenter briefly described each display sheet, and being an ex-submariner was well placed to bring his subject 'to the surface' with distinction, using stamps, correspondence and photos. In sheer contrast, the next display 'Bhutan' contained mainly philatelically inspired large foil stamps, including some with a built-in record to be played!! 'Australian Forces' was underpinned by individual stamps and covers. This superbly written-up presentation included 'Australian Forces' Postmarks'. Continuing 'Down-Under' was an in-depth study on 'Australian States Specials' where consideration was given to design, plate use, printing methods, overprints, perforations and watermarks. All presented on a sample of album pages, this collection was still emerging. Stamps having 'amusing or unusual shape' was the following contribution and here were seen stamps from Tonga. From the same presenter, the subject 'UNESCO SAVE VENICE CAMPAIGN' was equally appreciated. Here were celebrated numerous stamps in support from across the world, including Yemen, Algeria, Bulgaria and Burundi. Concluding, the Chairman Paul Barry warmly thanked participants, in particular their willingness to muster most interesting material at very short notice.
| | | |
| --- | --- | --- |
| | | |
| Stamps commemorating the First Heart Transplant by Dr Christian Barnard | Tonga, Commemorating the forst Poloynesian Gold Coinage | Yemen, 1986 - some stamps featuring the UNESCO "Save Venice" Campaign |

PAUL BARRY
================================================
Wednesday 16th January 2019
AFTERNOON MEETING (2 to 5)
Members 'First Day Meeting – The Society Entertains'

By popular Member request, a special day meeting was staged, proving most successful; a good attendance with nine displays being shared across a wide range of subjects. 'GB Victorian 1887 Jubilee Stamps', the introductory theme, contained both mint examples and a variety of unusual period covers, two being full colour advertising envelopes. Another presentation considered a member's route into collecting and his development of a most interesting display of 'Australian States up to the 1913 Issues' which included an examination of official overprints. Can stamp forgeries be more valuable than authentic copies? In the case of the GB 1870s one shilling green, this is in fact true. A focus on 'Stock Exchange Forgeries' described in detail how a lucrative massive Victorian scam enabled the sale of forged stamps to be used on telegraph forms, lining the pockets of an unknown worker. A very different slant was introduced with the study of 'Life and Works of Dick Findlay, Fellow of the Royal Watercolour Society', who emerged as a world famous artist. Among achievements were his contributions to coin and philatelic design. This display included a considerable range of stamps celebrating his skills. In contrast, a further presentation revealed an accumulation of 'Stamps received on Letters' through the 1950s to late 1960s and sorted by country, kept in a book with associated caption. 'US Warships in Gibraltar's Waters', an in-depth WWI study, was superbly written-up. Included were numerous covers depicting vessels along with correspondence ship to ship/shore and photos with some rare locally posted mail items. 'The American Civil War' was another presentation which, vast in range, was eloquently covered by historical exposition and displayed philatelic material through album pages. Stamps depicted key military and political leaders, events and flags. 'Singapore and Hong Kong Handover' was well supported by beautiful album pages and special bank notes in range 1996- 2004. The contributor, having lived in the region, provided excellent insights. Concluding the meeting was a skilled and refined study 'The Centenary of the Northern Territory Exploration of Australia' which considered the 1860s and in particular the contribution of John McDougall Stuart, whose recognition was recorded by stamp issue, the design for which was taken from a water colour entitled 'The Overlanders', by Sir Daryl Lindsey. This was a wonderful daytime event in the RPS diary and one likely to be repeated.
| | | |
| --- | --- | --- |
| | | |
| Centenary of the northern Territory Exploration, 2960 | Cover for USS Quincy, in Singapore to Florida, 1936 | Key leaders in the Civil War |
| | | |
| David Findlay, Designer | £5 Note used in Hong Kong with the serial number beginning with the code HK97 | Hong Kong and Singapore Banknotes |
| | | |
| Stock Exchange Forgeries | South Africa Succulents 2nd issue by David Findlay | 1997 Celebrations, Hong Kong |
paul barry
xxxxxxxxxxxxxxxxxxxxxxxxxxxxxxxxxxxxxxxxxxxxxxxxxxxxxxxxxxxxxxxxxxxxxxxxxxxxxxxxxxxxxxxxxxxxxxxxxxx
Tuesday 8th January 2019
Dealer Evening - Paula and Philip Cant will bring along their stock
(Welcoming Philip Cant and Martin Wybrow)

Ringwood Philatelic Society enjoys a reputation for providing Members with a wide and most interesting programme, and this evening's entertainment certainly followed this successful formula. Society Chairman Paul Barry provided a warm welcome to Hampshire dealers Philip Cant and Martin Wybrow who had set up a sizeable range of stock-books for perusal, covering Thematics and Single Country Collections between them. With 'stamp shops' now being a rarity, Members appreciated this opportunity to seek out elusive stamps at close range. Dipping into sizeable accumulations of themed stamps such as Birds, Motor Racing or Sport, or sometimes scarce 19th century stamps from individual countries, such as India, Canada or Finland, the choice was immense. Besides opportunities for purchase, there was the chance to discuss fine philatelic detail with these specialists. Collection gaps were filled, inter-club display material was secured and orders and wants lists gained attention. Certainly this meeting proved to provide an excellent start to 2019.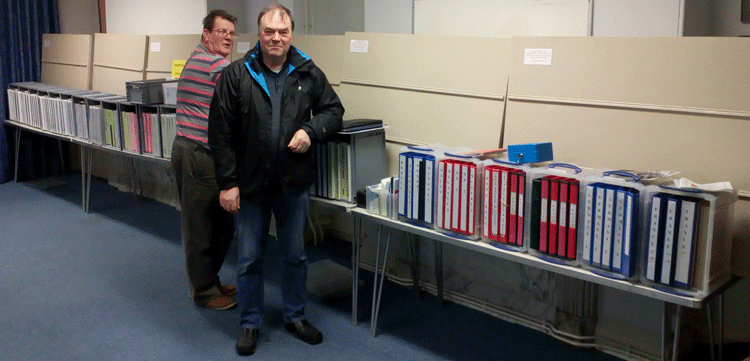 Philip and Martin setting up their stock for sale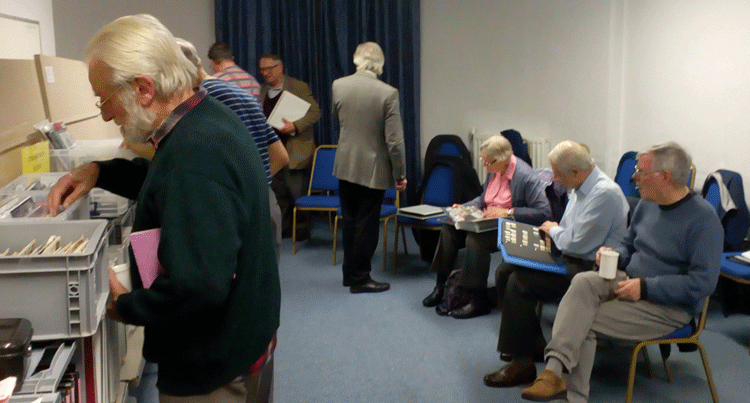 Members looking for new items
(paul bary)
##############################################
Tuesday 11th December 2018
Christmas Meeting with Tony Flux from the National Trust with "Sir James Thornhill, a famous Weymouth son".
Ringwood Philatelic Society enjoyed an excellent non-philatelic evening in the company of Tony Flux, from the National Trust who presented fascinating insights into the life and times of Sir James Thornhill, a local 17th Century dignitary. Born in Weymouth 25th July 1675, James was soon 'adopted' by his uncle and in his care and protection he soon flourished in London society. In 1688, a year before his benefactor Dr Thomas Sydenham died, James was apprenticed into the world of painting, where he quickly asserted his considerable artistic talents. Finding his niche in Greek Mythology painting, (Italian Baroque) very popular at the time, James excelled. This was a very fertile period for the arts in general, with such contemporaries appearing as Handel, Hogarth, Pope, Wren, Vivaldi and Bach. He was a prolific draughtsman, theatre set designer and portrait painter of renown, (Newton, Handel), who excelled in numerous artistic fields, reaching directorships and MP status at a comparative young age. Among his achievements were the 8 sections of the dome of St Paul's, and the part painting of the Hall at Greenwich, a homage to William & Mary. From 1718 he began to spend more time in Dorset, and achieved notable commissions including Sherborne House, Charborough Park and St Mary's Church in Weymouth. Tony Flux's digital presentation was considerable in scope, and here we can only skirt around the edges of a vast subject. The Society's sizeable membership present at this meeting were most appreciative of the story of 'this local son made good'.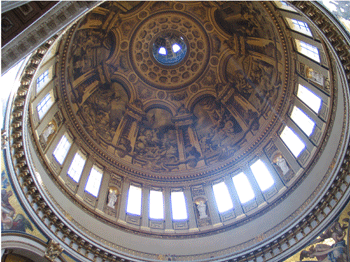 (paul barry)
uuuuuuuuuuuuuuuuuuuuuuuuuuuuuuuuuuuuuuuuuuuuuuuuuuuuuu
Tuesday 13th November 2018
Guest Speaker - David Muscott from Lyme Regis with "English Provincial Banknotes"

Ringwood Philatelic Society's November speaker was unusual– not only in being a prodigious collector and Dorset stamp dealer for 60 years, but having a specialist interest in English provincial banknotes. He quickly engaged his audience with superb displays of scarce material and fascinating stories. He had held various elevated positions in stamp and banknote "worlds", an example of the latter when being called as an expert court witness concerning banknote theft. David's presentation considered original South of England banknotes, demonstrating the subject's history and breadth followed by production processes and possibilities for forgery.Citing the famous Geoffrey Grant Catalogue, he described how Provincial (ie local city and town) banks were allowed to produce their own banknotes from 1780 onwards, with 1800-1830 being the main period for proliferation. A variety of locally produced notes of varying condition and rarity were displayed – many revealing skilled engraved designs and included design proofs, correspondence and orders for printing. Local banks were subject to licence fees to trade in their banknotes, taxed per note and fined for non-payment. From 1826 many banks became bankrupt not least from taxation, fraud and forgery. Note theft was prevalent and large rewards offered, for example after stagecoach robberies. From a law change in 1844, which prohibited smaller banks, many amalgamated or were taken over. All the banks now existing were from such amalgamations. All defunct notes had to be cancelled and many featured in the display. In 1921 the last English provincial bank ceased printing its own notes. Members greatly benefitted from this presentation, clearly having many philatelic links. A highly informed and experienced collector with lifetime trade and pastime knowledge, David Muscott is to be strongly recommended as a very engaging guest speaker.

| | |
| --- | --- |
| | |
| A Ringwood One Pound Note | David Muscott with President, Colin Mount |
(Gordon Masson/Paul Barry)

ssssssssssssssssssssssssssssssssssssssssssssssssssssssssssss
Tuesday 9th October
Waterlooville & District Philatelic Society visit to entertain us
Speakers: Paul Davidson & Malcolm Smith

Two eminent presentations from Members of this nearby society proved the point that 'local is good, very good'. Such evenings are usually shrouded in mystery where topic is concerned and this evening's was no exception. Paul's area of expertise was entitled 'The Exploration of the Great Southern Continent'. His display was of superb quality, well written-up and was philatelically illuminated by mainly mint stamps, postcards, covers and maps. There followed an historical account of exploration which covered in some detail the voyages of Magellan, Drake and in particular Cook, whose very primitive navigation skills and instruments were explained. The discovery of islands and icebergs encouraged further voyages, and the emergence of scientific intent, including the pursuit of the magnetic South Pole, were well described. Other explorers were celebrated, including the expeditions of Scott and Shackleton.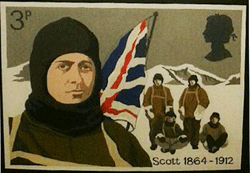 Using the full force of philatelic material in support, the second presentation was equally informative with 'Norfolk Island' being eminently described by Malcolm Smith, whose childhood collecting interests had been developed, covering this outpost of Empire. His progressive historical story-line was well partnered by stamps, some in blocks, postcards, air and official letters, handstamps and postmarks, pre-stamped envelopes, maps and a focus on the Royal Visit issue. Little known facts emerged, such as the island's use as a penal settlement. The level of information imparted, combined with enchanting, often colourful material combined to create a most memorable evening.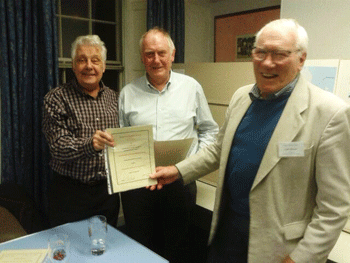 Certificate Presentation to Paul and Malcolm by Ringwood Club President, Colin Mount
(Paul Barry)
:::::::::::::::::::::::::::::::::::::::::::::::::::::::::::::::::::::::::::::::::::::::::::::::::::::::::::::::::::::::
Tuesday 11th September
Bob Neville from Headley in Surrey with "HMS Hood" and "Gibraltar Used Abroad"
The first section of this extensive display comprised a detailed study of the life and times of the battle–cruiser HMS Hood. This was the largest and most powerful battle-cruiser in the world in its time, the pride of the British Navy. In telling the story, the speaker, Bob Neville made excellent use of numerous mint and used stamps, correspondence, including postcards, an on-board baptismal certificate, photos and the front page from the News Chronicle, reporting the ship's loss and subsequent 4 day chase and eventual sinking of the German battleship 'Bismarck' by The Dorsetshire on 24th May 1941, some 400 miles west of Brest. The second area of study featured mainly Victorian Gibraltarian stamps, covers and correspondence. A special emphasis was concerned with famous printing varieties, one of particular note being a red 10 centimos stamp having no printed value. Alongside this rarity was compared a strip of 3 forged examples, these being the subject of expert consideration by the Royal Philatelic Society. The photo shows Society member Bert Burton, himself a specialist in these two topics, thanking Bob Neville for presenting his most interesting and scarce material, much appreciated by all present at this,
the first meeting in the annual programme.
| | | |
| --- | --- | --- |
| | | |
| Lettercard from HMS "Hood" | "HMS Hood" at sea | Flat "O" on top of "centimes" |
| | |
| --- | --- |
| | |
| Baptism Certificate from "HMS Hood" | Bert Burton presenting Bob Neville with his certificate |
(Paul Barry, Publicity Officer)
:::::::::::::::::::::::::::::::::::::::::::::::::::::::::::::::::::::::::::::::::::::::::::::::::::::::::::::::::::::::
Tuesday 10th July
51st Annual General Meeting followed by
"President's Guest Entertains"
Following the well attended AGM with award presentations, the Membership were greatly entertained by the President's Guest Speaker, Michael Elliott, Fellow of the Royal Philatelic Society London. His subject 'Aspects of Finnish Philately' provided a superb display of this little known collecting area, depicting stamps, postcards, covers and postmarks, further enhanced by write-up and exposition. Michael had inherited a lovely collection, which had provided the inspiration for further development. Emphasis was on the 1940s with 'the Winter War', the 'Continuation War' and 'Women at War'. This miserable slice of European history saw Finns fighting alongside German military against common enemy Russia. His knowledge was advanced by a most recent meeting with a local 93 year old lady who had nursed Finnish troops. The display contained a recently acquired postcard selection. Members were privileged to have access to this unique and scarce philatelic material, strongly emphasised by the vote of thanks.
| | |
| --- | --- |
| | |
| The President giving his Address | David Etchells receiving his two certificates from President, Colin Mount |
| | | |
| --- | --- | --- |
| | | |
| Map showing the 33 stations | 1997 miniature sheet showing the early trains | Cancelled TPO stamp as used from Helsinki to St Petersburg from1862 to 1918 |
| | | |
| Estonia Vounteer Army Censored cover to Finland with Deutche Feldpost mark | Estonian Volunteer Navy cover from Finland to Pernaud with blue cross showing insufficient postage paid | Women Soldiers singing in an Open Air Service, 1941 |
Paul Barry
=====================================
Tuesday 12th June
Guest Speaker - Paul Latham-Warde from Salisbury
with "And I still don't know what to collect"
No one felt sorry for Paul not knowing what to collect because by the end of the evening he had displayed some twenty different topics, some interconnected, giving a bird's eye view across the world of philatelic collecting.
Starting with a letter from Mary Murray to the Inspector of the Poor in Scotland complaining that she was not receiving enough support, Paul gave an illustrated and detailed insight into the Poor System which existed up to its replacement with the Poor Laws of 1834, which were harsh and draconian, designed to deter dependency on handouts. The Andover Workhouse Riots were covered and then the introduction of State Pensions in 1907, Health Stamps in 1911, Unemployment Stamps in 1920, all leading up to the National Insurance Contribution system in 1948. All this social history was illustrated by correspondence, covers, and seals of the time. This led into the topic of cinderellas, which Paul illustrated with part of his collection of the first 60 years of Christmas cinderellas issued by Boys Town, Nebrasca. He then showed his 9 sheet thematic slogan competition entry on the promotion of the British Telephone in the 1930s, closing the first half with another 9 sheet Open Class competition "Protest" covering a wide range of Protest movements, explaining for example the Suffragettes had chosen their colours of Green, White and Violet to represent Give Women Votes. A nice example of one of their seals was displayed.
Paul opened the second half with examples from the Irish Hospital Sweepstakes, whose lotteries were linked to horse racing raising millions of pounds from across the Atlantic for the smaller hospitals of the day. Money and tickets were sent through the post, but aliases and agents had to be used to avoid the ban on movement of these items from foreign sources. This led to two frames on postal fraud, fraudsters and a wide range of fraudulent practices, as well as fraud prevention measures - a whole subject in itself.
Moving on he displayed his collection of high value Castles, which though plentiful and cheap as stamps are not so when used on certificates, telegrams, inter-bank high value parcels, examples of which were illustrated. Then came a display of stamps and covers featuring barbed wire, patented in USA in 1874, of which there are currently 384 varieties. Next was concentration on a specific stamp, in this case the 5c Canadian Jubilee issue of 1897, displayed in a multitude of forms; then the first 25 years of rotary winged flying machines; colourful telegrams including the rare first use of the Valentine design; the British designer Andrew Restall; the 100th anniversary of the RAF and RAF censored mail, and finally a damaged letter from Calcutta with its ambulance envelope.
There was something and more for everyone and inspiration to find a topic and develop it - what an evening!!!
| | | |
| --- | --- | --- |
| | | |
| Essays for 1911 Unemployment Revenues | Christmas Cinderellas from Boys Town | Votes For Women Logo |
| | | |
| High Value Parcel label | Barbed Wire Miniature Sheet | Plate block of 4 x 5 cents |
| | | |
| The first ever Valentine Telegram | Ambulance cover for the Damaged Letter | The rescued letter from the Comet crash |
(chris wheeler)
oooooooooooooooooooooooooooooooooooooooooooooooooooooooooooooooooooooooooooooooooooooooo
Tuesday 8th May:- One Page Competition Evening
Congratulations were given to David Etchells for his winning entry "Earth Impact Events" with 24 points. Chris Wheeler was second with 22 points for his "Gerald Scarfe and his Stamps", with John in third place with 14 points for his entry "Straits Settlements Local Overprints".


The five entries in the 2018 Competition
____________________________________________________________________________________________________
To see reports and pictures of meetings from 2012 to early 2018, please click here