Tuesday 9th July
52nd Annual General Meeting followed by President's Guest Speaker
David Speer with a selection from Australia
President Colin Mount warmly welcomed his personal mystery guest speaker, David Speers MRSPSL, to the July meeting of the Ringwood Philatelic Society. 'Australian Philately' was his subject, which as the new President of the BSAP was both very well presented and full of considerable interest. His collection had its beginnings some years ago, principally consisting of material from the modern era. Commencing with 'Australian Defence Forces' David outlined the historical dimensions, supported by colourful stamps depicting British regiments in the period 1788-1870, produced by various postal authorities. This section included campaign medals and gallantry awards. There followed major sections covering the Royal Australian Navy and Airforce with excellent coverage of heroes, medals, types of ships and planes. Both world wars were represented and interesting campaigns explained. The whole display was richly underpinned by the presence of mint stamps, including strips and blocks, covers, including FDC, pre-stamped envelopes, special cancels and aerogrammes. An emphasis was the supporting Australian Post Office's commemoration material, usually of annual appearance, with a special 'ANZAC Day' focus. The scope of presentation was considerable with further frames covering other aspects of Australian history…KG III, Capt. John Hunter, Capt. W. Blyth, Pioneers, The 1901 debate over Melbourne/Sydney for capital, Australia and the Colonies, Sheep Farming, Agricultural Fairs, Exports, Rivers, Railways and Ships. David's scope was huge and provided Members with a most insightful exposure to this fascinating country's past. President Colin Mount stated that 'this is indeed a fine and brief study of Australian social history', and was joined by warm appreciation from the audience. It was another wonderful presentation in the Society's programme, which richly concluded the calendar for the year.
(Paul Barry)
ooooooooooooooooooooooooooooooooooooooooooooooooooooo
Tuesday 11th June
Guest Speaker - Jean Alexander FRPSL with "Supermarket Philately"
'Lightbulb moments' or in this case 'hairdryer moments' are fairly rare for most of us, but when they occur, the world can change! Ringwood Philatelic Society members warmly greeted Jean Alexander, guest speaker, to their June meeting…a big name for a small outfit! Jean, a Fellow of the Royal Philatelic Society London, and a past Member of the Royal Mail Stamp Advisory Committee, was pleased to share her story and collection. Whilst reading magazines under the hairdryer, Jean was drawn to a soup advert by Heinz which promised 'New Stamps for Old'. Here was an opportunity to collect brand stamp coupons and exchange them for official Christmas stamps. Her interest in such promotions grew in tandem with an increasing publicity drive involving over time numerous company names such as –Cadbury (Chocolate Fingers), Kellogg's with Cornflakes, Unilever, Sunday Express (Rupert Bear), Nescafe, ASDA, Boots, WHS, Woolworths, National Trust and others, and eventually The Royal Mail with its 'Jolly Postman' offer. These varied consumer rewards of postage stamps, special stamp booklets and packs, postal orders, vouchers and publicity gifts stimulated Jean's collecting interests and she began to amass a large amount of related items, including associated advertising material. Her fascinating presentation provided Members with a unique opportunity to examine at first hand a wealth of 'free goodies' acquired over many years, some of which were rare indeed and totally unknown or now forgotten!!
Society President Colin Mount voiced very sincere appreciation of 'Jean's amazing conserving contribution to philatelic study, 'a valuable collection' which has its roots in a quiet moment in a hairdresser's salon!!'
| | |
| --- | --- |
| | |
| Free Stamps with Dairylea | Free Stamps with Quick Brew |
| | |
| National Gallery Promotion | Jean and Colin |
(paul barry)
UUUUUUUUUUUUUUUUUUUUUUUUUUUUUUUUUUUUUUUUUUUUUUUUUUUUUUUUUUUUUUUUUUUUUUUUUUUUUUUUU
Saturday 1 June - RINGPEX
| | | |
| --- | --- | --- |
| | | |
| Visitors arriving | Bacon Butty! | One of the Dealer Halls |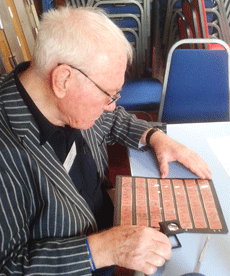 President Colin Mount scrutinising a sheet
of Australian KGV penny reds with his expert eye,
which no doubt had a twinkle in it!
Ringwood Philatelic Society Members recently held their 2019 RINGPEX Stamp & Postcard Fair at Greyfriars Community Centre. Much planning and an early start enabled an efficient set up, on what proved to be a glorious 1st June.This was one of their most successful fairs, with an excellent attendance and much valued trade between punters and dealers, and generated a good income for RPS funds. The highlight of the day was the Society's raffle, where the star prize was a very fine Penny Black, kindly donated by Hon Member and local GB specialist dealer, Peter Mollett. There were 12 dealers present, providing a wide range of stock covering 'GB', 'Commonwealth', 'World' and 'Thematics', and postcard collectors were equally pleased. Another popular and appreciated feature was undertaken by the volunteer Kitchen Team with their all day refreshments, in particular, by the now famous RINGPEX bacon/sausage rolls.
(paul barry)
HHHHHHHHHHHHHHHHHHHHHHHHHHHHHHHHHH

Tuesday 14th May
Members One Page Competition and Bring & Buy
Just three entries were submitted for this year's 'One Page Competition'. Certainly no lack of interest or attendance, but other pressures and 'garden weather 'compete with philatelic interests!
Following short descriptions of individual displays, the Membership were invited to vote in the Winner. Gaining most support this year was David Etchells with his entry entitled…
"Heinrich (Henry) Schliemann (1822-1890), Polymath, banker, businessman and archaeologist"
This neat compact display entry was well described. Members learnt that Schliemann began working in banking in Russia in 1846. He spoke no less than 14 languages! By age 36 he retired with a business fortune, having dealt in a variety of commodities. He then pursued a career in archaeology, concentrating on the pursuit of Troy. He excavated various sites, eventually discovering 'Priam's Treasure' at Troy and the 'Mask of Agamemnon at Mycenae'. Attractive stamps had been selected to illustrate this amazing life and achievement.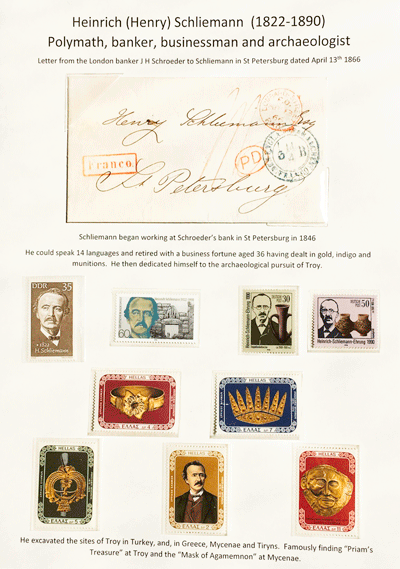 David Etchell's One Page Entry
(paul barry)
****************************************************
Tuesday 9th April
Guest Speaker - Colin Mount FRPSL with "A Pig in the Post"
'Pigs might fly…'well on this philatelic occasion they really did!! Ringwood Philatelic Society President and eminent Guest Speaker Colin Mount, Fellow of the Royal Philatelic Society London, presented a superb display on postal pigs. This revealed his long term specialist career and very considerable knowledge in the pig industry, which was skilfully illustrated through a rich mixture of pigs depicted on stamps, covers, postcards, postmarks, advertising material, stock development information, historical, geographical, political aspects, farming economics, professional associations, photographs and documents. Amongst the porky stories were insights into war-time propaganda, poems and literature (eg.'The Little Pigs'), Christmas and Valentine cards, and the stories and facts behind the piggy bank and such well known sayings as 'pig-in-a-poke'. Wild boars in rural UK also had a mention! In the Speaker's usual informative, friendly and jovial manner, Members were drawn in to a most enjoyable presentation. Chairman Paul Barry warmly expressed the Society's appreciation for this most entertaining and enjoyable evening in the Society's programme.
| | |
| --- | --- |
| | |
| Pig on Cover, on Introduction Page | A cut-out pig from a stamp adhered to an 1873 cover |
| | | |
| --- | --- | --- |
| | | |
| Meter mark of the National Pig Breeders' Association, founded in 1844 | 1955 10 Bani Romania stamp, illustrating pig husbandry | Hangary stamp depicting man hunting pigs |
| | |
| --- | --- |
| | |
| Picture on postcard sent from Army PO No. 3, the Transient Camp in Boulogne, 1916 | Address and Message on the postcard sent from Army PO No. 3, the Transient Camp in Boulogne, 1916 |
paul barry
[[[[[[[[[[[[[[[[[[[[[[[[[[[[[[[[[[[[[[[[[[[[[[[[[[[[[[[[[[[[[[[[[[[[[[[[[[[[[[[
Tuesday 12th March
Annual Competition Night - Traditional, Thematic, Postal History, Open Philately and First Timers
The 2019 Annual Competition of the Ringwood Philatelic Society saw excellent displays, two of which were of such quality that they were promoted to compete at local 'Interclub Level'. (Ferndown & West Moors Philatelic/Postcard Club's 20th April Fair) The Judge for the evening was Colin Mount FRPSL, RPS President. Scoring highest was David Etchells' entry (Postal History) which was a superb study of 'The Cancellations on the 1841 Penny Red'. Taking 2nd place was John Davis with his 'Venice 1796/1866' (Open Class). Other displays also saw much interest, including naval 'Gibraltar 1914-18', and 'The Quest for the Inner Man' (both Burt Burton), with 'Novice Class' -John Nicholson's 'Liberia' and Clarewyn Smits' 'Dick Findlay' (celebrated South African Painter). This much enjoyed evening again demonstrated Members' increasing ability to engage in quality competition presentations.
Competition Results

| | | | |
| --- | --- | --- | --- |
| OPEN | John Davis | Venice 1796-1866 | 71 |
| POSTAL HISTORY | Burt Burton | Gibraltar 1914-1918 | 77 |
| | David Etchells | A Study of the Cancellations on the 1841 One Penny Red | 81 |
| THEMATIC | Burt Burton | The Quest for Inner Space | 73 |
| NOVICE/FIRST TIMERS | John Nicholson | Liberia | 65 |
| | Clarewyn Smit | Dick Findlay | 53 |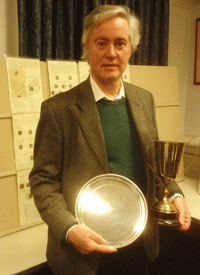 David Etchells, the overal winner
Paul Barry
@@@@@@@@@@@@@@@@@@@@@@@@@@@@@@@@@@@@@@@@@@@@@@@@@@@@@@@@
Tuesday 12th February 2019
Members Entertain

This was a quickly assembled home-grown evening owing to a sudden change in the Society's published programme. Eight Members provided interesting displays on diverse subjects. 'GB late Victorian Stamps' on cover and document revenues proved interesting. 'New Zealand Health Stamps' provided a more extensive study, having been a 31 sheet presentation, created by an early Hon. Member (now sadly deceased). This prize winning display ('The John Cup') was superbly well written up and well promoted with its abundance of mint stamps and special mini-sheets. On a very different theme was 'The Heart of the Matter'. The Member presenting had a sister who had been part of the medical recovery team supporting Dr Christian Barnard and therefore was well placed to here expound the pioneering work in S.A. in the 1960's. Much background information was imparted and this combined with stamps, covers and photos did much to promote the work on blood and organ donations and heart transplants. A 30 sheet quality display followed on the subject 'Submarines'. The presenter briefly described each display sheet, and being an ex-submariner was well placed to bring his subject 'to the surface' with distinction, using stamps, correspondence and photos. In sheer contrast, the next display 'Bhutan' contained mainly philatelically inspired large foil stamps, including some with a built-in record to be played!! 'Australian Forces' was underpinned by individual stamps and covers. This superbly written-up presentation included 'Australian Forces' Postmarks'. Continuing 'Down-Under' was an in-depth study on 'Australian States Specials' where consideration was given to design, plate use, printing methods, overprints, perforations and watermarks. All presented on a sample of album pages, this collection was still emerging. Stamps having 'amusing or unusual shape' was the following contribution and here were seen stamps from Tonga. From the same presenter, the subject 'UNESCO SAVE VENICE CAMPAIGN' was equally appreciated. Here were celebrated numerous stamps in support from across the world, including Yemen, Algeria, Bulgaria and Burundi. Concluding, the Chairman Paul Barry warmly thanked participants, in particular their willingness to muster most interesting material at very short notice.
| | | |
| --- | --- | --- |
| | | |
| Stamps commemorating the First Heart Transplant by Dr Christian Barnard | Tonga, Commemorating the forst Poloynesian Gold Coinage | Yemen, 1986 - some stamps featuring the UNESCO "Save Venice" Campaign |

PAUL BARRY
================================================
Wednesday 16th January 2019
AFTERNOON MEETING (2 to 5)
Members 'First Day Meeting – The Society Entertains'

By popular Member request, a special day meeting was staged, proving most successful; a good attendance with nine displays being shared across a wide range of subjects. 'GB Victorian 1887 Jubilee Stamps', the introductory theme, contained both mint examples and a variety of unusual period covers, two being full colour advertising envelopes. Another presentation considered a member's route into collecting and his development of a most interesting display of 'Australian States up to the 1913 Issues' which included an examination of official overprints. Can stamp forgeries be more valuable than authentic copies? In the case of the GB 1870s one shilling green, this is in fact true. A focus on 'Stock Exchange Forgeries' described in detail how a lucrative massive Victorian scam enabled the sale of forged stamps to be used on telegraph forms, lining the pockets of an unknown worker. A very different slant was introduced with the study of 'Life and Works of Dick Findlay, Fellow of the Royal Watercolour Society', who emerged as a world famous artist. Among achievements were his contributions to coin and philatelic design. This display included a considerable range of stamps celebrating his skills. In contrast, a further presentation revealed an accumulation of 'Stamps received on Letters' through the 1950s to late 1960s and sorted by country, kept in a book with associated caption. 'US Warships in Gibraltar's Waters', an in-depth WWI study, was superbly written-up. Included were numerous covers depicting vessels along with correspondence ship to ship/shore and photos with some rare locally posted mail items. 'The American Civil War' was another presentation which, vast in range, was eloquently covered by historical exposition and displayed philatelic material through album pages. Stamps depicted key military and political leaders, events and flags. 'Singapore and Hong Kong Handover' was well supported by beautiful album pages and special bank notes in range 1996- 2004. The contributor, having lived in the region, provided excellent insights. Concluding the meeting was a skilled and refined study 'The Centenary of the Northern Territory Exploration of Australia' which considered the 1860s and in particular the contribution of John McDougall Stuart, whose recognition was recorded by stamp issue, the design for which was taken from a water colour entitled 'The Overlanders', by Sir Daryl Lindsey. This was a wonderful daytime event in the RPS diary and one likely to be repeated.
| | | |
| --- | --- | --- |
| | | |
| Centenary of the northern Territory Exploration, 2960 | Cover for USS Quincy, in Singapore to Florida, 1936 | Key leaders in the Civil War |
| | | |
| David Findlay, Designer | £5 Note used in Hong Kong with the serial number beginning with the code HK97 | Hong Kong and Singapore Banknotes |
| | | |
| Stock Exchange Forgeries | South Africa Succulents 2nd issue by David Findlay | 1997 Celebrations, Hong Kong |
paul barry
____________________________________________________________________________________________________
To see reports and pictures of meetings from 2012 to early 2018, please click here