Reports on Club Meetings
To see reports of meetings held from 2012 to June 2020 please
....
click here
________________________________________________________________________________________________
Meeting 11th October, 2021
Members Entertain
Anniversaries & Jubilees
Presenting '8 in 3' or '12 in 4' Sheets
(Plus Auction)
The presentation subject of 'Anniversaries & Jubilees' proved a good choice by Programme Secretary Hugh Jefferies, with five members taking part. Paul Lear commenced batting with a colourful display and fascinating commentary promoting philatelic 'Botswana' over some 50 years. Of items, worthy of notice was a 1971 cover celebrating the country's 5th Anniversary of independence. This input was followed by Hugh Jefferies with his highly interesting KGV 1935 Jubilee 'Windsor Castle' display, which was highly detailed, covering printers, printings, plates, perforations and numerous varieties, including on cover. Told in Hugh's unique, well informed and engaging style, this popular omnibus issue was certainly well covered and well received. Phil Olds contributed a display covering a less known philatelic area ...'Travencore', where sheets, watermarks and 1921 surcharges were to the fore. Of note was the lovely set celebrating...'The Investiture of the Maharaja'. Spence Coaker, well known for his considerable knowledge and equally impressive collection of Hong Kong, again did not disappoint. Numerous anniversaries were covered, with the beautiful 'Victory' issue being his favourite. The presentation benefited from variety, colour and content. The 1935 Bradbury Jubilee printing was featured in mint and used, with an associated cover being celebrated. For those with postcard interests, Julian White's display revealed seldom seen Bournemouth material. These focussed on various centenaries and other town celebrations, including the 1910 Aviation Show and civic fetes...a wonderful local flavour indeed.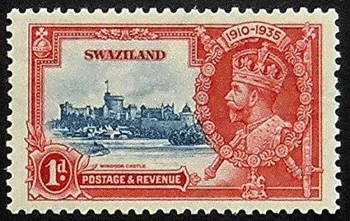 Paul Barry -Club Publicity
%%%%%%%%%%%%%%%%%%%%%%%%%%%%%%%%%%%%%%%%%%%%%
Meeting 25th October, 2021
Part One:- 'Rupert the Bear' Terry Kirkman
This was a feast indeed, presented by the Club's in house authority...Terry Kirkman. He explained that, at the time of WWI and the Battle of the Somme, there was a Fleet Street circulation battle between the daily newspapers; in response to this, the Daily Express in 1920 under Max Aitken (who later became Lord Beaverbrook) introduced a cartoon entitled 'Little Lost Bear', written by Mary Tourtel, wife of the paper's assistant editor. The principal character was a bear dressed like a boy, who lived in Nutwood but had adventures all over the world, later with a group of friends including Algy Pug who was a Pekinese dog, a badger and an elephant.
As well as a daily cartoon, Mary illustrated a series of postcards during the 1920's. Alfred Bestall took over as writer and illustrator in the 1930s and in 1936 produced the first annual. Rupert continued during the second world war, becoming something of a national icon and in the 1950s a fan club was formed called The Followers of Rupert, who produced The Nutwood Newsletter.
By the 1970s, a lot of Rupert merchandising was being prepared, including such items as birthday cards and later a Royal Doulton Rupert range, Rupert knitting patterns, an INVESCO Perpetual Rupert Children's Fund, Rupert phone cards and City of London Police metal Rupert badges. The Muscular Dystrophy Society sponsored Rupert in a link with Tesco's, appearing on their shopping bags, there was a Rupert Museum in Canterbury and a Rupert the Bear Show in Worthing, which Terry and Linda went to, the only adults unaccompanied by children!
In 1966, the Bournemouth Evening Echo ran a prime-time supplement featuring Rupert and Terry on the front page. The Southampton Balloon and Flower Festival had a Rupert balloon, which towered above all the other balloons but it only appeared for two years and then caught fire. In 2020, the UK and Guernsey brought out sets of stamps to mark the centenary of the first Rupert cartoon.
Terry presented examples, originals or pictures of all the above and also a table full of other Rupert merchandising and memorabilia such as jigsaws, pencil cases, holdalls, tissues, sweets, a sweet tin, braces, picture kits, a bath sponge, talc, soap, flannels, pasta shapes, a pyjama case, lemonade, clocks, a kaleidoscope, cutlery, shopping bags, a height chart, a 'noisy book', with sound effects, a Learn to Cook with Rupert book and an NSPCC poster. The display included a fascinating assortment of Rupert themed stamps, covers, postcards, cancellations and other philatelic items from various postal administrations. A truly magnificent presentation.
Part Two: 'The Battle of Britain and the Napoleonic Wars'
Bob Small
Bob explained that after a short period known as The Phoney War, Hitler launched Operation Sea Lion, intended to culminate in the invasion of Britain. To do this, he used 2000 bomber and fighter planes of the Luftwaffe, against 600 of the RAF under four sections of Fighter Command. The Battle of Britain as it became known had four phases in 1940 as follows:-
1. From 10th July to 7th August, the Luftwaffe attacked British shipping and coastal towns.
2. From 8th August to 6th September, the Luftwaffe under operation Eagle Day concentrated on destroying the RAF on the ground, by bombing airfields and runways. In reply, the RAF mistakenly bombed part of Berlin, which so incensed Hitler that, against the advice of his generals, he switched tactics to bomb British cities instead. This led to the 3rd phase.
3. From 7th September to 5th October, the Blitz which, whilst it caused a large loss of life and massive damage to cities within range of the German bombers, enabled the RAF to repair airfields and operate Fighter Command with increasing effectiveness.
4. From 6th October to 31st October, the Luftwaffe's losses mounted and the weather worsened, so Hitler cancelled Operation Sea Lion, and instead launched Operation Barbarossa, the invasion of the Soviet Union.
Bob presented a frame and a half of stamps, pictures and articles illustrating the above.
The Battle of Waterloo
Bob skillfully presented a further frame and a half of philatelic related material. The battle took place on 18th June, 1815. In that battle, Napoleon had 100,000 French troops against the combined British allied and Prussian armies totalling only 77,000. Napoleon had already driven a wedge between the combined British allied and Prussian armies, but overnight 17th/18th June it rained heavily, so he delayed the start of the battle till midday to give the ground time to dry out. Bob then described the course of the battle during that day.
Wellington's 23,000 British troops, although better positioned, were heavily outnumbered by Napoleon's and were facing possible defeat but were reinforced first by the Dutch (part of the allied army) and then by Blucher's Prussian army. They managed to turn the tide of the battle, leading to Napoleon's defeat, with 92% of his army either killed or injured, although Wellington declared afterwards that the battle was 'the nearest run thing you ever saw'.
Bob also displayed a model he had made during six months of lockdown of the blockhouse of a Napoleonic prisoner of war (POW) prison. It was made of oak and pine wood and comprised a ground floor, stairs up to the first floor, a tiled roof and a bell tower. The roof lifted off to reveal guards manning the weapon emplacements. Bob finally produced sixteen sheets of Napoleonic POW censorship mail, which had been displayed at Hampex, where it had been award winning.
The evening concluded with Albert Jackson giving a warm vote of thanks for two such richly themed presentations and the wealth of material that had been shown.

AK/PB