Reports on Club Meetings
To see reports of meetings held from 2012 to June 2018 please
....
click here
________________________________________________________________________________________________
9 in 4 - Stamps only - Members
Before the meeting got under way, the Chairman advised that the new display boards had arrived and would be in use from the next meeting. Unless decided otherwise, all future 6 in 2 and 9 in 4 displays would be 8 in 4s, with the format of the 9 December meeting of three sheets from everyone being amended in due course to four, if appropriate.
Seven members displayed this evening, beginning with David Parsons who put up a range of Revenue Stamps from Guernsey, tracing their history from the larger first issue of 1d and 6d values to the smaller-sized subequent isues. Examples were shown off and on documents, with changes of paper and printer, ending with the rather unique Entertainment Tax stamps. Chris Wheeler followed with a range of GB Smiler Sheets, followed by Spence Coaker with an unusual collection of Hong Kong Securuty marked stamps, some with overprinted company chops, others with perfins, these being issued by the major companies operating in the Territory up to 1841. Hugh Jefferies dispayed his collection of Mauritius Numeral Postmarks, explaining the cancellation numbering system, with examples of both the common and rarer stamps of various values.
Don Seaby covered the Straits Settlements issues during the reign of Queen Victoria and Edward VII, followed by Bill Laird with his well written-up George V commemoratives. Finally an exceptional display of the Ceres issue from France with sheets of the various values was displayed by Alan King, who went to great lengths to explain the many different forgery methods he had examples of in his display.
| | | |
| --- | --- | --- |
| | | |
| Guernsey Revenue States Stamp | Early Hong Kong Perfins | Indian Surcharged Stamps |
| | | |
| 1924 One Penny B.E.E. stamp | Rare B65 Cancellations from Mauritius | 1850 France Ceres, black on pale yellow, on piece |
chris wheeler
yyyyyyyyyyyyyyyyyyyyyyyyyyyyyyyyyyyyyyyyyyyyyyyyyyyyyyyyyyyyyyyyyyyyyyyyyyyyy
Monday July 22, 2019 - "Czech Miscellany" - Lindy Bosworth FRPSL
This was a highly specialised collection, eloquently presented and superbly written-up. In appreciative mode at the conclusion, Chairman Bob surely voiced the feelings of all, stating 'this is a most interesting and special display of high quality' and thanked Lindy for sharing it with Club. Drawing on a rich resource of maps, covers, airmails, postcards, letter cards, stamps of all periods –mint and blocks, with consideration of papers and perforations, the display covered much ground. Lindy began her presentation with a detailed historical assessment, beginning with the State when part of the Austrian-Hapsburg Empire. Detailed information was provided on early stamp issues, then to Prague where subsequent printings produced scores of varieties. Perforating was first a business operation, subsequently followed by the Post Office. The study of this aspect alone is a minefield, waiting for the expert eye to examine. A fair section dealt with colours, gums and also overprints, the first of which were the 1920 Czech Red Cross issue, lasting a very short period. Details of the first airmail stamp were examined, together with early postcards depicting the first aviators. 1930 saw an issue of airmail stamps and this received a major focus, reflecting the considerable increase in aviation activities. There followed a substantial section devoted to 1939 German occupation stamps and associated charges. The post war sections of this fascinating philatelic treasure trove centred mainly on the diverse subjects represented, revealing Czech culture, industry and agriculture. An important contribution was the work of stamp engravers, which included work by K. Seizinger. Members were fascinated by a signed original pencil drawing for the 50h green value, which had additional remarks for the design, in the margin. The printed stamp's design, displayed alongside, accurately followed the designer's intentions. The final frame considered the 1993 establishment of the Czech and Slovak Republics. This was indeed a fine presentation not to be equalled in its subject's content, range and rarity.
| | | |
| --- | --- | --- |
| | | |
| Original Pencil Drawing of 1930 stamp | First Airmail stamps, 1930 | Czech soldiers in enemy uniforms "Torch Bearers of War" |
| | | |
| 1923 Cover with 1922 "Agriculture and Science" Overprints | The first stamps engraved by Josef Hercik, 1962 | Lindy being thanked by Chairman, Bob Small |
paul barry
OOOOOOOOOOOOOOOOOOOOOOOOOOOOOOOOOOOOOO
Monday 8 July:- 9 in 4 -GB and the Channel Islands - Members
Presenting an interesting selection of GB covers was Don Seaby, with material from 1888 onwards. All provided local flavour having Bournemouth postmarks. Chris Wheeler by contrast was right up to the minute, having uncovered a Post Office plot to bankrupt the lot of us!! 25th March saw the second class postal rate increase to 61p, an increase level which contravened OFCOM regulations. The charge should have been 60p up to 1 April. Chris sent a range of covers to himself showing the new illegal rate, together with details of an official apology and associated charitable donation! Moving quickly back in time was John Garrett's contribution featuring seldom seen 'Newspaper Tax Stamps' in the period from 1757/1789 (William Pitt). A detailed study came from John Duckworth with his 'GB Dorset', a look at early covers/postmarks, rates and fees. Fair examples of content would be his 1783 cancellation, Sherborne to Blandford, and that of 1846 Wimborne to Salisbury. David Parsons shared some of his Guernsey material –occupation licences, permits and forms. Charles Lennard looked at WWII 'Rates and Routes', sharing his covers and map. Rob Greer displayed on the subject of PO inspection marks surcharges, yellow labels and mobile post offices. Paul Lear in contrast shared most colourful material with numerous mint stamps depicting birds, including raptors and a beautiful section on butterflies. Eminent scientists featured as did a brief philatelic comment on the world of his namesake, Edward Lear!! Concluding the evening's entertainment was Bob Small with a close study of one of his passions – 'KGV Shades'. This all mint display featured 3d lilac and 4d green values with controls in the period 1912–1924. Another diverse and fascinating set of contributions -much enjoyed.
| | | |
| --- | --- | --- |
| | | |
| 1 October 1870, first day of use of a postcard in GB, this one with a pre-printed ½d stamp | Reverse of the postcard | 1951 letter by air to Tripoli, with Postage Due stamps and Tripoli Tax Marks (rare) |
| | | |
| 1924 Postcard from Bournemouth to Australia, wth double ring cancellation, Tax marks and Postage Due stamps | Stamps of Britain, showing the Tyne Bridge | Error in calculation of Postage Due, resulting from use of the E stamp |
| | | |
| Letter to Board of Trade, OHMS, charges but overruled | 1757 1d Newspaper Duty Rate (½d + ½d) | 1783 letter from Sherborne to Blandford marked "turn at Sarum" |
(Paul Barry)
%%%%%%%%%%%%%%%%%%%%%%%%%%%%%%%%%%%%%%%%%%
Monday 24 June: "The Spitfire" - Richard Wheatley FRPSL
Along with train driving or being a retired bank manager!! -flying Spitfires was the dream occupation for many boys, and not a few girls, in the 1940's …and into the 50's I recall. Our speaker Richard Wheatley FRPSL, had been similarly enthralled and eventually gave way to his passion some 20 years ago to start his thematic philatelic collection. He pointed out that really he considers himself to be a 'postal historian' who has always desired to collect for fun and felt no call to be drawn into the world of competitions. A pity some might argue, since the breadth, depth and scarcity of his material was beyond all expectations and would certainly present a huge challenge in any competitive postal history environment. Well 'fun' it was…from amusing commentary to unique Spitfire related philatelic material, some of which had been acquired with considerably difficulty, cost or sheer good fortune. Richard began by tracing the 'Spitfire' story from its early roots in 1912 with the Schneider Trophy connection. Unknown to many Members, I guess few would have known the earliest 'Spitfire' image appeared on a wartime South African stamp depicting not one, but two such aircraft along with pilot in full flying gear. The story gradually unfolded with Richard providing insights into development, production and even money-raising activities ('The Spitfire Fund') to aid the war effort, both at home and abroad. A Manchester tram ticket in fiscal support was a good example, along with 'Your Spitfire' heart-felt appeals. Major emphasis was placed on the actual wartime deployments and successes of this amazing aircraft, including an important section on the theme of 'Victory'. His display was beautifully embellished with worthy write-up and celebrated by diverse material which included scores of Spitfire depicting stamps, singles and blocks, covers, (one, a Douglas Bader signed FDC) postcards, airgraphs/aerograms, photos, newspaper cuttings, microfilm and propaganda literature. Unexpectedly, in the mix at the presentation's conclusion, was to be seen a sizeable table-top collection of ephemera – ale cans, bottles, glasses, beer mats, tiepins, DVD's mouse-mats and plane models, to name but a few examples! Very considerable interest and appreciation was in evidence as the presentation drew to a close…an eminent study and most memorable evening in the Club's programme.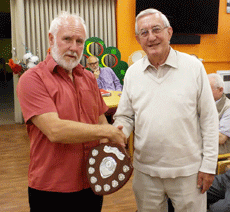 John Davis being awarded the Open Class
Competion shield
| | | | |
| --- | --- | --- | --- |
| | | | |
| Jacques Schneider | The Schneider Trophy | Cover from Calshot to France | Cover from Australia to England |
| | | | |
| Mayor of Manchester's Tram Ticket 0001 for the Spitfire Fund | Lundy's first set of eight stamps with the "V" for Victory overprint | Lundy Victory Proofs | South Africa cover with RAF pilot on the stamp |
| | | | |
| Battle of Britain rejected designs | Douglas Bader signed Cover | Half crown stamp on cover from Leeds to USA, with "VP" mark | Richard Wheatley showing "Spitfire" related items |
paul barry
###############################################
Monday 10 June: 9 in 4 - Your Choice - Members
The evening was opened with the display by Spence Coaker of his recent Postal History Class competition entry on the tiny island sandbank Shameen in the Province of Canton. It was established in 1860 when traders and consulates had to move from the city, and they built up this sandbank into an Anglo-French enclave. Only 1250 by 325 yards in size it is now preserved due to the colonial architecture it features. Arench Indo-Chinese stamps overprinted Canton were used.
Chris Wheeler then displayed postcards telling the story of the plague in Eyam, Derbyshire, followed by John Duckworth showing examples of mail used on the South Atlantic route between 1934 and 1939, and pictures of the refuelling ship in action, with its crane and catapult mechanisms for getting the seplanes into the air again. Some excellent covers were used to enhance the story. David Parsons brought along some examples from a sale lot of South African essays and proofs, the like of which we had not seen before. Charles Leonard showed examples of mail carrying pre-printed Express Labels of various types issued by Finland. Bill Laird entertained with local history, showing many brochures printed to publicise Shows in Bournemouth from the 1950s, including one of the latest types of Horizon Label.
Terry Kirkman displayed facsimile stamps of Australia used initially for the 1984 Ausipex. These were in different colours to the issued stamps and all the more interesting because of that. Hugh Jefferies concentrated on the early issues of Newfoundland, all with wide margins and he include some forgeries for added interest. Don Seaby showed the early French Colonial issues of IndoChina from 1889 to 1927, before Vietnam issues started. Alan King showed early stamps from the Canadian colonies from 1851, before the Dominion of Canada was established in 1926 absorbing the majority of these issues. Finally Bob Small put up 9 sheets of the various shades of the 2½d blue, in various multiples and with their correct colour descriptions.
| | | |
| --- | --- | --- |
| | | |
| 1908 Shameem Cover with Canton cancellation | Air Mail letter to South America with 24/- postage | The Westfalen seaplane catapult refuelling ship |
| | | |
| South Africa "Edward Coronation" essays | Finland cover with Express label | 1956 Programme for the Pavilion, Bournemouth |
| | |
| --- | --- |
| | |
| Australia, Facsimile of 6d Kookaburra stamp | Great Britain 2½d in various shades of blue |
(chris wheeler)
~~~~~~~~~~~~~~~~~~~~~~~~~~~~~~~~~~~~~~~~~~~~~~~~~~~~
Monday 27 May 2019
"Classic Postage and Revenues of the British West Indies"
Michael Medlicott FRPSL
This much awaited presentation in the Club's programme was an undoubted success. Michael Medlicott FRPSL traced his interest in stamp collecting from a young age, a particular influence being a friend from a family of planters in Barbados, (sugar trade) and 'the bug' has fascinated him ever since, describing himself still as 'a very active collector'. He has no interest in competition, but enjoys the sharing process. And what a sharing!! His eloquent presentation was supported by a rich display, making use of cream sheets and sublime hand written text. There was both depth and breadth in this large display, made up of mint and used stamps…singles, blocks, overprints, essays, revenues, cancels, including specimen hand cancels, 'Too Late' and 'Fees', plate proofs, colour trials, varieties, plate flaws, perforation considerations and forgeries. Superb covers were present, together with fascinating letters. The presentation also contained details of the printing companies involved, from Perkins Bacon (with stunning colour), Waterlows to De la Rue. Numerous items were either rare, unique or indeed both. Members were whisked across a good number of countries, plus islands in the West Indies, including in particular Barbados, British Guiana, British Honduras, Grenada, Jamaica, Nevis and St Vincent, Tobago…just to name a few! Numerous wonderful philatelic display sheets could be highlighted, but perhaps one of the most memorable is that depicting beautiful revenue stamps of Tobago, issued June, 1879…take a look!!!
Michael was presented with an engraved presentation whisky tumbler by Chairman Bob, who was almost lost for words…'
a truly wonderful display, we have indeed been most fortunate…'
| | | |
| --- | --- | --- |
| | | |
| Custom stamps on Affidavit, dated 1857 | Double perforations on top and sides | Essays |
| | | |
| Colour proofs on unwatermarked paper | Ocean Mail, 1859 | Thank you! |
paul barry
*************************************************************
Monday 13 May 2019 - A.G.M. and Trophy Presentations
A well attended AGM was initially addressed by each of the Committee Members giving their reports on their past year's activities. These reports indicated a hard-working Committee, doing its best to support the Club and benefit each of its members, as well as all of them collectively The members showed their appreciation for the work of not only the committee but those non-committee members who had made signifiacant contributions during the past year. The Chairman emphasised the need for more members to use the packet service and to attend more of the meetings where outside speakers had been invited to show us material that was unique and of incredible quality, even if the topic was not one of their collecting areas.
The main item for discussion was whether to replace the existing frames with new ones. Reasons for this and the best options were debated and the conclusion voted by members was to go for six double-sided perspex protected (for the Fair) sixteen sheet boards on legs in 4 by 4 format, with space for A4 sheets in their protectors. It was further agreed that the significant cost of these boards be paid for from the Club's current account balance, and be proceeded with immediately. Next year's programme will have club displays of "8 in 5", instead of the current "6 n 2" and "9 in 4" formats.
A social break followed and then the presentation of awards for the recent Competition, ending with a short auction.
| | | |
| --- | --- | --- |
| | | |
| Alan explaining the Accounts | Bob complimenting the competitors | Carpenter's design of the adopted new 16 frame double-sided board |
| | | |
| --- | --- | --- |
| | | |
| Wendy with Best in Show award | Don receiving the Postal History Award | John receiving the Postcard entry award |
chris wheeler
ooooooooooooooooooooooooooooooooooooooooooooooooo
Monday 22nd April
South Georgia and South Shetland Islands" - Hugh Osborne FRPSL
This meeting was not well attended; one of the reasons emerging was that this is 'a somewhat obscure topic'. As a collecting area, there is little doubt that this Antarctic region creates limited interest… perhaps this is due to the paucity and expense of philatelic material? At the Club's AGM, Chairman Bob Small pleaded with Members to attend these minority interest evenings which frequently involve eminent speakers, superb presentation/display and frequently feature rare and unique gems, sometimes 'hardly seeing the light of day'. From the writer's viewpoint, there is the additional matter of respect for such material, its presentation and perhaps not least, a matter of respect for such speakers, some travelling considerable distances to share collections of immense philatelic importance. True, we can't all attend every meeting. What had folk missed?!
Hugh Osborne first traced the history, economics and politics of the Southern Whaling Centre (est. 1904) and personalities involved. This industry was highly lucrative and workers incredibly well paid. Social isolation was the main corrosive element in the whole operation, and it was clear that a well organised postal service was crucial to morale. 1909 saw the opening of the South Georgia Post Office, heralding in a period of stability, indeed up until the 1939 hostilities. Mail in and out of South Georgia was intermittent and Stanley, in the Falklands became a vital link in the postal chain, however links out were seldom more than 2-3 times per year. South Georgia was quickly established as an important 'launch pad' for southern polar exploration. Early activity had been precarious, with some expeditions being fatal. Emerging strongly into the 1930s were those of scientific intent. Here essential safe practice was promoted, for example in areas of clothing and rations. Hugh's extensive collection had its origins in Falkland Islands philately in the 1980s, with developments into South Georgia material emerging ten years later. The presentation enjoyed by Members was but a fraction of Hugh's philatelic empire. Included were studies into stamp issues, their printing and varieties. Also present were cancellations and censor markings, airmails, registered and insured mail, and of course… correspondence. Many items were very rare, indeed unique. Here were presented great insights into a largely unknown area of southern hemisphere philately, presented by Hugh Osbourne, the expert in his field… what a display!!, what a memory!!!
| | | |
| --- | --- | --- |
| | | |
| Registered Parcel to England from South Georgia via the Falkland Islands, 1935 | Registered Letter to the Falkland Islands, cancelled on 1 July 1910 | Registered Letter from the Falkland Islands to London, 1939 |
paul barry
@@@@@@@@@@@@@@@@@@@@@@@@@@@@@@@@@@@@@@@@@@@@@@@@@@@@@@@@@@@
SATURDAY 20 APRIL
43rd ANNUAL FAIR and INTERCLUB COMPETITION & AUCTION
Ferndown Interclub Results 2019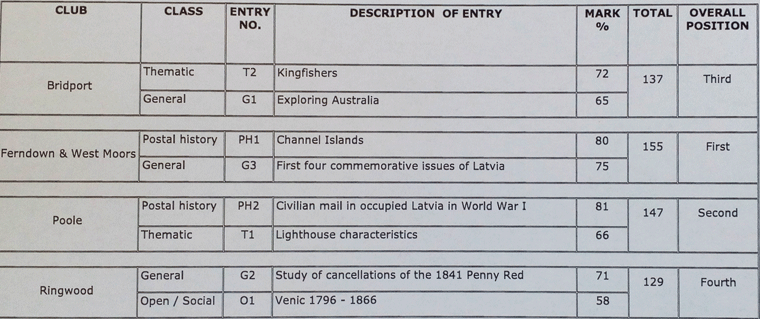 | | | |
| --- | --- | --- |
| | | |
| Terry with the Winners' Shield | Wendy with the Winner's Trophy | One Happy Charles! |
#######################################
Monday 8 April - "6 in 2 - There is something in the Air" - Members;
The evening's eleven displays covered a wide range of topics under an 'Air' theme. Member David Sadler presented mainly 1930's covers including Hong Kong to Holland and Manilla and a couple of New Zealand airmails of 'Jubilee Airways'. Terry Tuck considered aspects of postal history relating to Bournemouth and District, in particular Hurn Airport, and included an early airport map. David Parsons presented APEX covers, promoting the International Airport Exhibition of May, 1934. Receiving a truly magnificent write-up, Wendy Buckle's display -'Introduction of Airmail Services,' which began in Latvia in 1921, was well worth studying. A small but fascinating selection of 1930's mail, postcards and photos, supported the theme. Routes and flight periods were explained. Chris Wheeler provided a largely mint display which covered for example the 1997 China Telecom 'Air Waves', 'German 1977 Telecom Equipment' and 'Iran 2008 Telecom Mast'. On a very different tack was Spence Coaker's 'Early Airmails of the Far East & Hong Kong' which celebrated various mailings covering a variety of companies/routes – KLM Dutch East Indies to Amsterdam, Imperial Airways from Singapore and Hong Kong based routes. Providing great description was Albert Jackson's 1944 'Allies Invasion of Greece' presentation -the Inselpost Greek Islands' Service to Rhodes, Kos, Leros, Samos and Crete (propaganda cover). Among slogans in German were 'Keep a Stiff Upper Lip!', 'Stand Firm!' and 'Never Surrender!' - these being only in use for a week, 9th-16th March 1945, prior to defeat! Closer to home was John Garrett's 'Bournemouth Centenary Air Show' which demonstrated good write-up, photos and rare postcards. Included was information on Chas Rolls, who died in the first GB aero accident. Charles Leonard addressed 'The Sea-plane Service on West Coast of Africa' with first flights from March 1937, its purpose being to link up the French Colonies. The service was short lived with the fall of France in 1940. Covers and a fine brochure accompanied. 'Bournemouth Aviation 1910' was well defined by Don Seaby and supported strongly by his sepia postcards. Concluding proceedings was Bob Small with photos, covers and postcards, who shared his study of 'Hitler's Vengeance Weapons' …the V One and V Two rocket programme.
Again Club Members had been well entertained 'in house' and as Chairman, Bob congratulated participants on 'an excellent evening'.
| | | |
| --- | --- | --- |
| | | |
| Top half of the Agreement for Sale of land for the development of Hurn Airport, 1942 | Lower half of the Agreement for Sale of land for the development of Hurn Airport, 1942 | First Flight cover from Hong Kohg to Manila, 1937 |
| | | |
| Se-tenant labels for the Air Post Exhibition in London in 1934 | Air Mail cover from Hong Kong to London, by sea to Singapore, 1934 | Inselpost Greek Islands Post, air mail cover, 1944, used during the Allied Occupation |
| | | |
| 1910 Bournemouth Air Show postcard showing aviator Barnes preparing for a flight with the temporary hangars in the background | An example cover from Belgium to the Ivory Coast via Dakar on the partial East African air route | Front of first day flight cover from London to USA from London Airport (Hurn), 1945 |
| | | |
| Back of the first day flight cover from London to USA from London Airport (Hurn), 1945 | Grenada miniature sheet showing a Spitfire approaching a V1 rocket to tip its wing and make it crash | First Day Cover from Majuro, Marshall Islands showing a V1 on its dive bombardment on London, June 1944 |
(paul barry)
0000000000000000000000000000000000000000000000000000000000000000000000000000000
Monday 25 March 2019
"GB Stamps and Postal History" - John Roe
This was certainly one of the most detailed and comprehensive of all GB presentations seen in Club in the past decade. Summing up this outstanding specialist evening, Chairman Bob Small stated 'A wonderful display of GB Victorian, a marvellous exhibit'. He was particularly drawn to the superb display of the 1880's lilac & green issue, 'in true colours'. Members would have willingly turned out just to see this exhibit alone, however this was merely a small part of an extensive display covering pre-stamp correspondence, early covers and pre-paid envelopes, an extensive 1d red study, plates, postmarks, machine cancels, postcards, parcel post labels, printing varieties, errors, inks, postmarks and machine cancels. There were official lists of 'Delivery Offices' and 'District Offices' in London. The entire presentation was highly researched and the clarity of presentation in top category. There were numerous unique philatelic items of which probably the most stunning was the 1887 'Jubilee' issue… 1/- green & carmine marginal copy with inverted watermark. (Can you find another?) Magnificent!!
| | | |
| --- | --- | --- |
| | | |
| Penny Post cover sent by the Bishop of York on 29 January 1798 with a Bishop Mark, top left | 11 July 1830 Free Frank cover from London to Lancashire | Cover dated 23 January 1860, showing the Inspector's marks of 2d for undelivered mail |
| | | |
| Bristol sideways duplex cancellation on four penny reds on a letter sent to the speaker's grandmother | Very early envelope produced by Edwin Hill, controller of stamps from 1840 to 1872 | 1888 - £1 brown-lilac surface printed by de la Rue on white paper (SG186) |
| | | |
| 1882 - £5 orange Specimen on blued paper (SG133) | Very fine used example of the embossed 1/- green, die 1 cancelled 716 (Sleaford, Lincs) (SG55) | 1883 engraver's die proof for the lilac and green stamps from de la Rue, mounted for exhibition purposes |
(paul barry)
#################################################
Monday 11 March 2019
Annual Competitions including One-sheet competition
Results of the Competition
| | | | |
| --- | --- | --- | --- |
| OPEN/SOCIAL | | | |
| | John Davis | Venice | 75* |
| | John Garrett | Bournemouth | 63 |
| POSTAL HISTORY | | | |
| | Spence Coaker | Shameen | 63 |
| | David Parsons | Channel Islands | 84* |
| GENERAL | | | |
| | Wendy Buckle | First Commemorative Issues of Latvia | 86** |
| | David Parsons | Jersey | 83 |
| POSTCARDS | | | |
| | John Garrett | Bournemouth Air Show, 1910 | 67 |
| | John Garrett | Paddling across the Bay | 69* |
| THEMATIC | | | |
| | John Garrett | Christmas | 67* |
*****************************************************************************************
Monday 25 February - Your Committee Entertain
Displays were presented by Committee Members and proved to be on diverse areas and themes and were certainly 'entertaining'! A most colourful presentation on 'Seychelles' contained a mix of stamps, a first flight card of Air Seychelles , official government invitation documents, royal visit items and newspaper cuttings. 'Australia' followed and focussed on Post Office innovations including ATM stamps, stamp booklets, replica and pictorial cards, experimental and promotion booklets for Ausipex '84 – National Stamp weeks. The next theme was 'Rupert' and here Members were enthralled with the presenter's eloquent historical background information which traced the emergence of this famous journalistic bear. The presentation included a Stanley Gibbons stamp album having a front cover 'Rupert' logo. Supporting material was considerable, with many books featuring, including the famous annuals -some delightful early editions. 'Britain at War' followed. Here was a superb write-up in support of very early unique documents. A 1588 Armada related letter was a gem! But so too were a number of letters linked to the '30 Years War' of 1634, the English Civil War, the Monmouth Rebellion and the War of Spanish Succession to name a few. The Club's habit of presenting rare, unique and fascinating material is well documented, and the presence of a sizeable collection of 'Cape Triangulars'' was yet another treat. This was an in depth, well researched study of these iconic stamps which celebrated via no less than 19 sheets, the range of shades, printings, including woodblocks, watermarks, papers and forgeries. 'Bechuanaland' came alive in the following display, having the advantage of the presenter's personal connection with this most interesting slice of East Africa, having worked there in minerals for some years. Members enjoyed a short geography lesson combined with numerous stamps. These included numerous overprints across three reigns, a section on railway material and a wildlife study. A colourful humorous postcard presentation also was much appreciated. Here the card artist Rupert Besley took the floor! Forming part of a considerable specialist collection was 'Refugee Mail' which focussed on the 1940's, with Polish soldier's correspondence home being well evidenced. The presenter shared a number of very human stories, just part of a rich historical account. 'Victorian GB' took a very different stance, being home grown with the theme of 'Herefordshire' promoting an interesting selection of covers and revenue documents. This evening of entertainment, courtesy of the Committee, concluded with 'Tora,Tora,Tora' and the Pearl Harbour attack of 11th December, 1941. This episode of USA naval history was well traced via a mixture of coloured photos, stamps, maps and facts and figures, all enjoying a skilled write-up.
A fascinating philatelic evening indeed which managed to avoid the lynching of the Club's hard working Committee!! (Safe for another year no doubt!!)
| | | |
| --- | --- | --- |
| | | |
| Selection of Invitation Cards to Official Parties in the Seychelles | Part of the Rupert book collection | Australia, 1934, Centenary of Victoria Stamps, issued at AUSIPEX, 1984 |
| | | |
| Army Official cover from Ladysmith, Natal during the Boer War, dated 28 February 1900 (Ladysmith Siege Post) | A four pence blue pair of the 1853 Cape of Good Hope triangulars | Letter sent to his wife by a refugee on his way to a German POW Camp from Romania, 9 February 1941 |
| | | |
| A Dixon-drawn postcard marking the opening of the Channel Tunnel | A page from a shop ledger showing the change from Revenue to Postage stamps | Cover marking the centenary of Botswana's postage stamps and cancellation marks, 1985 |
(paul barry)