Reports on Club Meetings
To see reports of meetings held from 2012 to March 2018 please
....
click here
________________________________________________________________________________________________
Monday 10 September - "6 in 2" - Postcards Only - Members
Chris Wheeler started the evening with a set of postcards illustrating the breadth of art produced by Joseph Wright of Derby, being one of the initiators of the "Age of Enlightenment". Spence Coaker followed with six postards illustrating the lives of those living in or visiting some of the Chinese ports, and the postmarks used to cancel the stamps. John Duckworth also featured a pioneering artist, Raphael Kirchner from Vienna, this time a leader in the art nouveau movement, who produced colourful Japanese style paintings and then glamour pictures, very popular with the troops in WWI. John Garrett was next with examples of the earliest postcards issued featuring sights of Bournemouth, printed in Germany from the 1890s, his earliest being from 1893, a postcard showing Bournemouth scenes posted from Brockenhurst to Berlin. He also showed examples of the first divided-back cards which came into use in 1902. A set of very early pull-out cards featurng Bournemouth, and ending with a glitter card formed Julian White's display. Don Seaby also featured Bournemouth with postcards from 1893 to 1899, and ones featuring Lily Langtree and Freddie Mills. Terry Kirkman displayed some early Australian cards, and ones featuring Lily Langtree and Freddie Mills. Finally David Parsons displayed some postcards with the outline design of Trinidad stamps, closing with the crab card from Guernsey and two view-shaped cards, one in the shape of a suitcase containing a camera.
| | | | |
| --- | --- | --- | --- |
| | | | |
| 1911 postcard from Wei-Hai-Wei to Kent showing a village scene in Lui Tung Tau | Kirchner Japanese-style postcard "Geisha being carried in a litter" | Two art nouveau Glamour postcards by Kirchner | A colourful early local postcard |
| | | |
| --- | --- | --- |
| | | |
| Another colourful early Bournemouth postcard | South Terrace, Freemantle in the late 1800s | Jersey "camera views in a suitcase" sent to Winton |
chris wheeler
$$$$$$$$$$$$$$$$$$$$$$$$$$$$$$$$$$$$$$$$$$$$$$$$$$$$$$$$$$$$$$$$$$$$$
Monday 13 August 2018, "9 in 4" - Stamps only - Members
Hugh Jefferies started the evening with a comprehensive display of the first few issues of Jamaica, starting with the British Used in Jamaica, then to their first issue in 1860, and subsequent issues up to Independence. Examples of the CC and CA were shown, as were the stamps bearing the allocated cancellations A01 and from A27 to A78 as used by the different post offices in the country. Don Seaby concentrated on the Malayan Federated States elephant and tiger stamp designs, mint and used examples; a range of postmarks, and then some revenues and postage dues. Third was David Parsons a most colourful range revenue stamps from Jersey, starting in 1901, including a triangular set. Spence Coaker put up some stamps from his collection of Canada War Issue to 1972 pictorials, all neatly written-up. Chris Wheeler displayed a set of covers received through his letter box during the last two weeks with a range of "stamps" on them, mainly pre-printed in a variety of formats, including a Retured to Sender Freepost cover that had not been collected by the addressee. John Garrett, displayed some rare issues from the various German New Guinea issuing Agencies. Bob Small continued with his superb presentation of King George V War Time issues showing the many shades of the 1½d brown Cyper, and the 2d orange Cypher, all from 1912 to 1924. Finally Bill Laird also displayed some George V stamps, but his were the Downey heads, which he interspersed with pictures of the Downey family. Various dies and perforations were included.
| | | |
| --- | --- | --- |
| | | |
| "A01" cancellation, Kingston Jamaica | 1/- Triangular Revenue stamp from Jersey | Court Revenue stamp from Jersey |
| | |
| --- | --- |
| | |
| Freepost Cover, Undelivered, Surcharged and Returned to Sender in a covering envelope, with fee unpaid | King George V with Downey heads, and complementary 10/- note |
(chris wheeler)
8888888888888888888888888888888888888888888888888888888888888888888888888888888888888888888888888888888888888
Monday 23 July - "Royalty" - Ian Shapiro
Frequently collecting interests have their origins in childhood and for Ian Shapiro this was certainly true. Having grown up in Cape Town and had experience of Royal Visits, he developed a growing interest in 'Royal' themed stamp issues and indeed, all matters 'royal'. Members were absolutely riveted to this presentation. Ian had amassed over many years a superb collection and within this evening's display the finest elements were to be seen. The story featured began in 1837, through to near the end of the 20th Century. Early signed correspondence from Queen Victoria and Prince Albert was displayed, as were mourning envelopes, rare royal cancellations, including postal items from Windsor, Balmoral and Osbourne House. An interesting study was made of royal handwriting. Into King Edward VII's reign, the in-depth appraisal continued, with such rare (unique?) items such as a royal cover blessed with a 'postage due' stamp! and later royal telegrams sent around the time of 'the Abdication'. Such was the volume of material and its sheer scarcity, together with the considerable knowledge displayed, both through write-up and exposition, that Members could hardly draw breath. For the writer, as for many no doubt, were the most amazing philatelic items relating to the very last days of the Russian Royal Family. These included envelopes with their letters and a Christmas postcard sent by Anastasia, one of the princesses, just weeks prior to execution, together with photographs and documents!
Indeed… a 'Night to Remember'
| | | |
| --- | --- | --- |
| | | |
| Letter from Queen Victoria, signed "The Queen" on the front, sent to Queen Adelaide in 1837 | Letter signed "The Queen" on the front, with 2d blue, sent to Lady Caroline Barrington in Osborne, IOW, from Balmoral, 1852 | Letter with stamp sideways, sent by Queen Victoria, also to Lady Caroline in Osborne, IOW, arriving the next day |
| | | |
| --- | --- | --- |
| | | |
| Letter from "Osborne", 1897, showing front and back and contents, and cancellations | Postcard from the Royal Yacht, with Cowes cancellation (Official Paid) when Victoria and Albert were aboard | Postcard from Highcliffe Castle, with its own cancellation |
| | | |
| --- | --- | --- |
| | | |
| Private "Frogmore" cancellation on piece | Railway parcel label from Sandringham to the Savoy Hotel, attached to game shot on the estate | The Railway Stamps used on the Parcel label |
(Paul Barry)
=================================================================
Monday 9 July 2018 - Members - "A is for ......."
The evening started with an extraordinary display by John Davis using the letter "A" to represent both Aqua and the Letter Sheets from Venice known as the Venetian "AQ" letter sheet, best described by postal historian Bernard Quaritch Ltd: "In 1608 the Venetian authorities began issuing these prepaid printed letter sheets, which are considered to be the first postal stationary sold officially – predating the British Mulready letter sheets of 1840 by more than two centuries. The letters "AQ", a contraction of acque, were printed at the top of each sheet – they were issued to generate revenue for the repair and upkeep of waterworks in the city by the Collegio alle Acque. The text printed on the sheets reproduced the statute of 1608 under which the system operated, with a surcharge of 4 soldi on the cost of posting a letter. Each sheet has an identification number printed at the top left and the system remained in operation until the end of 1797". This was followed by Spence Coaker with postal material linked to the towns in Hong Kong and the Treaty Ports beginning with the letter "A". John Duckworth displayed some very rare UK airmail covers, including an example of one from the first official flight in 1911, a small plane with an on-board sorting office; and a postcard of Graf Zeppelin, air post pioneer. John Garrett showed us Australian Air Force Mail from World War 2, with censor marks. Wendy Buckle displayed a highly colourful presentation of stamps depicting the origin and development of the Alphabet from its invention in the 11th century BC by the Phoenicians, when it comprised just consonants, with examples of the five principle Alphabets in use today.
Charles Leonard displayed six sheets of Airmails to and from Siera Leone, all using different air transport routings. Davis Parsons concentrated on Alderney with a mix of postcards showing many aspects of life on the island. Chris Wheeler chose Anti-Aircraft as his theme with examples on postcards, souvenir sheets and stamps. Don Seaby went back to his home town of Amersham with some nostalgic postcards of old Amersham, and later when the Metropolitan Railway had arrived, new Amersham. Hugh Jefferies surprised us all again with his choice of Kenya, Uganda and Tanganyika, showing many varieties, and explaining their causes, finally advising the letter A was for Adhesive!
| | | |
| --- | --- | --- |
| | | |
| An example of the A Q lettersheet that was used by those sending letters to Venetian Government Agencies, with a fee to help stop the city from sinking | Graf Zeppelin on a postcard | Teo stamps depicting the Phoenician alphabet, the first world alphabet |
| | | |
| --- | --- | --- |
| | | |
| First UK Air letter, postmarked 1911 | Military Camp in Alderney | Amersham Village |
(chris wheeler)

**********************************************

Monday 25 June 2018

"A Closer look at Open Philately"
Christine Earle FRPSL and Patrick Reid FRPSL

Christine provided a fascinating insight into the world of philatelic display and the exhibition class of 'Open Philately'. Her many years as a collector, and latterly as a skilful and experienced judge, placed her in a most informed position. She explained how 'Social Philately' had given way to 'Open Philately' in which 'anything is permitted' – material not limited to postal-connected items alone. Judges, she said, are looking for 'a story' – so Members were urged to plan it. In any display or exhibition entry, the first page provides the title and introduction. The end page needs to conclude the story. It is essential that each page has clarity. Christine outlined a sound approach in which an A4 sheet is folded into 12 rectangles (12 sheet entry), enabling notes to be established - adjustments and progression made and balance and relevance created. Such a story-line shows where material has gaps to be filled. Good practice suggests the need to collect as much material as possible prior to setting out and writing-up, thus giving a rich and generous pool from which draw. Members were reminded that competition frames need to flow across the presentation boards – not up/down as in a display. To enhance her talk, Christine covered aspects on 'Thematic Philately', making superb use of Channel Island Occupation stamps and covers, letters, postcards and cancellations. To further promote these philatelic display skills, Christine provided an informative handout to explain more of the details and rules of 'Open Philately'.

Club Chairman Bob Small warmly thanked her for her presentation – 'really well explained and beautifully displayed…a subject relatively new in the philatelic world'.
| | |
| --- | --- |
| | |
| Thematic philately - example of stamp collecting by each sport | Thematic philately - example of progression to sports categories |


Title bar from the Churchill Competition Entry
| | | |
| --- | --- | --- |
| | | |
| Letter from the War in 1940, advising that the children had returned due to their evacuation home being destroyed by a bomb | "Delayed by Enemy Action" cachet applied in special circumstances | Rare cover bearing two cachets "Delayed Through Enemy Action" |


Diary entry by housewife as on 30 November 1942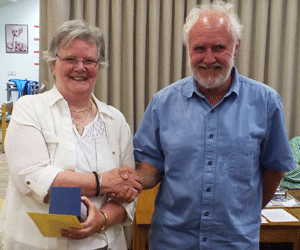 Christine with her certificate and gift
xxxxxxxxxxxxxxxxxxxxxxxxxxxxxxxxxxxxxxxxxxxxxxxxxxxxxxxxxxxxxxxxxxxxxxxxxx
Monday 11th June, 2018
6 in 2 - Thematic Evening, Members
(Images to follow)
Our usual high quality members' displays of material, this time thematic, covered a wide range of material.
Wendy Buckle: Written Communication
Spence Coker: Steam Trains and Ships
John Duckworth: Philatelic Exhibitions
David Parsons: French Art
Terry Kirkman; Australia at War
John Diamond: The Spitfire
John Garrett: Post Office markings not used to cancel mail, and Advertising Rings
David Parsons: Guernsey Postcards; Channel Island Maps, and Guernsey Christmas Cards
(Bob Small)
************************************************************************
Monday 28th May, 2018
"1936 Berlin Olympic Games" - Tony Bosworth FRPSL
Tony took us through all the stages leading up to the Winter Olympics in February 1936 including all the ups and downs - especially Hitler of course. There was lts of wonderful propaganda material, as you would expect, extolling the virtues of the Ayrian, and the German authorities turning a blind eye w3hen and where necessary. There was the usual German efficiency, very well organised by all the German authorities involved with the Games. In the second half Tony explained that there were a number if firsts for the Olympics - 3,010 runners were required, each to run 1km in passing the torch from Athens to Berlin.
The Graf Zeppelin flew over the Olympic stadium on the opening day, 1st August 1936 and dropped leaflets at precisely midday. There was also lots of other philatelic and ephemera associated with other sporting venues for the Olympics. The first and second events were won by a German female and German male athlete in the javelin event. The 3rd gold medal was won by a certain Jesse Owens of the USA. Contrary to popular belief Hitler did not turn his back on this black athlete, but shook his hand. There was a chess competition in 1936.
All in all a very enjoyable and entertaining evening for the 21 members who braved it to turn up on a Bank Holiday Monday. Tony spoke very siccinctly and knowledgeably about his wonderfuldisplay which contained many unique and fascinating items, which everybody enjoyed enormously.
| | |
| --- | --- |
| | |
| German Team Badge, Berlin, 1934 | Cover to New York via the Hindenberg, with Olympic handsamp cancellations, 1936 |
| | | |
| --- | --- | --- |
| | | |
| Block of four, Winter Olympiad | "Delayed Action" cartoon | Dresden 1936 Poster |
(Bob Small)
************************************************************************
Monday 23 April
Petersfield & District P S visit us
Two eloquent members of the Petersfield & District Philatelic Society entertained our large gathering of members this evening. Using a wealth of unique photographic and postcard material, Robin Pizer started the evening on the unlikely subject of German Exchange Controls. From 15 November 1918, as the War was over, the German Censor Offices were no longer required and so were closed and then immediately re-opened as Exchange Control Offices to protect the country form the influx or export by mail of items of value. He traced the establishment of the procedures and documents, including temporary and permanent labels for use by the Offices to regulate all mail going into or out of Germany, and the procedures to be followed for irregularities, bulk and express mail, mail transiting the country, the forms to be completed listing prohibited items found, and of course examples of errors and omissions in the process. Letters returned to sender, with all sorts of markings, examples of licences for mail transit, and confiscated mail were all exhibited. Where did he find all this material? One member being heard to comment "I have never seen so many 'only one known example' in any presentation before!".
The second half was split into two sections, the first being about the photographer and postcard maker John William Righton from Yorkshire, born in 1857. The story was told by Tom Moorgate, and centred on the Methodist Publishing House records. After his teacher training, he left his young family and went to teach in a Methodist school in Gibraltar, but after the premature death of his wife in 1893, he returned to England, spent three months in Leeds training as a photographer, and then moved with his family to Newbury where he took over and developed a photographic business, concentrating on portraiture and the many country houses in the area. A collection of his photographs from the 1890s and 1900s was rescued by Lady Carnarvon of Highclere Castle from a sale in Crewkerne, which filled a gap in the history of the Castle and its inhabitants. He gained notoriety from that and through advertising his work built a substantial business. In 1893 he was a pioneer in the production of postcards, invented the previous year. Tom showed examples of much of this work, which Club members found fascinating. Several Series of cards were produced, such as the National Childrens Homes around the country and the Methodist Conferences, which after his death in 1821, have produced commemorative cards and cachets featuring him.
A second topic was then introduced, this being of Gospel Carts, introduced by the Wesleyans to take religion back to rural communities at the beginning of the last century, at a time when so many countryfolk were leaving for the cities. He showed many examples of different carts used, some correspondence, and some of the ministers who were involved, as well as their training school, Cliff House in Calver, Yorkshire. This was a topic never covered at Ferndown before.
Bob Small, Chairman gave the vote of thanks, as well as the certificates and awards to the two speakers who received a long round of appreciative applause.
| | | | |
| --- | --- | --- | --- |
| | | | |
| Letter taken by hand for Inspection | Letter with postal clerk's sealed inspection strip | Letter taken to the public examination counter 23/4/1920 | letter with misprinted seal of 1818 instead of 1918 |
| | | | |
| Extral large cancellation, used during only one shiftin 1922 | Example of letter sent for confiscation | Example of Internal mail inspected in error | Example of Transit mail inspected in error |
| | | | |
| The only photograph of a Weslyan chapel, dated 1812 | A local scene with "Righton Newbury" printed on it | Buckleberry School postcard by Righton | Postcard showing the Library at Cliff House, Calver |
| | | |
| --- | --- | --- |
| | | |
| Wesleyan Gospel Car no 14 "Emmanuel" near Birmingham about 1905 | Reconstructed Gospel Car, made in Petersfield in 2012 | Postally used postcard depicting a Gospel Cart |
(chris wheeler)
*********************************************************************************************
Saturday 14 April
42nd ANNUAL FAIR and INTERCLUB COMPETITION
As expected, the Fair was not only a great success, but very busy during the early morning. Judging of the exhibits and display of the 274 auction lots started early, so that those attending could have the opportunity to see these displays as soon as possible.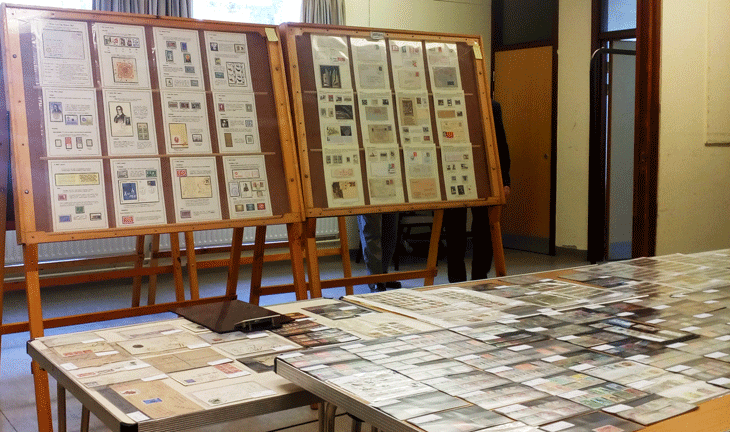 View of some of the Competition Entries, and some of the Auction Lots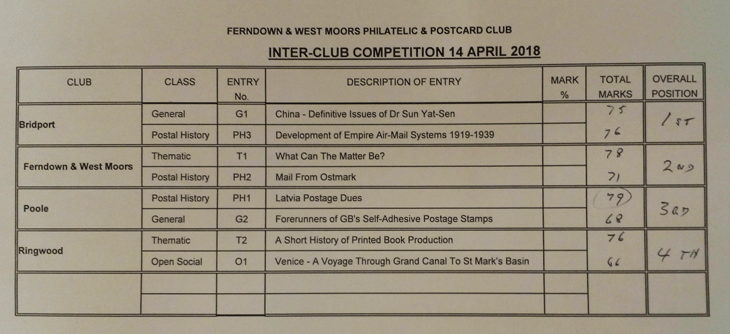 The Results of the Competition

Afternoon Activity in the Main Hall
| | |
| --- | --- |
| | |
| Bernard Paull accepting the Shield on behalf of the winning Club - Bridport | Mike Trickett accepting the Trophy on behalf of Wendy Buckle, overal winner of this year's competitiuon with "Latvia Postage Dues" |
chris wheeler

**************************************************************************

Monday 9 April, 2018
9 in 4 - Great Britain and Channel Islands - Members

'Home Grown' presentations rarely disappoint and this evening's entertainment was very well received.

John Duckworth presented a small, beautiful collection. This briefly covered 'German Occupation of Guernsey' and his presentation included several covers- one with bisected stamps (due to shortages of 2d. KGVI) and another was an interesting Red Cross envelope. He supported his contribution with a short description of wartime postage rates. For 'railway buffs', Charles Leonard provided a worthwhile display on 'The Great Northern Railway'. He spoke on various railway companies and the extensive topic of 'railway stamps'. Unusual for John Garrett, he produced no postcards but provided a 'potpourri' of early GB cards, including a 1894 birthday card, a ladies Dancing Card with pencil and notes of dances!!, love message cards and interesting letters. David Parsons shared C. I. Wartime Stamps which revealed differing papers. He explained the various postal rates used. There was next a fascinating display from Don Seaby considering mainly GB Victorian issues. These included 1d Reds and the later 1d lilacs, all on cover. A 5d Jubilee on registered envelope was also in the mix. The final display was supplied by Bob Small who provided a study of GB KGV 1d Reds –the letter rate in 1912. He produced 10 basic shades on the 1d and spoke of a further raft of shade variations. This just skimmed the surface of his considerable knowledge and collection! In summing up, Bob thanked everyone for bringing along their exhibits, much enjoyed.
| | | |
| --- | --- | --- |
| | | |
| Souvenir Card of Guernsey Liberation | The first day of use of the 2d bisect | 1884 redirected cover to Bombay, from Bournemouth with the B60 cancellation |
| | | |
| Great Northern Railway, first printing of letter post stamp, 1906 | 10 x 1d reds on newspaper wrapper to Sydney | Prisoner of War Post, card from Bournemouth to Changi Camp |
paul barry

HHHHHHHHHHHHHHHHHHHHHHHHHHHHHH

Monday 26th March
"Transatlantic Mail 1775-1875" - Julian Jones FRPSL

The evening proved to be another highly successful event in the Club's busy programme. Eminent Hampshire philatelist, Julian Jones, provided an in-depth study of Trans-Atlantic mail services covering much of the Georgian and Victorian periods. This presentation was underscored by superb philatelic and nautical material, much scarce or unique. Members experienced a penetrating historical lesson. Julian first outlined the operation of the Falmouth Packet which made the crossing monthly to New York…an expensive operation requiring military guard. He described how trade built up via trustworthy dealers who held funds. Here began the start of a banking system. The development of the Atlantic passage using steam assisted sailing ships saw a regular service by 1838 and a healthy increase in commerce. Cunard saw strong development by 1840. On display were 'Freight Money Letters' depicting no less than 5 rates. A section considered 'Ship Marks' and distinctive 'Transit Marks'. During the 1840's friction developed between the US and GB with increases in charges being much in evidence. These 'retaliatory rates' eventually paved the way for a treaty (1849) which put regulation in place and all parties had to accept standardised charges. Numerous other treaties were established in an effort to achieve maximum commercial advantage. Julian produced much supporting material which assisted description of a complicated web of charges, fees, including 'late' and registration fees, postal and accountancy and ship letter marks.
The first half of the presentation was virtually all concerned with pre-stamp material, with the remaining part of the evening detailing Trans-Atlantic philatelic interest relating to the latter part of the 19th Century. Scores of items underpinned the display, giving a real feel for the period described. Perhaps a particularly atmospheric item which provided true flavour and will have fixed in memories was a whaling-ship letter… greasy!!

This was a truly memorable event in the Club's programme. Chairman Bob Small summed-up well by stating, 'An absolutely fascinating display, expertly described –numerous rates, GB, US, Cunard, routes…covers and marks…all beautifully illustrated…thanks for sharing with us!'
| | | |
| --- | --- | --- |
| | | |
| Ship letter to Baltimore via New York, from Liverpool, 1784 | Wrapper from Poughkeepsie to Portsmouth via London, 1775 | Triple rate entire 39½, London to Philadelphia, 1910 |
| | | |
| Consular letter from New York, via Boston and Liverpool to Leeds carried by Cunard, 1844 | Charing Cross packet with six stamps, to Philadelphia, 1846 | Postcard from Boston to Oxford, via New York and Queenstown, on the "Wyoming", at the letter rate, under the 1873-1875 Treaty |
| | | |
| Double letter from Southampton to Norton MA, via Liverpool and Boston on Cunard's "America" | Cover with markings on the front and rear from New Orleans to Worcester, 1813 | Cover with Late Fee paid at the Floating Receipt House from Liverpool to Boston, on Cunard's "Asia", with 2/-Treaty Rate and 1/- Late Fee |
(paul barry)