Affiliations
This Federation is affiliated to the ABPS where details of other Federations, Events, Judging and Exhibition Seminars
and a myriad of information can be found
Officers

President:- Richard Stroud (01278 782235)
Vice President:- Les Berry (01297 32248)
Vice President:- James Hooper (01935 424043)
Vice President:- Ken Ramsey (01305 786661)
Chairman:-Mike Breward (0117 9567893)
Vice-Chairman:- Open
Secretary:- Carol Turner (01643 704128)
Treasurer:- Roger Marsh (01935 814367)
Competitions Secretary:- James Hooper (01935 42443)
Quiz Master:- Mike Welch

Events and Activities

(To see the reports on events from 2014 to 2017, please click here)
2018 and 2019

48th Annual General Meeting
This was held at 2pm on Saturday 17 November 2018 at Taunton Stamp Exhibition & Fair, St James' Hall, Taunton
Committee Meeting
The next Meeting will be held at the Michael Hale Fair at Westfield United Reform Church Hall, West Street, Bridgwater on Saturday 13 April 2019 at 2.00pm
Federation Quiz Meeting - 2019
The Federation Inter-Club Quiz will be held on Thursday 23 May, 2019 at Westfield United Reform Church Hall, West Street, Bridgwater. (Taunton were last year's winners (see report below).
Clubs can send teams of up to 4 members and supporters. Entries should be sent to the Secretary Mrs Elizabeth Higgins, 60 Willoughby Road, Bridgwater, TA6 7NA, 01278 459378 by Saturday 18 May.
(Quiz master: Mike Welch, retiring 2019 and then for two years Peter Hardie)
Federation Quiz Meeting - 2019
The 2019 Federation Inter-Club Quiz will be held in Bridgwater on Thursday 23 May

Federation Competitions - 2018
The 2018 Competitions were held courtesy of the Yeovil & District Philatelic Society on
on Saturday 6 October 2018.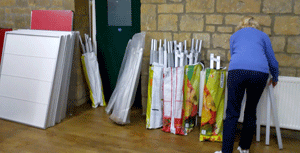 Setting up the frames
Federation Competitions - 2019
The 2019 Competitions will be held by the Bridport at Loaders Village Hall, New Street Lane, Loaders, Bridport DT6 3SA
on Saturday 28 September 2019. Entries to be presented by 14 September 2019
Competition Rules - click here for the 2018 Rules which will apply to 2019

Purbeck Club
Sadly to report that the Purbeck Club closed on Tuesday 12 June 2018
Dorchester and Weymouth Club
Sadly to report that this club also closed in mid-2018
Federation Member Clubs, Programmes and Speakers List
List of Member Clubs and their Contacts
Member Clubs 2017-2018 Programmes
Member Clubs 2018-2019 Programmes
Somerset & Dorset Federation Speakers List
**********************************************************************************
Report and Results of the
Somerset and Dorset Philatelic Federation Quiz Night,
24 May 2018
Do you know what stamps were used in Albania before 1913, or where Cape of Good Hope stamps
overprinted 'G.W.' were used, or the subject of Guernsey's first commemorative set in 1969? If
the answer to any of this is "yes" then you need to consider organising a team to enter the
Federation's annual quiz. This year it was hosted by Yeovil Society and contested by Bridgewater,
Poole, Yeovil and Taunton Clubs. Teams of four people were put through five rigorous rounds of
ten questions per round, with the marks being posted up after every round. It quickly became
apparent that Bridgewater and Taunton were going to fight it out for first place, with Taunton
the eventual winner.
Yeovil club were most hospitable, providing tea and coffee on arrival and a cold buffet after the
quiz. Our thanks go to them and all the organisers for a most entertaining evening.
(And for those who want to know these things, the answers posed in the first sentence above are
Turkey, Griqualand West and Sir Isaac Brock).
| | | | | | | |
| --- | --- | --- | --- | --- | --- | --- |
| Bridgwater | 3.5 | 8.3 | 5.5 | 5 | 3 | 25.3 |
| Poole | 1.5 | 8 | 2 | 4 | 2 | 17.5 |
| Taunton | 6 | 7.25 | 6 | 7 | 5 | 31.25 |
| Yeovil | 1 | 4.3 | 0 | 2 | 3.5 | 11 |
| | | | |
| --- | --- | --- | --- |
| | | | |
| Question Master and Score Keeper | The Taunton and Bridgwater Teams | The Poole Team | The Winners, Taunton, receiving the Award |
(Wendy Buckle)
^^^^^^^^^^^^^^^^^^^^^^^^^^^^^^^^^^^^^^^^^^^^^^^^^^^^^^^^^^^

Results of the
2018 Somerset and Dorset Philatelic Federation Competition (Sherborne)
| | | | |
| --- | --- | --- | --- |
| Class A Open | 1st: J F Roe | Lilac and Green and Other Colours | Bridport |
| | 2nd: D Bowman | New Zealand Internal Airmail. The Experimental Years 1930-1932 | Yeovil |
| | 3rd:T J Hooper | Austria 1850-1861, Stamp issues and useage | Yeovil |
| Class B General | 1st: B Paull | Poland Municipal Post 1915-1919 | Bridport |
| | 2nd: F R Blackah | British Occupation and Administration 1914-1951 | Bridport |
| | 3rd: C Turner | Waterlow & Sons Ltd (The Printers) | Minehead |
| Class C Postal History | 1st: M Breward | Eritrea, Italian POW mail 1941 - 1946 | Bristol |
| | 2nd: B Paull | Warsaw City Post - Local handstamps 1916 - 1918 | Bridport |
| | 3rd: W Buckle | Latvia Postage dues | Poole & Bournemouth |
| Class D Thematic | 1st: S Page | The Osprey, its life and migration | Bridport |
| | 2nd: F R Blackah | The Arabian and Bactrian Camels | Bridport |
| | 3rd: D Bryant | Birds of Hampshire | Yeovil |
| Class E Juniors | No entries | | |
| Class F Air Mail | 1st: B Hunt | Development of the American Airmail System | Bridport |
| | 2nd: T J Hooper | Austria's First Airmail Service | Yeovil |
| | 3rd: B Paulle | Poland by Air in the 1920s | Bridport |
| Class G Postcards | 1st: F R Blakah | "LL" Postards Views of the Suez Canal | Bridport |
| | 2nd: B Paulle | Loder's Village Life "A Peep in the Past" | Bridport |
| | 3rd: S Page | A Walk Round Canterbury Cathedral | Bridport |
(To see the reports on events in 2014, 2015 and 2016, please click here)