Thursday 6th February, 2020 - Members Displays: Space
Mike Trickett opened the evening with a "mixed bag" of subjects, areas, format and interpretation of Space, starting with a selection of postcards, stamps on outer space, including humorous postcards of Germans looking at the passing of Haley's comet, and ending with some pictures of the Satellite production and testing facility on the Isle of Wight from which 22 launches took place. Mark Meyts followed with a range of stamps from his "poor quality" collection, including stamps printed with cancellations already applied. Sets from Ecuador and Venezuela were concentrated on. Rick Wilmot put up a frame of used covers posted from all round the world, but all with Czechoslovakian stamps, featuring astronauts, each cover being well illustrated. The next frame was packed with stamps and a few FDCs from Ken Parrott, depicting sets from a host of countries, A to Z, covering many aspects relating to the space programme, all most colourful. Chris Wheeler interpreted space as an open area, with a frame of postcards showing views of Central Park, New York, explaining its development from rough ground 2½ miles by ½ mile, back in the 1850s. Tony Arnold displayed six frames, starting with stamps on a stellar wallpaper background, which was very effective, followed by postcards, miniature sheets, covers and the large holographic sheets issued by different countries showing the earth and space. Postmarks and space-related cancellations were included. The evening closed with a short article from The Telegraph showing the only Brexit stamp, one from Austria with Great Britain just a space on the map!
| | | |
| --- | --- | --- |
| | | |
| France - Space Programme | Germany - postcard "The Comet is Coming" | Ecuador - miniature sheet and single stamp on piece |
| | | |
| Registered cover with Czechoslovakian stamp and illustration | Space Dog LAIKA | Cosmanauts in their Capsule |
| | | |
| Florida Space Centre postcard | TheNight Sky - Scorpio | 2020 BREXIT stamp from Austria |
(chris wheeler)
***************************************************************************************************************************************
Thursday 16 January 2020
Members Displays - Islands
Twelve of the eighteen members present this evening put up one or two sheet displays covering a broad range of topics with Islands as the theme, including one of our new members, Peter Roberts who displayed for the first time. Tony Arnold began with two frames of mainly postcards covering the Channel Islands, Malta and the Canary Islands. Peter Roberts defined what local stamps were and showed examples of them from some of the 41 English and 252 Scottish islands, including Sealand built during WWII, and now a private residence. Mark Meyts concentrated on the Galapagos Islands, showing stamps depicting some of the wonderful wildlife existing there on this province of Ecuador with a population of some 10,000. Ken Parrott concentrated on the Bahamas, Bermuda, Cyprus and the independent issues of Kiribati. Michael Mawdsley took a novel approach with a sheet of stamps on an island from each letter of the alphabet except the letter X. Mike Houchen put up a frame of presentation packs from Jersey, whilst Rick Wilmot put up several Year Packs from Aland, and a cover which had been opened (censored) by the Border Force. Ted Kemp put up finely illustrated covers each with a single mint stamp of a bird from a different country retained in a clear thin plastic sleeve. This was followed by Chris Wheeler who put up a frame of all the stamps issued by Madiera between 1980 and 2005, illustrating the wide scope of designs and themes used over the 25 years. Mike Trickett put up a rare example of a very early cover taken from Lundy to Bideford for postage, before the introduction of the local puffin stamps, as well as an airmail stamp used for mail takn to the mainland by plane from the small airfield on the island. Many examples of different papers, printings and other varieties were included. David Wilkins closed the evening with a frame of stamps from their inception, from the Island of Formosa. An excellent and varied evening which everyone enjoyed.
| | | |
| --- | --- | --- |
| | | |
| Amalgamation of the Gilbert and Ellice Islands to form Kiribati in 1979 | Bahamas overprint | Aland examples |
| | | |
| Floral exhitis from the Galapagos | Canary Islands from Spain | Early Grenada stamp |
| | | |
| | Early Newfoundland in brown | Example from the Island Birds presentation pack issue |
| | | |
| Two early stamps from Formosa | Triangular for Lundy | Bisect on cover from Jersey |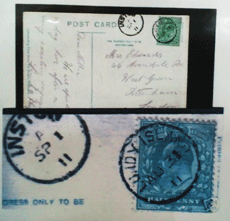 Rare pre-puffin on piece. delivered to the mainland
chris wheeler
#######################################################
Thursday 2 January 2020
Members Displays - Cinderellas, Back of the Book
Tony Arnold started the evening with an overview of what the term Cinderella covered and then proceeded to show five frames of examples covering a wide range material includng College stamps, TV and National Savings, labels from Lundy, Scout Hall stamps and local mail. Mike Houchen followed with an array of local postals and labels issued by the many islands around the UK, all featuring lighthouses, including ferry and ship labels. Some overprints were included. Mark Meyts continued with his back-of-the-book collection of Belgium Railway stamps, a very extensive collection, imprinted in French and including the French Railways use of Belgian routing. These commenced in the 1860s, were plentiful and are still very popular. He showed examples of issues stolen by the Germans at the start and during the War, and countermeasures taken to ensure that the correct rates had been paid, with modified issues by the Railway Company. Rick Wilmot concentrated on a breakaway Principality set up in Wesrern Australia by Prince Leonard, called the Hutt River Principality. Many very interesting issues were released, used mainly by visitors, as there are now only about 30 permanent residents. Closing the second half Ray Saunders mounted two frames of stamps produced by Rushstamps for some of the Caribbean Counties, which blacked out their country name and were overprinted "Hampshire Local Mail" with the value, during the 1988 postal strike.
Mike Trickett put up some vignettes, stickers with perforations, labels, export control stickers, receipt stamps, local justice and postal staff training stamps, all from France. Wendy Buckle showed a range of Revenue stamps and their rubber stamp and preprinted precursors on documents going right back to 1639. The First Stamp Act came into force in 1694 and remained effective until 1861. She closed with some advertising labels. Finally, Chris Wheeler put up a frame of recent "Through My Door" covers with examples from around the world illustrating the different and up-to-date use of fama labels, bar codes and stickers to pay for and adorn their mail.
| | | |
| --- | --- | --- |
| | | |
| Local Post, Stroma to John O'Groats | Belgian Railways, Chemin de Fer with upside down cancellation | Strike Mail produced in Lyndhurst,with country obliterated, for Local Mail use |
| | | |
| Wareham, Dorset, Christmas Scout Hut Appeal, 25p | Label availableto passengers on the Waverley | Aid for the War Wounded, used on Military Correspondence |
Prince Leonard, 4th Prince of Hutt River Province Principality
Top of 1659 document with imprinted tax mark, Generalite de Paris,
Two sheets bound together
chris wheeler
*****************************************************************************************************************************
Thursday 19th December 2019
Christmas Event, Party Night; Members displays of anything non-philatelic
21 members attended this year's party night and following examination of members' non philatelic displays and a very enjoyable hour around the huge table together, Tony Arnold entertained everyone first by trying to identify an historical medical item, which baffled everone, and then a pictorial quiz of 78 pictures of scenes from different TV Shows, starting with easy ones such as Dads Army and then movng on to more specialiast TV shows. The winner was Inah Wilkins with a score of 73. Inah had also very kindly offered to run the evening's raffle, which she did very professionally, raising money for Club Funds. The Chairman thanked the committee for their hard work during the year; to all those who had brought exhibits; food and raffle prizes,aned espiallcialy to Tony for arranging theTV Quiz, which had been very notalgic in many ways.
A most enjoyble eveningto end 2019!
| | | |
| --- | --- | --- |
| | | |
| Enjoying the meal together | Display of ephemera from Martins Bank,absorbed by Barclsys50 years ago | Reclling the names of the TV Quiz Shows |
(chris wheeler)
_______________________________________________________________________
Thursday 5th December - Members Displays - Literature, History
Chris Wheeler began the evening with a frame of mainly individual stamps on writers of poems, music and books from around the world. Ken Parrott then put up a display of stamps and miniature sheets from Malta which illustrated that country's history, the War between the Crosses and Crescents, fighting off the attempted invasion from the Ottoman Empire, and then some historical events in other countries depicted on Malta's stamps. Mark Meyts then took the floor and gave an excellent summary of the life of Bolivar and his conflicts against the Spanish Colonialists in South America and the esteem he still commands 200 years later. The relatively rare miniature sheet of Bolivar in Rome making his oath to rid South America of the Spanish was particularly striking. Rick Wilmot had chosen the Czechoslovakian novelist and story-teller Franz Kafta, with many stamps from Germany, lamenting that only one had been issued by his home country, and that was one of a pair with Chesterton. Shirley Kemp used stamps to trace the early history of GB with the Doomsday Book and Arthurian Legends before moving on to characters from Dickens, ending with Alice's Adventures in Wonderland. Michael Mawdsley concentrated on GB stamps featuring GB authors and their works followed by Tony Arnold who displayed the covers of 100 Penguin and Pelican books covering a wide range of authors and subjects.
After the break, Wendy Buckle put up a frame of mixed, mainly GB philatelic material on Books for Children, ending with three very colourful children's lettergrams. Alan King covered Australia and France using stamps to track the history of their production, referring to the current series of annual stamp sets being issued on this subject. He closed with a delightful miniature sheet depicting Tintin. Finally, Ted Kemp covered Turkey during the WWI period, with a well written-up display starting with the loss of GB produced stamps, when they declared war on GB and had to design their own. Many examples of their early issues were exhibited.
| | | |
| --- | --- | --- |
| | | |
| Shakespeare - Literature | Simon Bolivar making his Oath in Rome | Cover with Franz Kafka's signature |
| | | |
| The Doomsday Book - GB stamp | 100th "Alice" Cancellation, in Oxford | Three stamps showing Malta's History |
| | | |
| 1929 Austrailia with retouched "T" | Tintin miniature sheet from Belgium | One of Turkey's self-produced stamps |
chris wheeler
::::::::::::::::::::::::::::::::::::::::::::::::::::::::::::::::::::::::::::::::::::::::::::::::::::::::::::::::::::::::::::::::::::::::::::::::::::::::::::::::::::::::::::::::::::::::::::::::::::::::::::::::::::::::::::::::::::::::::::::::::::::::::::::::::::::
Thursday 21st November - Winter Auction and Raffle
Due to the weather and many competing events, numbers were low for this auction, but we were delighted to be able to welcome three new members to the Club
:::::::::::::::::::::::::::::::::::::::::::::::::::::::::::::::::::::::::::::::::::::::::::::::::::
Thursday 7 November, 2019
Guest Albert Jackson: "Anschluss. The German Annexation of Austria, 1938"
Different collectors take different approaches to their subject. Some love the detail of design or printing method of their stamps, some love the postal history of routes, rates and cachets, and some, like Albert, just love telling a good story, backed up by a wealth of philatelic knowledge. And the Anschluss, or Union, is a spectacular, if sobering, story. Certainly some of us in the audience had thought that Germany's annexation of Austria in 1938 was just a part of German expansionism, but we now know better. The story is much more complicated and nuanced than that.
The first half of the evening told the story of Austria from its defeat in World War I, and its loss of Empire, up to the events before the Anschluss. In 1918 Austria was financially and socially broken, and Austrians saw a merger with Germany as a way of strengthening their country. Their Emperor was asked to step down and the country became a republic, adopting the name Deutschösterreich or German Austria, led by a unified government of several main parties. However the following year at the Treaty of Saint-Germain the victorious Allies prohibited the union with Germany, and the country became the Republic of Austria, or Republik Österreich; stamps were overprinted Deutschosterreich, followed by independence issues with the same name. To honour the treaty, however, both sets of stamps had to be replaced with a new design with the name changed to Österreich. By the early 1920s two main political parties had emerged: the left-leaning Social Democratic Party and the right-leaning Christian Social Party. Clashes between them led to a rally in Vienna in 1923 which turned violent, armed police were sent in and 33 Social Democrats were killed. The angry crowd burnt the Palace of Justice to the ground. In 1932 the Christian Socialist Engelbert Doffuss was made Chancellor. He dissolved Parliament and declared martial law. Social Democrat leaders were arrested and some executed. In 1934 a group of Austrian Nazis attempted a coup against Dolfuss and broke into the Chancellery. Dolfuss was shot, trapped in the building, and died. Stamps and slogan cancels were issued in memory of the man. Dolfuss was replaced by Kurt Schuschnigg, who tried to resist pressure from Hitler for union by proposing a plebiscite on the issue. Hitler insisted the plebiscite be cancelled, which Schuschnigg agreed to on 11 March 1938. He then resigned.
Albert told the story of the Anschluss itself after the break. Hitler's ambitions for Austria being thwarted by Schuschnigg's opposition, Hitler arranged for a forged telegram to be sent from Austria requesting German troops. The country was invaded on 12 March; on the orders of the Austrian government, in order to avoid bloodshed the German troops met no resistance. A fieldpost system was set up immediately, with troops allowed to use the ordinary postal system for their free mail. The invasion was a popular one in Austria, and when Hitler himself arrived in Linz on the day of the invasion he was given an enthusiastic welcome. Such enthusiasm made him change his mind about keeping Austria as a puppet state; he now decided on full integration. A plebiscite was again arranged; stamps, cachets and slogan cancels were issued, and a train touring the country encouraging people to vote in favour was itself used as a voting booth. But there were also warnings of Hitler's true beliefs: the small print on the voter registration card said that Jews could not vote. The plebiscite duly went ahead, with 99.75% of voters opting in favour of the Anschluss – a result that was printed before voting had ended.
This was a wonderful display, told with great clarity, bringing such an unhappy – and complex – period to life. It was illustrated with a wide range of philatelic material including stamps, covers, postal stationery and slogan postmarks, augmented by wonderful non-philatelic material including postcards, propaganda cards and cartoons.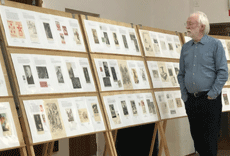 Albert with part of his display

| | | |
| --- | --- | --- |
| | | |
| German Austria overprint | German Austria stamp | Early Feldpost |
| | | |
| Plebiscite - throughout Germany - Yes! | Publicity cachets for plebiscite in Linz, 1938 | Austria Votes for the Anschluss, 1938 |
(wendy buckle)
@@@@@@@@@@@@@@@@@@@@@@@@@@@@@@@@@@@@@@@
Thursday 17 October 2019
Members Displays - Art and the Arts
This title allowed a broad range of interpretations to the theme, which was readily adopted by many of the members in their displays.
Started by Mike Trickett, with a picture of the painting by Louis-Oscar Roy (1846-1911) entitled 'La Sameuse' and based on his model Charlotte Magot, this wonderful painting was the basis of many France issues of 'The Sowers', examples of which he used to introduce his display. He continued by showing members one of the earliest postcards of the Eiffel Tower and reminded members the quotation "Art is a revolt against fate". Michael Mawdsley followed with a range of GB stamps on a wide range of art-related topics. Ken Parrott showed examples of the eminent Maltese stamp designer Emvin Cremona, Flemish tapestries and works of Matisse. Mike Houchen drew stamps form his collection of some 2000 art images; then he showed examples of highly artistic lighthouse designs, especially from USA and Japan. Rick Wilmot drew examples from his extensive collection of Austrian artists, most unknown to members, but including Klimt and Schiele, all excellently written-up. David Wilkins concentrated on the heritage of Greek art on stamps, the ealiest being 1942, but so many subsequently, both by Greece and other postal authorities. After the break, Wendy Buckle put up a one frame display of stamps portraying covers of famous books, starting with the founding work of Western literature written by Don Quixote in 1616. She then explained the operation of World Book Day, celebrated everywhere in the world except GB on 23 April. Alan King showed his favourite stamp 'The Great Wave of Kangawa', amongst several other famous artists such as Renoir, Monet and Manet. He then referred to a separate side-display of mainly French and Hungarian stamps all featuring the works of other famious artists. He closed with part of his new collection of the English and French schools of artists' works on the stamps of Canada. Chris Wheeler followed with a frame of stamps depicting characters from children's stories. Mark Meyts also covered Belgium but looking at a range of diverse and largely unknown artists and their works, explaining their particular skills, finally Shirley Kemp displayed her presentation of well written-up 'PaintingsThrough the Ages' starting with the cave paintings, and ending with a frame of the work of Czeckoslovakian artists depicted on stamp from the1660s.
| | | |
| --- | --- | --- |
| | | |
| "La Sameuse", the basis for the France "Sower" series, by Louis-Oscar Roty | A very early postcard featuring the Eiffel Tower | Two pictorial postcard images on GB stamps |
| | | |
| Stamps designed by Malta's premier stamp artist, Emvin Cremona | Somalia stamp, with partial borders, a view of an "artistic" USA lighthouse | Stamp on cover designed by famous artist Kiki Kogelnik |
| | | |
| Sample cover of the first published book "Don Quixote", 23 April 1616 | The famous woodblock "The Great Wave of Kanagawa" by Hokusai on France stamp | Representation of Heinrich Hoffman's Struwwelpeter on Germany stamp |
| | | |
| One stamp from the engraved Belgium series "Collecting" by the designer J de Bast | Famous stamp designer J de Bast | The famous Czcechoslovakian designer Max Svabinsky with a sample of one of his stamps from 1938 |
(chris wheeler)
:::::::::::::::::::::::::::::::::::::::::::::::::::::::::::::::::::::::::::::::::::::::::::::::
Thursday 3 October 2019
Members Displays - Events, Celebrations, Exhibitions
Due to a clash with other activities, attendance was lower than usual this evening, however some excellent displays were put up for those present to enjoy. Among these was a display of stamps and miniature sheets by Rick Wilmot illustrating some of the commemorative sheets issued on the occasion of stamp festivals, both in GB and in Russia.
| | | |
| --- | --- | --- |
| | | |
| London Stamp Exhibition, 1937 | London International Stamp Exhibition, 1969 | Cuneo stamp on Commemorative Maxicard, Stampex, 1985 |
| | | |
| 1976 | 1976 | 1976 |
(chris wheeler)
~~~~~~~~~~~~~~~~~~~~~~~~~~~~~~~~~~~~~~~~~~~~~~~~~~~~~~
Thursday 19th September 2019 - Guest Graham Mark: "Egypt and Palestine"
Graham Mark's display started with a frame of letters and photos of the first Commissioners of the Middle East who had taken over from Kitchener, starting with Sir Henry McMahon. He displayed some of the early cachets from the various units, and collecting these discovered that there were so many that he stopped after assembling about 100 of them. Until 1915 when the Turkish army joined the War, all mail had been chargeable, and consequently was of different interest to that of the freepost which followed. The routings and methods of carriage changed and some TPO material which had travelled along the coast of Egypt was shown, much of it emanating from Gallipoli. He gave examples of the many different troops and divisions deployed to the region, demonstrating excellent military historical knowledge as well as its associated philatelic examples. Some postcards were included to show for example the commandeered L&NWR's SS Hibernia, the armoured cruiser Jeanne d'Arc with its six funnels and the Lancashire Fusiliers Cycle Division. Many on-cover cancellation varieties were included, some of them very short-lived.
After the break, Graham, again explaining the military activities that occurred at that time, provided a wide range of material from the visiting forces from Italy, France and the ANZACs, together with the associated Egyptian censorship of the mail of the time, supplemented with a British censor office which in effect controlled all outgoing mail, some of it being held in storage from 1914 to 1919. Examples of this mail was displayed and provided the audience with material not seen before.
| | | |
| --- | --- | --- |
| | | |
| Cover from the Camel Remount Depot, Firebrace No CT13, 1917 | Rear of 2014 Registered letter, with six cancellation marks | Cover from the 1st Australian Light Horse Brigade to Adelaide, 1916 |
| | | |
| Local French Censorship of cover from Aleppo, 1919 | Local letter censored by Egyptian Authorities to Port Said, 1914 | Cover held by Egyptian Censorship Authorities from 1914 to 1919 |
chris wheeler
@@@@@@@@@@@@@@@@@@@@@@@@@@@@@@@@@@@@@@@@@@@@@@@@@@@@@@@@@@@
Saturday 7th September 2019 - Annual Fair
The 2019 Annual Fair was generally very successful from everyone's point of view, with some major transactions taking place alongside the many smaller ones. Many Club members were on hand very early to set up and then to assist the dealers bring in and take out their many heavy boxes of sale items. The emergency arrangements for catering were most successful, as indeed were the takings for the Raffle. The Draw took place at 3:00pm with eight lucky winners.
| | |
| --- | --- |
| | |
| Setting up | Customers at the Tables |
$$$$$$$$$$$$$$$$$$$$$$$$$$$$$$$$$$$$$$$$$$$$$$$$$$$$$$$$$$$$$$$$$$$$$$$$$$$$$$$$$$$$$$$$
Thursday 5th September 2019 - Autumn Auction
Two days before our Annual Fair, the Club held another successful Auction, with many lots for sale and sold.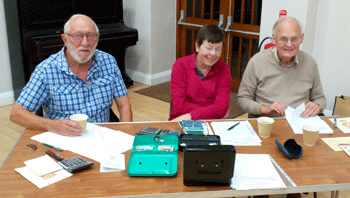 ;;;;;;;;;;;;;;;;;;;;;;;;;;;;;;;;;;;;;;;;;;;;;;;;;;;;;;;;;;;;;;;;;;;;;;;;;;;;;;;;;;;;;;;;;;;;;;;;;;;;;;;;;;;;;;;;;;;;
Thursday 15 August 2019 - Members Displays - V and W
Brian Slade, with his first display to the Club, firstly thanked the Cub members for making him so welcome and for hosting such interesting meetings. He then described his very well written-up display, which was an extract from a wider collection of Eastern European "Great and Good" personalities. It was very well received, with stamps above descriptions of those portrayed, from the arts, politics, creative industries and social fields. Ken Parrott followed with items from Valetta in Malta and Queen Victoria, including one of only 400 or so de la Rue Specimens. He included ships starting with the letter W, WW2 aircraft and sets of stamps from countries beginning with V. Mike Houchen displayed lighthouses from countries beginning with V and W; then Rick Wilmot tackled what he described as the "philatelist's nightmare country", Vietnam. He put up a sheet showing all the Administrations that had issued stamps, starting with the French Colonial Administration in 1862. Bob Small chose W for war, and exhibited some very old newspapers and letters relating to Battles since 1746. He showed a vignette on a French letterhead depicting Villneuve's invasion force's intentions to land on the Pevensey beaches, and up the Thames. Tony Arnold closed the first half with three frames of postcards relating to many aspects of WW1 and WW2, some very serious, others comic or with slogans.

Michael Mawdsley started the second session with stamps from theVirgin Islands and Victoria, Australia. Alan King displayed Western Australia recounting several stories about the Black Swan, its varieties, forgeries and adaptaion of the Perkins Bacon 1d steel plate for other values. Mike Trickett, again brought humour to the evening with a rather stretched display of items relating the the letters V and W. Chris Wheeler displayed the complete set of stamps issued by Venda during its period of Independence from 1979 to 1994, commenting on the design of some of them. Finally, Wendy Buckle gave an excellent display of Writing materials, what was written on and the implements used to write, splitting them into animal, vegetable and mineral categories. Some amazing examples were displayed, especially the use of the mutton bird pie tree leaves in Stewart Island, one of the islands off New Zealand when all stocks of paper had run out.
| | | |
| --- | --- | --- |
| | | |
| Whole display of Eastern European "Great nd Good" personalities on stamps | Malta - Specimen de la Rue pair | Vietnam - block of 4 "Blacksmith" 1953 issue |
| | | |
| Vignette from France letterhead | Soldiers off to War | The first "Beetle", 1932 |
| | | |
| 1854 version of the "Swan" | Bright orange-red exmple from Van Diemens Land | Postal item from Stewart Island, when no paper available |
(chris wheeler)
::::::::::::::::::::::::::::::::::::::::::::::::::::::::::::::::::::::::::::::::::::::::::::::::::::::::::::::::::::::::::::::::::::::::::::::::::::::::::::::::::::::::::::::::::::::::::::::::::::::::::::::::::::::::::::::::::::::::::
Thursday 1 August 2019 - Members Displays - Flora and Fauna
Tony Arnold began the evening with two frames of mainly GB FDCs on the wide subject of Flora and Fauna, including some stamp club badges featuring "stamp bugs". Mike Houchen followed with stamps from all over the world, closing with some miniature sheets and covers. Ken Parrott also used FDCs as a base for displaying his range of Flora and Fauna from round the world, but included some gutter pairs and stamps from Tuvalu and Kiribati. Rick Wilmot concentrated on the beautiful and wide ranging stamps from Malawi, as well as some from South Africa. Ted Kemp followed with a display taken from a past competition entry showing three sheets of birds from countries within each of the five continents.
After the break Michael Mawdsley displayed a range of stamps depicting birds from the many Commonwealth countries, and included some fish as well. MikeTrickett put up an unusual display of postcards, christmas cards and greeting cards, many with a humourous theme covering birds, flowers and black cats. David Wilkins concentrated on the Spanish Colonies and Overseas Territories, with again examples of the beautiful wildlife living in those regions. Shirley Kemp focused on Czechoslovakia's many stamp issues from the 1950s and 1960s with designs in various formats and evolving styles, including some of the less well-known creatures such as beetles and doormice. Finally, Chris Wheeler focused on the Chinese Almanac displaying stamps and miniature sheets from many countries covering all twelve animals, noting the amazing artwork behind many of the designs.
| | | |
| --- | --- | --- |
| | | |
| Great White Pelican from Liberia | Tuvalu - Gutter Pairs from a sheet | Malawi Birds from a miniature sheet |
| | | |
| Stamp Bug Club Badge | Alberto Giacometti's stylised dog | Canada - Year of the Rabbit |
| | | |
| Birds from Rio Muni | Hazel Doormouse - Czechoslovakia | Alderney - Birds of Prey Miniature sheet |
(chris wheeler)
######################################################
Thursday 18 July - Guest Claire Scott: "Death by Post"
As an introduction Claire explained that the evening's display was just a part of her International Gold Medal Entry and that it was based on what she wanted and liked not on any pre-determined structural or catalogue guidelines, hence was personal and unique. The display was a collection of a wide range of material relating to the complete funeral process, starting with its history, steeped in Catholic tradition and symbolism, at every level form Royalty to peasant. A vast range of topics was covered, all with examples to illustrate the process from death to burial. Many international items were included.
Starting with the funeral business itself, the survivor choosing the coffin, the lining, the furniture, the type of funeral, the stationery, the advices and notifications, undertaker advertising, settling the bills, the types of service, wills, and many other forms of paperwork involved. Types of death from disease, murder, execution and terrorism were explored. The use of coffins for smuggling; death certificates, re-internments, memorial design, war deaths on land and sea were all illustrated. The use of the black borders and homemade stationery were all covered, as was the use of black seals and black wafers. Truly, a unique display and one all the audience thoroughly enjoyed and learned so much from.
| | | |
| --- | --- | --- |
| | | |
| Belgian Mourning Announcement set to Bournemouth, 1913 | Cover containing a Death Notice from The Times newspaper | Beautifully printed rear of envelope from T Rhys, funeral directors |
| | | |
| Funeral Director's Invoice with 1891 revenue stamp, from Fitzroy's Australia | Front of cover sheet with extract of Proof of Internment | Cover with top of enclosed design for a tombstone |
| | | |
| Guernsey folded letter of Death Acknowledgement | Homemade envelope made by bereaved person with low income | Limerick postcard with 1d surcharge due to addition of the string! |
chris wheeler
88888888888888888888888888888888888888888888888888
Thursday 4 July:- Members Displays - Land, Sea and Sky
Eleven members put up displays this evening, one for the first time, which was most encouraging. Tony started the displays with a frame of well-mounted FDCs and some inserts showing famous airships and how they were destroyed. Alan King followed with several themes drawn from the countries he collects Transport, Airmail stamps, many from his Landscapes of France collection, some of the "mirror" series and the Roman Gods stamps from France, and the Channel Tunnel. These were followed by the full sheet of GB A to Z of the British Isles, Birds of Britain on the Post & Go issues and finally his daughter's collection of worldwide underwater creatures. Rick Wilmot dispayed a broad collection of aerophilately, from the specialist John Field from Sutton Coldfield, including an Edward VIII FDI envelope. Michael Mawdsley drew from his extensive GB collection using examples of stamps featuring all three themes such as the Seahorse, and series like the Victory, RNLI, Battle of Britain and Inventions. David Wilkins used stamp sets from Greece and South Africa to exemplify air, sea and sky, including the delightful set of Greek watercolours. Finally, with his first display and covering sea only, James Mates used Belgium covers and pictorial postcards of ships to illustrate the transport of mail on the Ostend to Dover route by the Belgian Shipping Company, which had the added interest in that he had travelled this route many times and his father had been an officer on one of the ships.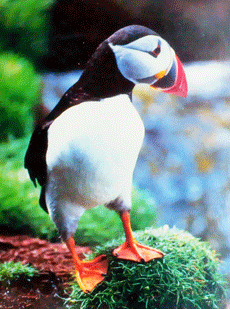 The Puffin which symbolises land, sea and sky
Following the break, Mike Trickett put up an extensive collection on Lundy, an island featuring land sea and sky very well with its Puffins. Included in his display was a cover with a 1911 cancellation by the Royal Mail post office which was based on the island at the time. Ken Parrot used the Ellis and Gilbert Islands as the basis for his presentation, emphasing the use by these islands of land, sea and sky, for all sorts of activities, such as fishing and flower cultivation. Chris Wheeler followed with a frame of miniature sheets with the theme Holidays, showing land sea and sky for starting the holiday, enjoying the holiday and activiteies on holiday. Mike Houchen then displayed his comprehensive collection of Marine and Air/Sea Rescue stamps, covers and miniature sheets. Finally Wendy Buckle's display concentrated on the air aspect with a rare set of air mail covers from Latvia from 1921 to 1940, showing many routes and their development.
| | | |
| --- | --- | --- |
| | | |
| Destruction of the Hindenberg | Six stamps from the "Pay Sage Ref Lets du Monde" series from France | Cover with Edward VIII stamp, promoting John Field's aerophilately business |
| | | |
| Cover with Belgium stamp on the Ostend to Dover sea route | Greece watercolour painting on stamp | The £1 Seahorse showing land sea and sky |
| | | |
| Fishing for tuna in Kiribai | Canada Emergence Services stamps from 1991 | Land Sea and Sky on the beach in Kiribati! |
(chris wheeler)
xxxxxxxxxxxxxxxxxxxxxxxxxxxxxxxxxxxxxxxxxxxxxxxxxxxxxxxxxxxxxxxxxxxxxxxxxxxxxxxxxxxxxxxxxx
Thursday 20 June 2019 - Summer Auction
A good and varied range of items were auctioned during the evening, with many happy bidders returning home with their acquisitions.
***************************************************
6th June 2019 - Guest James Hooper: "Pneumatic Post in Vienna"
Pneumatic mail was a way of transporting post using long tubes which transported cylinders by the use of compressed air. Mail had to be folded twice to fit into the cylinders, so used pneumatic mail will always have creases. The system was introduced in Vienna in 1875, initially operating from ten offices.
For some years special postal stationery was used. The first issue were letter sheets with 20 kr telegraph stamps, followed later by letter cards and then postal stationery cards which used current definitive stamps. The stationery was lightweight, with instructions on the back. The postal cards listed all the offices, which eventually numbered 31. The use of special stationery stopped after the hyper-inflation of the early 1920s.
Mail was posted in special pillar boxes, painted red rather than the yellow for ordinary mail. Letters were collected every ten minutes. At first the items only received a franking for the stamps, which showed the receipt time, but by the 1880s it was normal practice to add a second stamp indicating the delivery time.
In the early days the postal rate for pneumatic mail paid only the transit within Vienna, to go further required additional franking, but later on these rates paid for the whole journey. Pneumatic post was often used to send mail to the railway station for onward despatch by TPOs. Airmail to and from Vienna always went via pneumatic mail.
The service finally closed in 1956.
This was a very detailed display of stationery and frankings, based around the three-volume The Pneumatic Post in Vienna by Colin Tobitt and Andy Taylor.
James finished his display with two frames of Postablagen cancels from the Salzburg area. This was a system of rural mail, operating from very small places, perhaps just a hotel, and sometimes only operating for part of the year.
| | |
| --- | --- |
| | |
| 1884 Card listing the 34 Offices | Inflation Period Card, Valid for 7 months in 1920 |
| | |
| Mint Letter-sheet | Postaglaben Cover for Fuscl |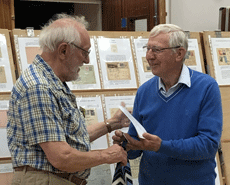 Mike Houchen presenting James Hooper
with his Certificate
(Wendy Buckle)
xxxxxxxxxxxxxxxxxxxxxxxxxxxxxxxxxxxxxxxxxxxxxxxxxxxxxxxxxxxxxxxxxxxxxxxxxxxxxxxxxxxxxxxxxxxxxx
Thursday 16 May, 2019 - Annual General Meeting
This year's AGM incorporated a number of significant decisions:
1. The Club would move from the Somerset & Dorset Federation to the Hampshire Federation
2. The Packet Service provided for the Club would cease, however Club members using the Packet would be invited to join the much larger one operated by the Ferndown Club, which incidentally is seeking new members
3. Two new members were appointed as Committee Members, without portfolio.
Several varied and most interesting one sheet displays were put up and explained after the meeting and before the "social".
| | | |
| --- | --- | --- |
| | | |
| Cuba - Columbus Issue, 1936 | Iraq - Stamp issued during the British Occupation, January 1914 | Spanish stamp, showing Avila and castle walls in the background |
| | | |
| 1588 Corsine Correspondence (at the time of the Spanish Armada) | Heligoland One shilling when under British Occupation | Malta 4d with missing silver, and thus no country name |
chris wheeler
888888888888888888888888888888888888888888888888888888
Thursday, May 9, 2019
Guest David Muscott: "English Provincial Banknotes"
David opened his display with what he called an amateur collection of banknotes that he had assembled in 1992. He explained that banks originally issued their own banknotes an had to have suficient gold to support the number and value of the notes they issued. Many of these banknotes were extremely finely printed, especially those produced by Perkins Bacon.
He then went on to demonstrate banknotes from all over the United Kingdom, using them as examples of style, paper, designs, forgeries, amalgamations, anti-theft, cancellations, trimmed ones to meet postal weight tariff categories, the first use of the zip code; and then an array of banknotes issued by local banks over the years, including one issed in 1825 by a Ringwood Bank which due to the bank's failure is now part of TSB. David closed by telling a story of theft from a Guildford Bank, which he discovered and reported, ending up being the prime expert witness!
A most interesting and alternative evening.
| | |
| --- | --- |
| | |
| David with the first part of his highly specialist display of English Provincial Banknotes | 1853 cover to Fox Bros, Somerset, the last bank to issue its own banknotes. The cover is particularly special as it has the number 4 cancellation, the rarest of the twelve used experimentaly in 1843 (the fore-runner of the postcode) |
| | |
| Newport, Isle of Wight, banknote of 1788 | National Provincial Bank of London, Fifty Pound note received in Guildford in 1882 |
chris wheeler
0000000000000000000000000000000000000000000000000000000
Thursday, April 18 2019
Competition entries displayed and awards
The evening concentrated on the submissions for the competitions held on 21 March, the awards to the winners and the members concerned putting up their entries and discussing them. It turned out to be a very interesting and entertaining meeting, with a great variety of topics and approaches to the entries. The awards were presented, and at the end three additional displays were put up, one on the recent error by Royal Mail raising the 2nd class rate to 61p before 1 April. Chris Wheeler displayed several examples of mail with this incorrect rate, and also an early example of a meter mark from our new BCP Council. Michael Mawdsley showed Australia, Canada and South Africa in their early days demonstrating with stamps of the time, how disparate states in those countries merged to what we have today. Finally, following his visit to Avila in Spain, Mike Trickett showed an embryonic collection of philatelic items forming the start of one of his new collecting areas.
| | | | |
| --- | --- | --- | --- |
| | | | |
| Ray Saunders receiving the Green Cup (General/Traditional) | Mike Houchen receiving the Thematic Cup | Tony Arnold receiving the Barry Proctor Cup (Postcard Class) | Rick Wilmott receiving the John Hilton Trophy (Open Class) |
| | |
| --- | --- |
| | |
| 1 June 1935 6c Air Mail Stamp from Canada | Rostock Receiving Mark 8 December, 1918, with Boxed Militrary Centre M.P.k. |
| | | |
| --- | --- | --- |
| | | |
| Bahamas stamp showing shipwreck and introduction of an early warning beacon | Head of the Fresnel designed "lighthouse" on an Aland booklet cover | Russian cover commemorating the country's space achievements |
| | | |
| Two Orange Free State stamps with the VRI overprint | Cover from the Donald McGill Banned Postcard Collector's Pack | 33 peseta Spanish stamp showing St Teresa of Avila |

Early example of our new BCP Council Meter Mark
chris wheeler