Thursday 4th August
The evening was dedicated to a three part display by Brian Snape on the Hungarian engraver Sándor Légrády.
"Sándor Légrády (1906-1987) studied at the Goldsmith's Department of the Academy of Applied Arts and at the Decorative Painting Department of the Faculty of Glass Painting at the Budapest School of Applied Drawing. In 1929 he became a graphic artist at the printers Állami Nyomda, where he designed postage stamps and securities. His first stamp was issued in 1932. This set of stamps on St Elizabeth not only marked the beginning of his career – it was also a milestone in the history of the printing works as these were the first stamps made there using photogravure technology. After this, he received a string of commissions for designs. He continued working during WW2 and was appointed state secretary in 1941. His name is associated with saving the treasures of the Matthias church. In 1948 he resumed work as a stamp designer. In 1953 he received one of the highest accolades in his art at the "Madonna Stamps" exhibition in Aachen, where he won third prize for his stamp "Patrona Hungariae". His work includes 100 commemorative and regular stamps, sets of stamps and miniature sheets featuring outstanding figures from Hungarian history and culture, and major events. He worked in the Állami Nyomda in Budapest's Castle District until he was 74."
| | |
| --- | --- |
| | |

| | |
| --- | --- |
| | |
(Rick Wilmot)
*****************************************
Thursday 21st July
"Occupations" - Members Displays
The meeting opened with a visitor from Kent who spoke about a project called The South East England On-line Philatelic Society. It is open to everybody and they already have members from Europe. (See flyer attached).
Because of the postponement of Brian Snape's display the topic on 'Occupations' scheduled for 4 August, was brought forward to this evening.
The topic of "Occupations" covers masses of philatelic material and all ten displays covered many of them.
Mike Houghton began with material showing ships, lifeboats etc and the people who worked on them.
Ken Parrot - many occupations including military, fire and rescue, red cross, buses of Malta and others.
Alan King – WW2 occupation of the Channel Islands, stamps and postcards.
Tony Arnold – American occupations including tradesmen, blacksmiths, leather workers, railway men etc.
David Wilkins – Italian Occupations during WW2, mining, steel and agriculture on German stamps. Also, eastern European occupations including the Russian definitives Workers, Soldiers, Peasants. Finland Red Cross and Belgian railway stamps.
Mike Mawdsley – Commonwealth countries, tourism, health, transport, local government, flying doctors and others.
Rick Wilmot – Occupations of Copernicus, who had a dozen or more occupations during his lifetime including astronomer, mathematician, writer, economist, diplomat etc.
Mike Goodman – postcards of Egypt and the Red Sea.
Wendy Buckle – Brief history of paper making and watermarks.
Simon Adams – WW2 Channel Islands and the making of the occupation stamp.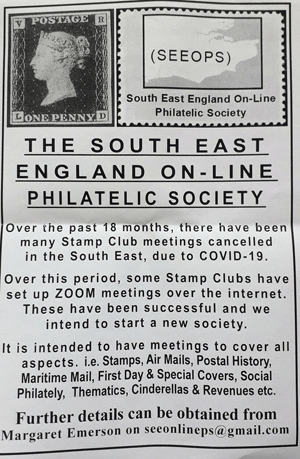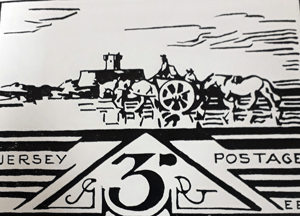 (Rick Wilmot)
**********************************************************************
Thursday 7th July
Summer Auction

The auction evening went reasonably well with several bidders in the room. This was the last auction in its present format and the next two auctions will be trials to see if they can be run better (see below).
Dear Members & Friends.
Firstly, thank you for your support for our auctions whether that has been as a seller, bidder, or helper.
The Club's Committee met in May and decided to make some changes in the format of our auctions which we hope will result in
More emphasis on philatelic items
Better descriptions to help buyers
Attracting more material and more bids for that material.
Today's event on 7th July has been conducted as before but our remaining philatelic auctions this season on 1st September & 17th November will be in the new format & we regard these as a trial & a learning experience!
The proposed changes will affect mostly sellers:
I will compile a list of lots and email this to everyone interested about 3 weeks before the auction date. I will need your auction entries emailed to me as plain text or as a Word document attachment about 4 weeks before the event. The deadline for the auction on 1st September will be Friday 5th August. If you need help with your description, please phone me first.
The auction list will include a lot number which I will issue, the seller's description & his/her reserve. The minimum reserve, as now, will be £1. I will try to correct obvious errors or typos but I must stress it's the seller's responsibility to give a good description to include (for stamps) country name, date & name of issue, appropriate cat numbers, plus the usual u/un/lmm/umm descriptors. Covers & postcards need a publisher, date if known, subject matter, colour/B&W/used/unused/stamped/addressed descriptor. Collections can be well described by noting the album type and terms such as clean, remaindered, scruffy, etc etc.
We will take as lots other collectibles such as coins & books or paper items intended to provide background information for members' collections or displays. Lots should be well packed to withstand the viewing process, or in tins, packets, boxes, etc etc. Bric-a-brac (toys, ornaments, household items etc) will not be accepted for our philatelic auctions, but we will hold a first non-philatelic auction on 1st December & regularly thereafter if this proves popular.
Sellers will be allocated lot numbers, which please show clearly in red on your lots. A description or the seller's identity is not needed. There will be NO lotting or entry fees, but the 10% commission charge remains.
As now, sellers should bring their numbered lots on the night at 19 00 & place them tidily on the tables where places for each group of numbers will be shown. If you are unable to bring them yourself, please ask another member to do this for you (& take away any unsolds). Payout of realisations will be on the night as now. Late lots will not be accepted. Lots which are missing on the night will be considered as withdrawn.
Bidders will not notice any difference, except that you will have the lots list emailed to you well before the night. If you want a hard copy you will need to print it yourself. If you don't have email, please let me know so that I can make a printed copy for you to pick up at the last normal Thursday Club meeting before the auction. Please understand that the high costs of printing, envelopes & postage make it impossible for the Club to consider mailing out auction lists to everyone. But there will be NO buyer's premiums.
As usual, the auctioneer's decisions are final & he has complete discretion over the conduct of the sale in the room.
David Wilkins, Chairman.
Email: drwilkins@hotmail.co.uk
phone: 01305 852783
mobile: 0779 254 254 0 (but NO reception at house)
*********************************************
Thursday 16th June
"Le Havre" - "Guest" Len Yandell
"Our guest speaker Mr. Len Yandell gave a very comprehensive talk on his Le Havre display. He spoke about the history of Le Havre and the twinning with Southampton.
The number 1769 cancellation on stamps of old France was the number of Le Havre.
Apart from the main topic there were some nice items depicting the SS Normandie which are collectable in their own right.
The ship, registered in the Port of Le Havre had its Maiden voyage: 29 May 1935.
All in all a very interesting evening."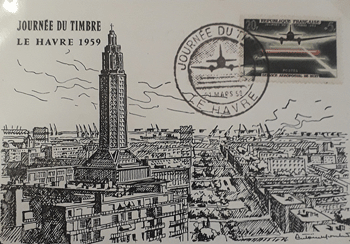 (Rick Wilmot)
*********************************************************************
Thursday 2nd June
"Designers" - Members
Tonight's topic was 'Designers'. Ken Parrott began with a display of Arnold Machin, David Gentleman and other British designers together with Emvin Cremona, a Maltese stamp designer.
Mike Houghton showed lots of Lighthouses and their designers. Interesting stuff on the building of lighthouses including history of John Smeaton, among others, who designed the famous Eddystone Lighthouse.
Rick Wilmot contributed with stamps designed by Edmond/Edmund Dulac of the 1945 French stamps of Marianne printed in London. Other designers shown were Czeslaw Slania and Martin Mörck.
Tony Arnold brought an advertising poster for the designer Keith Bassford.
David Wilkins also showed Dulac's design of Marianne together with other series of Free France, printed in London.
Wendy Buckle showed line engraved stamps and spoke about the art of line engraving with stamps from Argentine also Slania material..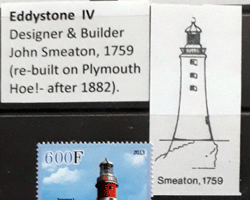 (Rick Wilmot)
@@@@@@@@@@@@@@@@@@@@@@@@@@
Thursday 19th May
AGM and Single Sheet from all
The Chairman and Secretary gave their reports. The Treasurer's report was adopted, and all previous committee members were re-elected unopposed.
Members had been asked to bring one sheet for display. Rick Wilmot began with a complete sheet of 100 in a frame depicting 1914 Russian charity stamps. Mike Houchen; Ladybird Book stamps 2017 GB. Ray Saunders; QE2 Europe stamps and booklets. Alan King; advertising on reverse side of stamps. Tony Arnold; Shakespeare covers. Ken Parrott; early Malta. Simon Adams KGVl stamps of Swaziland showing shade and perforation differences. Wendy Buckle; Cayman Islands and hand painted postcards of different material. Finally, Cheryl with a page of commonwealth UPU stamps.
(Rick Wilmot)
******************************************
Thursday 5 May 2022
"Saints . . . people and places" - Members
Mike Mawdsley began the evening with a display of Saints on stamps including St. George, St. Patrick, followed by Ugandan Saints, Indian and more from different countries. Ken Parrott showed Saints from Malta which is predominantly a Catholic country. Then other Saints found around Britain. Rick Wilmot followed with an Italian cover showing a stamp of St. Francis of Assisi together with Elvis Presley stamps from St Vincent. Also, a copy of an article from a 1937 Stamp Magazine entitled 'Saints on Postage Stamps' by Henry Cater. Ray Saunders brought several pages of stamps from St. Lucia, St. Christopher, St. Helena and others, a really good display. Tony Arnold mentioned St. Dunstan from the building next door and other local material. Also showed stamps of St. Lucia and St. Vincent. Finally, Wendy Buckle brought a display of Saints on paintings including those of the four gospels, then the Book of Kells and other bible stories on stamps.
(Rick Wilmot)
***********************************************
Thursday 21 April 2022
"Venice" - "Guest" John Davis
Mr. John Davis was the guest. He gave us a very comprehensive display of philatelic material of Venice. Many stamps and postcards depicting bridges, buildings, the Grand Canal and St Mark's Square. A fascinating journey through the history of Venice. Many stamps from different countries dedicated to preserving the artistic heritage of Venice and the USA and UNESCO Save Venice Campaign. The cover addressed to Moscow is particularly interesting because it shows being posted on 7 June 1896 and received 29th May 1896, due to the difference in the Julian and Gregorian calendars. Later in the display a complete series of stamps from Trieste, Zones A/B, 1947-1954, and Istria followed by some modern postcards nicely rounded of an enjoyable evening.
| | |
| --- | --- |
| | |
| AQ letter sheet used 1628 | Use of Julian and Gregorian calendars. Posted in Venice 7th June 1896; Moscow receiving mark 29th May 1896 |
| | | |
| --- | --- | --- |
| | | |
| Poster stamp for the 16th Biennale | Bell Tower, St. Marks Square | The Serene Republic |
(Rick Wilmot)
***********************************************
Thursday 7 April 2022
Competition Display and Awards
Everybody who had entered this year's annual competitions was invited to show their exhibit and tell the audience a bit about it. The winners were:
General Philately winner: Rick Wilmot with Stamps of Slovenia 1919 – 1921. The Kingdom of Slovenes, Croats and Serbs was created following the collapse of the Austro-Hungarian Empire after World War I. The exhibit shows the various series of stamps issued by Slovenia shortly after independence: the Chainbreakers, the Three Falcons, Angel of Peace, King Peter I, newspaper stamps and postage dues.
Thematic Philately winner: Rick Wilmot with Philately of the German Leipzig Fair paintings. The Leipzig Fair dates back to the Middle Ages. First mentioned in 1165, Otto the Rich, Margrave of Meissen, organised the fairs under his protection. This display covered the history of the Fair, including its famous double-M symbol and the series of 12 art stamps issued to commemorate the Fair, shown through covers and cards.
Open Philately winner: Tony Arnold with First hundred years of the TT races. First day covers, PHQ cards and stamps all illustrated the Isle of Man TT races from 1907 – 2007. Famous riders were shown, including Sammy Miller, now aged 89, who raced in the 1950s and 1960s, and who now runs the Sammy Miller Motorcycle Museum at New Milton.
Picture Postcard winner: Ray Saunders with World War II vintage movie posters. These picture postcards were graphic reproductions of 24 World War II films, including famous ones such as 'Reach for the Sky' and 'The Cruel sea'. Many of them can still be found on television channels today. The posters are themselves art works of stunning design.
The other competitors who showed their exhibits were Mike Goodman, Mike Houchen and Brian Snape.
See meeting report 3rd March below for the full list of entries and results.
(Rick Wilmot)
***********************************************
Thursday 17 March 2022
Spring Auction- Members
The first auction of 2022 brought in 22 members and one visitor. There were plenty of lots available.
Various lots for sale
(Rick Wilmot)
**********************************************************************
Thursday 3 March 2022
Competition Evening - Members

We were able to hold our Competition Night for the first time since 2019.
Congratulations to winners Rick Wilmot, Ray Saunders and Tony Arnold.
Full results were:

Green Cup

Name

Subject

Points

Award

(General)

1st

Rick Wilmot

Stamps of Slovenia 1919 - 1921

53

BRONZE

2nd

Ray Saunders

New Zealand

50

BRONZE

3rd

Mike Goodman

Two decades of computer-vended postage stamps

41

BRONZE

Thematic Cup

1st

Rick Wilmot

Philately of the German Leipzig Fair Paintings

64

BRONZE

2nd

Mike Goodman

Rise and fall of Communism

62

BRONZE

3rd

Mike Houchen

Royal National Institution's lifeboats and founders

57

BRONZE

Barry Proctor Cup (Postcards)

1st

Ray Saunders

World War II vintage movie posters

2nd

Tony Arnold

Post men and women

3rd

Tony Arnold

Post boxes through time

John Hilton Trophy (Open)

1st

Tony Arnold

First hundred years of the TT races

2nd

Brian Snape

Philately of the 1956 Hungarian uprising

3rd

Tony Arnold

Is time running out?

Bill Way Shield (overall winner)

1st

Rick Wilmot

Stamps of Slovenia 1919 - 1921

2nd

Rick Wilmot

Philately of the German Leipzig Fair Paintings

3rd

Mike Goodman

Rise and fall of Communism

4th

Ray Saunders

New Zealand

5th

Tony Arnold

Post men and women

= 5th

Mike Houchen

Royal National Institution's lifeboats and founders

= 7th

Tony Arnold

Is time running out?

= 7th

Tony Arnold

Post boxes through time

= 7th

Tony Arnold

First hundred years of the TT races

= 7th

Mike Goodman

Two decades of computer-vended postage stamps

= 7th

Ray Saunders

World War II vintage movie posters

= 7th

Brian Snape

Philately of the 1956 Hungarian uprising
Our thanks go to Colin Mount for judging the General and Thematic Classes
| | | |
| --- | --- | --- |
| | | |
| Judging in progress | One of the Entries | A sheet from Mike Goodman's entry |
| | |
| --- | --- |
| | |
| One of the Covers | Another of the Covers |
| | | |
| --- | --- | --- |
| | | |
| A page from the RNLI Entry | Looking at the exhibits, whilst awaitng the results | The Awards table |
(Rick Wilmot)
******************************************************************
Thursday 17 February 2022
Food and Drink - Members
Seven members put up displays this evening
Ken Parrott. A selection of Commonwealth stamps and covers including Malta.
Alan King. 21st century material from France, Australia and NZ.
Rick Wilmot. Mushrooms from Malawi and Lesotho plus cards showing herbs.
Dave Wilkins (Chairman). Selection of stamps from South America.
Tony Arnold. Large display of everything to do with food.
Mike Mawdsley. Selection from Nicaragua, Australia, Newfoundland and Canada.
Finally, Brian Snape. Eastern Europe stamps showing recipes such as fried snake and elephant soup.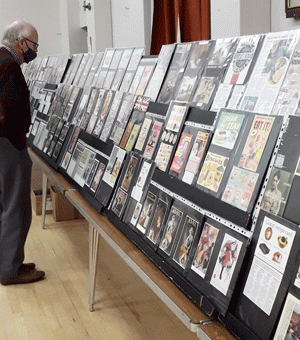 The meeting closed with the Chairman reminding members about the competition evening on 3rd March.
(Rick Wilmot)
****************************************************