Saturday 7th September 2019 - Annual Fair
The 2019 Annual Fair was genareally very successful from everyone's point of view, with some major transactions taking place alongside the many smaller ones. Many Club members were on hanb very early to set up and then to assist the dealers bringin and take out their many heavy boxes of sale items. The emergency arrangememtd for castering were most successful, as indeed were the takings for the Raffle. The Draw took place at 3;00pm with eight lucky winnters.
| | |
| --- | --- |
| | |
| Settu-ng up | Customers atrthe Tables |
$$$$$$$$$$$$$$$$$$$$$$$$$$$$$$$$$$$$$$$$$$$$$$$$$$$$$$$$$$$$$$$$$$$$$$$$$$$$$$$$$$$$$$$$
Thursday 5th September 2019 - Autumn Auction
Two days before our Annual Fair, the Club held another successful Auction, with many lots for sale and sold.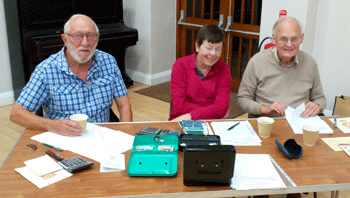 ;;;;;;;;;;;;;;;;;;;;;;;;;;;;;;;;;;;;;;;;;;;;;;;;;;;;;;;;;;;;;;;;;;;;;;;;;;;;;;;;;;;;;;;;;;;;;;;;;;;;;;;;;;;;;;;;;;;;
Thursday 15 August 2019 - Members Displays - V and W
Brian Slade, with his first display to the Club, firstly thanked the Cub members for making him so welcome and for hosting such interesting meetings. He then described his very well written-up display, which was an extract from a wider collection of Eastern European "Great and Good" personalities. It was very well received, with stamps above descriptions of those portrayed, from the arts, politics, creative industries and social fields. Ken Parrott followed with items from Valetta in Malta and Queen Victoria, including one of only 400 or so de la Rue Specimens. He included ships starting with the letter W, WW2 aircraft and sets of stamps from countries beginning with V. Mike Houchen displayed lighthouses from countries beginning with V and W; then Rick Wimott tackled what he described as the "philatelist's nightmare country", Vietnam. He put up a sheet showing all the Administrations that had issued stamps, starting with the French Colonial Administration in 1862. Bob Small chose W for war, and exhibited some very old newspapers and letters relating to Battles since 1746. He showed a vignette on a French letterhead depicting Villneuve's invasion force's intentions to land on the Pevensey beaches, and up the Thames. Tony Arnold closed the first half with three frames of postcards relating to many aspects of WW1 and WW2, some very serious, others comic or with slogans.

Michael Mawdsley started the second session with stamps from theVirgin Islands and Victoria, Australia. Alan King displayed Western Australia recounting several stories about the Black Swan, its varieties, forgeries and adaptaion of the Perkins Bacon 1d steel plate for other values. Mike Trickett, again brought humour to the evening with a rather stretched display of items relating the the letters V and W. Chris Wheeler displayed the complete set of stamps issued by Venda during its period of Independence from 1979 to 1994, commenting on the design of some of them. Finally, Wendy Buckle gave an excellent display of Writing materials, what was written on and the implements used to write, splitting them into animal, vegetable and mineral categories. Some amazing examples were displayed, especially the use of the mutton bird pie tree leaves in Stewart Island, one of the islands off New Zealand when all stocks of paper had run out.
| | | |
| --- | --- | --- |
| | | |
| Whole display of Eastern European "Great nd Good" personalities on stamps | Malta - Specimen de la Rue pair | Vietnam - block of 4 "Blacksmith" 1953 issue |
| | | |
| Vignette from France letterhead | Soldiers off to War | The first "Beetle", 1932 |
| | | |
| 1854 version of the "Swan" | Bright orange-red exmple from Van Diemens Land | Postal item from Stewart Island, when no paper available |
(chris wheeler)
::::::::::::::::::::::::::::::::::::::::::::::::::::::::::::::::::::::::::::::::::::::::::::::::::::::::::::::::::::::::::::::::::::::::::::::::::::::::::::::::::::::::::::::::::::::::::::::::::::::::::::::::::::::::::::::::::::::::::
Thursday 1 August 2019 - Members Displays - Flora and Fauna
Tony Arnold began the evening with two frames of mainly GB FDCs on the wide subject of Flora and Fauna, including some stamp club badges featuring "stamp bugs". Mike Houchen followed with stamps from all over the world, closing with some miniature sheets and covers. Ken Parrott also used FDCs as a base for displaying his range of Flora and Fauna from round the world, but included some gutter pairs and stamps from Tuvalu and Kiribati. Rick Wilmot concentrated on the beautiful and wide ranging stamps from Malawi, as well as some from South Africa. Ted Kemp followed with a display taken from a past competition entry showing three sheets of birds from countries within each of the five continents.
After the break Michael Mawdsley displayed a range of stamps depicting birds from the many Commonwealth countries, and included some fish as well. MikeTrickett put up an unusual display of postcards, christmas cards and greeting cards, many with a humourous theme covering birds, flowers and black cats. David Wilkins concentrated on the Spanish Colonies and Overseas Territories, with again examples of the beautiful wildlife living in those regions. Shirley Kemp focused on Czechoslovakia's many stamp issues from the 1950s and 1960s with designs in various formats and evolving styles, including some of the less well-known creatures such as beetles and doormice. Finally, Chris Wheeler focused on the Chinese Almanac displaying stamps and miniature sheets from many countries covering all twelve animals, noting the amazing artwork behind many of the designs.
| | | |
| --- | --- | --- |
| | | |
| Great White Pelican from Liberia | Tuvalu - Gutter Pairs from a sheet | Malawi Birds from a miniature sheet |
| | | |
| Stamp Bug Club Badge | Alberto Giacometti's stylised dog | Canada - Year of the Rabbit |
| | | |
| Birds from Rio Muni | Hazel Doormouse - Czechoslovakia | Alderney - Birds of Prey Miniature sheet |
(chris wheeler)
######################################################
Thursday 18 July - Guest Claire Scott: "Death by Post"
As an introduction Claire explained that the evening's display was just a part of her International Gold Medal Entry and that it was based on what she wanted and liked not on any pre-determined structural or catalogue guidelines, hence was personal and unique. The display was a collection of a wide range of material relating to the complete funeral process, starting with its history, steeped in Catholic tradition and symbolism, at every level form Royalty to peasant. A vast range of topics was covered, all with examples to illustrate the process from death to burial. Many international items were included.
Starting with the funeral business itself, the survivor choosing the coffin, the lining, the furniture, the type of funeral, the stationery, the advices and notifications, undertaker advertising, settling the bills, the types of service, wills, and many other forms of paperwork involved. Types of death from disease, murder, execution and terrorism were explored. The use of coffins for smuggling; death certificates, re-internments, memorial design, war deaths on land and sea were all illustrated. The use of the black borders and homemade stationery were all covered, as was the use of black seals and black wafers. Truly, a unique display and one all the audience thoroughly enjoyed and learned so much from.
| | | |
| --- | --- | --- |
| | | |
| Belgian Mourning Announcement set to Bournemouth, 1913 | Cover containing a Death Notice from The Times newspaper | Beautifully printed rear of envelope from T Rhys, funeral directors |
| | | |
| Funeral Director's Invoice with 1891 revenue stamp, from Fitzroy's Australia | Front of cover sheet with extract of Proof of Internment | Cover with top of enclosed design for a tombstone |
| | | |
| Guernsey folded letter of Death Acknowledgement | Homemade envelope made by bereaved person with low income | Limerick postcard with 1d surcharge due to addition of the string! |
chris wheeler
88888888888888888888888888888888888888888888888888
Thursday 4 July:- Members Displays - Land, Sea and Sky
Eleven members put up displays this evening, one for the first time, which was most encouraging. Tony started the displays with a frame of well-mounted FDCs and some inserts showing famous airships and how they were destroyed. Alan King followed with several themes drawn from the countries he collects Transport, Airmail stamps, many from his Landscapes of France collection, some of the "mirror" series and the Roman Gods stamps from France, and the Channel Tunnel. These were followed by the full sheet of GB A to Z of the British Isles, Birds of Britain on the Post & Go issues and finally his daughter's collection of worldwide underwater creatures. Rick Wilmot dispayed a broad collection of aerophilately, from the specialist John Field from Sutton Coldfield, including an Edward VIII FDI envelope. Michael Mawdsley drew from his extensive GB collection using examples of stamps featuring all three themes such as the Seahorse, and series like the Victory, RNLI, Battle of Britain and Inventions. David Wilkins used stamp sets from Greece and South Africa to exemplify air, sea and sky, including the delightful set of Greek watercolours. Finally, with his first display and covering sea only, James Mates used Belgium covers and pictorial postcards of ships to illustrate the transport of mail on the Ostend to Dover route by the Belgian Shipping Company, which had the added interest in that he had travelled this route many times and his father had been an officer on one of the ships.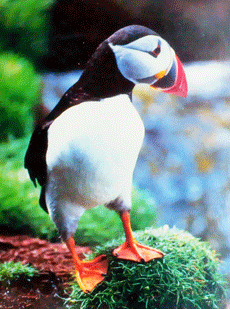 The Puffin which symbolises land, sea and sky
Following the break, Mike Trickett put up an extensive collection on Lundy, an island featuring land sea and sky very well with its Puffins. Included in his display was a cover with a 1911 cancellation by the Royal Mail post office which was based on the island at the time. Ken Parrot used the Ellis and Gilbert Islands as the basis for his presentation, emphasing the use by these islands of land, sea and sky, for all sorts of activities, such as fishing and flower cultivation. Chris Wheeler followed with a frame of miniature sheets with the theme Holidays, showing land sea and sky for starting the holiday, enjoying the holiday and activiteies on holiday. Mike Houchen then displayed his comprehensive collection of Marine and Air/Sea Rescue stamps, covers and miniature sheets. Finally Wendy Buckle's display concentrated on the air aspect with a rare set of air mail covers from Latvia from 1921 to 1940, showing many routes and their development.
| | | |
| --- | --- | --- |
| | | |
| Destruction of the Hindenberg | Six stamps from the "Pay Sage Ref Lets du Monde" series from France | Cover with Edward VIII stamp, promoting John Field's aerophilately business |
| | | |
| Cover with Belgium stamp on the Ostend to Dover sea route | Greece watercolour painting on stamp | The £1 Seahorse showing land sea and sky |
| | | |
| Fishing for tuna in Kiribai | Canada Emergence Services stamps from 1991 | Land Sea and Sky on the beach in Kiribati! |
(chris wheeler)
xxxxxxxxxxxxxxxxxxxxxxxxxxxxxxxxxxxxxxxxxxxxxxxxxxxxxxxxxxxxxxxxxxxxxxxxxxxxxxxxxxxxxxxxxx
Thursday 20 June 2019 - Summer Auction
A good and varied range of items were auctioned during the evening, with many happy bidders returning home with their acquisitions.
***************************************************
6th June 2019 - Guest James Hooper: "Pneumatic Post in Vienna"
Pneumatic mail was a way of transporting post using long tubes which transported cylinders by the use of compressed air. Mail had to be folded twice to fit into the cylinders, so used pneumatic mail will always have creases. The system was introduced in Vienna in 1875, initially operating from ten offices.
For some years special postal stationery was used. The first issue were letter sheets with 20 kr telegraph stamps, followed later by letter cards and then postal stationery cards which used current definitive stamps. The stationery was lightweight, with instructions on the back. The postal cards listed all the offices, which eventually numbered 31. The use of special stationery stopped after the hyper-inflation of the early 1920s.
Mail was posted in special pillar boxes, painted red rather than the yellow for ordinary mail. Letters were collected every ten minutes. At first the items only received a franking for the stamps, which showed the receipt time, but by the 1880s it was normal practice to add a second stamp indicating the delivery time.
In the early days the postal rate for pneumatic mail paid only the transit within Vienna, to go further required additional franking, but later on these rates paid for the whole journey. Pneumatic post was often used to send mail to the railway station for onward despatch by TPOs. Airmail to and from Vienna always went via pneumatic mail.
The service finally closed in 1956.
This was a very detailed display of stationery and frankings, based around the three-volume The Pneumatic Post in Vienna by Colin Tobitt and Andy Taylor.
James finished his display with two frames of Postablagen cancels from the Salzburg area. This was a system of rural mail, operating from very small places, perhaps just a hotel, and sometimes only operating for part of the year.
| | |
| --- | --- |
| | |
| 1884 Card listing the 34 Offices | Inflation Period Card, Valid for 7 months in 1920 |
| | |
| Mint Letter-sheet | Postaglaben Cover for Fuscl |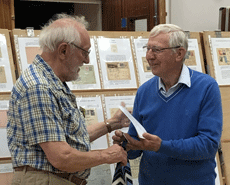 Mike Houchen presenting James Hooper
with his Certificate
(Wendy Buckle)
xxxxxxxxxxxxxxxxxxxxxxxxxxxxxxxxxxxxxxxxxxxxxxxxxxxxxxxxxxxxxxxxxxxxxxxxxxxxxxxxxxxxxxxxxxxxxx
Thursday 16 May, 2019 - Annual General Meeting
This year's AGM incorporated a number of significant decisions:
1. The Club would move from the Somerset & Dorset Federation to the Hampshire Federation
2. The Packet Service provided for the Club would cease, however Club members using the Packet would be invited to join the much larger one operated by the Ferndown Club, which incidentally is seeking new members
3. Two new members were appointed as Committee Members, without portfolio.
Several varied and most interesting one sheet displays were put up and explained after the meeting and before the "social".
| | | |
| --- | --- | --- |
| | | |
| Cuba - Columbus Issue, 1936 | Iraq - Stamp issued during the British Occupation, January 1914 | Spanish stamp, showing Avila and castle walls in the background |
| | | |
| 1588 Corsine Correspondence (at the time of the Spanish Armada) | Heligoland One shilling when under British Occupation | Malta 4d with missing silver, and thus no country name |
chris wheeler
888888888888888888888888888888888888888888888888888888
Thursday, May 9, 2019
Guest David Muscott: "English Provincial Banknotes"
David opened his display with what he called an amateur collection of banknotes that he had assembled in 1992. He explained that banks originally issued their own banknotes an had to have suficient gold to support the number and value of the notes they issued. Many of these banknotes were extremely finely printed, especially those produced by Perkins Bacon.
He then went on to demonstrate banknotes from all over the United Kingdom, using them as examples of style, paper, designs, forgeries, amalgamations, anti-theft, cancellations, trimmed ones to meet postal weight tariff categories, the first use of the zip code; and then an array of banknotes issued by local banks over the years, including one issed in 1825 by a Ringwood Bank which due to the bank's failure is now part of TSB. David closed by telling a story of theft from a Guildford Bank, which he discovered and reported, ending up being the prime expert witness!
A most interesting and alternative evening.
| | |
| --- | --- |
| | |
| David with the first part of his highly specialist display of English Provincial Banknotes | 1853 cover to Fox Bros, Somerset, the last bank to issue its own banknotes. The cover is particularly special as it has the number 4 cancellation, the rarest of the twelve used experimentaly in 1843 (the fore-runner of the postcode) |
| | |
| Newport, Isle of Wight, banknote of 1788 | National Provincial Bank of London, Fifty Pound note received in Guildford in 1882 |
chris wheeler
0000000000000000000000000000000000000000000000000000000
Thursday, April 18 2019
Competition entries displayed and awards
The evening concentrated on the submissions for the competitions held on 21 March, the awards to the winners and the members concerned putting up their entries and discussing them. It turned out to be a very interesting and entertaining meeting, with a great variety of topics and approaches to the entries. The awards were presented, and at the end three additional displays were put up, one on the recent error by Royal Mail raising the 2nd class rate to 61p before 1 April. Chris Wheeler displayed several examples of mail with this incorrect rate, and also an early example of a meter mark from our new BCP Council. Michael Mawdsley showed Australia, Canada and South Africa in their early days demonstrating with stamps of the time, how disparate states in those countries merged to what we have today. Finally, following his visit to Avila in Spain, Mike Trickett showed an embryonic collection of philatelic items forming the start of one of his new collecting areas.
| | | | |
| --- | --- | --- | --- |
| | | | |
| Ray Saunders receiving the Green Cup (General/Traditional) | Mike Houchen receiving the Thematic Cup | Tony Arnold receiving the Barry Proctor Cup (Postcard Class) | Rick Wilmott receiving the John Hilton Trophy (Open Class) |
| | |
| --- | --- |
| | |
| 1 June 1935 6c Air Mail Stamp from Canada | Rostock Receiving Mark 8 December, 1918, with Boxed Militrary Centre M.P.k. |
| | | |
| --- | --- | --- |
| | | |
| Bahamas stamp showing shipwreck and introduction of an early warning beacon | Head of the Fresnel designed "lighthouse" on an Aland booklet cover | Russian cover commemorating the country's space achievements |
| | | |
| Two Orange Free State stamps with the VRI overprint | Cover from the Donald McGill Banned Postcard Collector's Pack | 33 peseta Spanish stamp showing St Teresa of Avila |

Early example of our new BCP Council Meter Mark
chris wheeler
!!!!!!!!!!!!!!!!!!!!!!!!!!!!!!!!!!!!!!!!!!!!!!!!!!!!!!!!!!!!!!!!!!!!!!!!!!!!!!!!!!!!!!!!!!!!!!!!!!!!!!!!!!!!!!!!!!!!!!!!!!!!!!
Thursday, April 4 2019
Guests Brian Hunt: "Falkland Islands" and Bernard Paull "Alpha Romeo"
The Club was treated to two excellent and varied talks this evening, starting with a detailed overview of the postal issues from the Falkland Islands by Brian Hunt. He showed examples of the stamps used throughout its issuing history with many stories behind the choice and production of these issues. Many were scarce if only because with a population of just 2,000, the production numbers were correspondingly low. A good example of a "Black Frank" started the presentation, this being a postally valid mark used on mail before stamps arrived in the island in 1876. In 1890 following postal rate changes there was a shortage of some values and bisects were used. From then on there were the usual rate changes, printer and paper changes and some colourful commemoratives showing scenes from the island.
| | | |
| --- | --- | --- |
| | | |
| The Queen Victoria "Black Frank" used from 1869 to 1876 when postage stamps arrived | Bisect with surcharge, used in 1890 and 1891 | An example of a Souvenir Strike from the 1890s |
| | | |
| King George V 1918 War Stamp Overprint | The Romney Marsh Ram | "The Flying Cloud", a mail ship, built in Liverpool in 1888 |
Following the break Bernard Paull displayed a wide range of material relating to the history of the Alpha Romeo marque, with covers, stamps, meter marks and detailed descriptions of the exhibits. He outlined the story of the Company by decade from 1910 when it was formed until now, with its ups and downs, models of cars, aeroplane engines during the war, and its racing history, some advertising and how the composition of its emblem was formed.
| | | |
| --- | --- | --- |
| | | |
| Stamp and postmark from 1910, the year Alpha was founded | 1992 commemorative meter mark celebrating the anniversary of racing driver Tazio Nuvolari's birth | Stamp on a matching maxicard showngearly crowds at the Targa Florio, from a painting by Margaret Bradley |
| | | |
| An Alpha P3 pursues a Bugatti during the Monaco Grand Prix in 1933 | Official Wartime letter to Alpha Romeo in 1942 | Official Wartime postcard from the 17th Artillery, with a quote from Mussolini offering encouragment, 1943 |
Two most enjoyable talks from our Bridport Stamp Club colleagues in the Somerset and Dorset Federation.
chris wheeler
HHHHHHHHHHHHHHHHHHHHHHHHHHHHHHHHHHH
Thursday 21 March - Competition Evening
The Green, Novice, Barry Proctor and John Hilton Cups, & Bill Way Shield
| | |
| --- | --- |
| | |
| Colin announcing the Results and Giving Advice | Members Voting on the "Peoples' Choice" |
Results of the 21 March 2019 Club Competition Evening
Entries were as follows, Judged by Colin Mount
Green Cup
(General /Traditional)

Harry Parsons Shield
(Postal History)

Thematic Cup

Barry Proctor Cup
(Postcards)

John Hilton Trophy
(Open)

Novice

2

1

4

2

5

0
Name

Subject

Points

Award

Green Cup

1st

Ray Saunders

Canada Air Mails

68

SILVER

2nd

Ted Kemp

Bosnia Herzegovina

61

BRONZE

Harry Parsons Shield

1st

Wendy Buckle

Civilian Mail Service in Occupied Latvia

81

GOLD

The Thematic Cup

1st

Mike Houchen

Lighthouse Characteristics

76

SILVER

2nd

Rick Wilmot

Konstantin Tsiolkovsky

69

SILVER

3rd

Shirley Kemp

Music Masters

68

SILVER

4th

Fred Hoare

Longest Reigning British Monarch

64

BRONZE

Barry Proctor Cup

1st

Tony Arnold

Comic Postcards

2nd

Tony Arnold

Night Light

John Hilton Trophy

1st

Rick Wilmot

Eva Peron

2nd

Chris Wheeler

Gustav Klimt

3rd

Chris Wheeler

Lover to Loved

4th

Tony Arnold

Banned postcards of Donald McGill

5th

Fred Hoare

Longest Reigning Monarch

Bill Way Shield

1st

Mike Houchen

Lighthouse Characteristics

2nd

Rick Wilmot

Konstantin Tsiolkovsky

3rd

Ted Kemp

Bosnia Herzegovina

4th

Ray Saunders

Canada Air Mails

5th

Shirley Kemp

Music Masters

= 6th

Rick Wilmot

Eva Peron

= 6th

Wendy Buckle

Civilian Mail Service in Occupied Latvia

8th

Fred Hoare

Longest Reigning British Monarch

9th

Chris Wheeler

Gustav Klimt

= 10th

Chris Wheeler

Lover to Loved

= 10th

Tony Arnold

Night Light

= 10th

Tony Arnold

Comic Postcards
Going forward to the Ferndown Inter Club Competition
| | | | | |
| --- | --- | --- | --- | --- |
| Postal History | Wendy Buckle | Civilian Mail Service in Occupied Latvia | | |
| Thematic | Mike Houchen | Lighthouse Characteristics | | |
(Wendy Buckle)
**************************************************
Thursday 7 March - Spring Auction
Following a rather slow start and fewer attendees than normal, the auction became quite lively, and most attendees bought or sold several items that suited their collecting themes.
chris wheeler
##########################################################################################################
Thursday 21 February 2019
Guest John Willows: "Collecting Postcards - Why do I and Why did I start?"
John started his presentation with the first postcard he had received, and then the first one he bought. Using these two cards he explained how he had become fascinated with the old cards, and their method of portraying the contemporary life, which now with some research becomes the basis for us to study the social history over the years on a massive range of topics and topographical subjects. One collection leads to another, and before long an amazing relevant story can be pieced together. By visiting postcard fairs he spent the time needed to examine his favourite areas of interest and using his magnifying glass was able to spot details in the pictures not normally visible. Using the other side of the cards, the date stamps, addresses, adressees, and their replies, together with the stories told also make a fascinating study area, as he so ably demonstrated.
All members found the presentation most interesting, bringing new life to a philatelic subject that some had not concentrated on before. Perhaps one of the most interesting conclusions from this display was that through the postcards he showed us we were able to gain a good insight into his own life, career and areas of interest - living social history!!
| | | |
| --- | --- | --- |
| | | |
| Title Page | John's first postcard from 1953 | The first postcard he bought in 1953 |
| | | |
| Mock-up of Sherlock Holmes' study, London | Views of Cattistock, sent to John before his move there from London | The perfect source for postcard collectors! |
(chris wheeler)
#######################################################
Thursday 7 February:- Members Displays: Postcards
Many members brought along material for displaying, it was a very popular evenig with a wide range of topics, styles and history. Mike Houchen opened the evening with a comprehensive display of the lighthouses along the north west coast of France, showing picture as well as artist drawings of the wide variety of edifices that have been in use over the years.


Graphic representation of lighthouses along Les Phares de Mange
Ken Parrott put up a display of many aspects of Malta from the first postcards issued pre and post-1885, pre-paid and reply paid cards, Services freepost and censored cards and then historical transport and views of the country. Rick Willmott followed with his display of family history-related ships he and his family members had served on with many of the storiues relating to them. We were then priviledged to enjoy the first display by our new members, , showing well written-up examples of caricatures from Dicken's novels, which drew a lot of attention from club members at the interval. Michael Mawdsley put up postcards from his visits to The Hermitage, some from the time when it was first opened to tourists from outside Russia. Tony Arnold displayed five boards on three topics, general themes, saucy themes and a set of 100 cycles.
Following the break, Chris Wheeler chose the imminent valentines Day to display postcards "Popping the Question", followed by a rare subject displayed by Mike Trickett on the Davis Message cards from USA, started in 1913 (ending in 1959), they being in art nouveau and art deco style, containg pre-printed messges in ornate borders in colourful inks on quality card. Mike and a colleague had written up the catalogue of this broad range of cards, which was also on display. Finally Brian displayed cards on all sorts of topics from the collection he started when he was just eighteen, featuring a very wide range of interests.
| | | |
| --- | --- | --- |
| | | |
| 1885 British Postcard from Malta to Milan | Free Ambulance Services postcard from Malta to Cardiff | Museum Station on the railway line from the then capital Medina |
| | | |
| The SS Minehaha which sank in 4 minutes after being torpedoed in 1914 | Picture of Rick's distant cousin, William Mitchell, who was on the SS Minehaha | The green-blue example of this stamp is listed at £36,000 |
| | | |
| Mice on Motorbikes from the film | Very early Christmas postcard | "Mr Pickwick in and awkward predicament" |
| | | |
| Mr Winkle and Mr Pickwick trying to control a fractious horse | Postcard dated 1903 | Postcard dated 1930 |
| | | |
| The Knights Room, The Hermitage, St Petersburg | Romantic Davis Message Card with loving reply from Charlie on the reverse | Popping the Question |
(chris wheeler)
**************************************************
Thursday 17 January 2019
Guests Mike Houchen, Rick Wilmott and Mike Trickett
The evening was divided into three parts with Mike Houchen displaying 90 sheets of his extensive collection of Lundy stamps during the first half. After giving a summary of the island's quite diverse history, having been occupied by many invaders over the centuries, it is now managed by the National Trust. The Post Office issued stamps there until 1929, when the new owner took over that responsibility by producing two values initially, the ½ puffin and the 1 puffin. Quite crudely printed, it is possible to detect each stamp's original position on the page, and Mike showed examples of this with partly filled sheets. Higher value stamps were later produced as were so-called tram tickets for use on the ferry. For postage anywhere off the island, mail had to be taken to a mainland post office where Great Britain stamps of the correct value had to be affixed for onward delivery. Air mail stamps, also with many errors, were introduced from 1935. Mike showed many forgeries, perforated and imperforated examples and a wide range of overprints. A continuous range of new issues, many mimicking those of the mainland were and continue to be released, but they also produe issues relevant to the island's own interests.
Following the break, Rick Willmot put up part of his unique collection of covers signed by cosmanauts. These started in Dubrovnik in 1978 when the Astronomical Society had a Congress to which many astronauts were invited, and where a series of covers were produced for signature. This convention has continued subsequently every year since then. Translating the descriptions from mainly central European countries is proving to be a mammoth task!! The third display was of postcards from France, with Mike Trickett covering three topics, Dinard, the Paris Flood of 1910 and the Eiffel Tower. Having made numerous trips to France his knowledge and experience shone through. His Dinard collection, now of several hundred cards started with a gift of eight. Dinard started to be developed as a leisure town in the 1850s and some of his older cards showed how it looked 150 years ago. His postcards of 1910 Paris really brought to life the magnitude of the flood and how the Parisians coped with it. The first postcard of the Eiffel Tower was an undivided one, issued in October 1899. Many others were shown, ending with a large one which had a gramaphone track embedded in it, and he closed by playing the song from it on a radio.
This was an excellent evening enjoyed by a gathering of 20 members, one of whom had joined that very evening.
| | | |
| --- | --- | --- |
| | | |
| Cover to Wales with Lundy stamps, franked in Ilfracombe, but marked as ""Delayed by Rough Sea" | Lower left pane of stamp sheet, showing the stamps available, in their correct positions | Varieties in the printing of Lundy's airmail stamps |
| | | |
| One puffin stamp on rear of cover, with a copy of the Lundy cancellation above | Example from the Yugoslavian Astronaut Congress in Dubrovnik in 1958 with three cosmonaut signatures | Another example, on cover, of three cosmanaut signatures from the same Dubrovnik Congress in 1958 |
| | | |
| Postcard showing Le Manoir in Dinard from 1993 | Leaving Dinard by tram | A biscuit company's promotional postcard showing the Eiffel Tower under construction narby |
(chris wheeler)
OOOOOOOOOOOOOOOOOOOOOOOOOOOOOOOOOOOOOOOOOOOOOOOOOOO
Thursday 3 January 2019
Members - Women's Achievements
There was a good turn-out for the first 2019 meeting, with nine members putting on displays. All admitted to having difficulty in finding interesting sets of stamps featuring Women who have made their names by Achieving great things for humanity. However, many sets from Great Britain were displayed, as were many from France, covering a broad range of art and science topics, as well as sport, royalty and entertainment. Stamps from Malta, Hungary and Tanzania also featured as did many about Coronation Street from islands around Britain.
| | |
| --- | --- |
| | |
| Inez Solar from Malta, Writer, Artist and Musician, 1910-1974 | Women featuring the embodyment of France, Liberty, Freedom and Equality |
| | | |
| --- | --- | --- |
| | | |
| "A Cornish Holiday" by Dorothea Sharp 1874-1955, one of many works by female artists in the Russell-Cotes Museum | Margaret Mead, American Anthropologist, featured in a Tanzania maxi-sheet of nine "Women of Achievement" | Princess Beatrix of Holland featured as an inspirational role model on a Phillipine First Day Cover, 1966 |
| | | |
| --- | --- | --- |
| | | |
| Caroline Aigle, French Fighter Pilot | 1917 War Widow and Orphans, the first French commemorative stamps featuring women | Canadian stamp from 1951 - the only stamp ever to have described the future monarch as a Duchess |
(chris wheeler)
000000000000000000000000000000000000000000000000000000000000000
Thursday 20 December 2018
Christmas Event, Party Night and Members' displays of anything but stamps
Over 20 members and guests attended the Christmas evening, enjoying the wide range of food and drink they had brought along. Once the meal was over Tony Arnold intoduced the Quiz portion of the evening with a "What is this?", followed by 76 pictures of items from the 1950s, though only part was shown or the pictures were from unusual angles. The winner got 44 right!! There were displays of beautiful ornate ceramic boxes, the full set of 2018 A to Z Great Britain 10p coins, fabulous model aeroplanes, buses and books on Falmouth which those present spent much time looking at.
| | | |
| --- | --- | --- |
| | | |
| Tony Arnold with this year's "What is this? | The Quiz underway | The ornate ceramic boxes |
| | | |
| --- | --- | --- |
| | | |
| The 2018 A-Z 10p coin collection | Beautifully made and decorated model aircraft | Model London Buses |
(chris wheeler)
""""""""""""""""""""""""""""""""""""""""""""""""""""""""""""""""""""""""""""""""""""""""""""""""""""""""""""""""""""""""""""""""""""
15th November - Winter Auction
Another successful auction was held this evening, with happy sellers and buyers!
&&&&&&&&&&&&&&&&&&&&&&&&&&&&&&&&&&&&&&&&&&&&&
1st November 2018
Guest Graham Mark: "POWs in Britain in WW1"
Few of the Club members attending this evening expected such an expansive and detailed analysis of the life of hostile internees and prisoners of war, nor that there were 70 major camps of all descriptions with 700 work sites where the occupants were employed around the country. Graham explained that his display was mainly postal history, with many letters and postcards showing the camps and work sites, but that the theme was the story of the people involved as much as the variety of postal markings.
The period covered was from mid-1914 to January 1920 when the last of the POWs left the country. Initially German nationals who had come to England to avoid being involved in the upcoming War were given the choice to leave or be interned. However the port of departure was Folkestone but those arriving their to return to Germany were mistakenly interned. Initially they were guarded by boy scouts. However after inmate protests started, soldiers took over this duty. Graham skilfully picked out many of the camps used during this period, explaining their use, duration and the sort of work those encarcerated were deployed in. One example was at Hackney Wick where tools and parts were manufactured and then assembled to make Vickers sewing machines. There was considerable movement of personnel between camps, and some were sent overseas whilst others were brought to England. He highlighted a home in North Wales used for detaing submariner officers, their escape and futile attempts to be rescued before being caught again. He spoke of the nine prison ships, and showed mail relating to all these types of holding facilities. His last frame dispayed propaganda letters developed by the British Government and dropped over the lines in Europe.
Bob Small kindly gave the vote of thanks, for an exceptional display, and the Chairman presented Graham with a certificate and bottle of wine.
| | | |
| --- | --- | --- |
| | | |
| Graham with his display | Internees turned back at Folkestone | Postcard of Scouts on guard duty in 1914 |
| | | |
| Cover with Horsham cancellation from the Christs Hospital School Camp, with Free Post inscription, July 1914 | Cover to the Commandant at the Alexandra Palace Camp | Cover from one of the Gravesend prison ships to the Aldershot Camp, January 1915 |
| | | |
| POWs exercising in the open at Dorchester Camp | Sewing machine made by POWs at Hackney Wick | Bob Small giving the vote of thanks |
chris wheeler
**********************************************************
Guests: Blandford Club visit Us
18 October 2018
Two members of the Blandford Forum and District Stamp Club visited us this evening, each giving a 90 sheet display on his chosen subject. Patrick Reeves, Club Secretary, started with Channel Islands as his topic, concentrating initially on the early stamps of Guernsey. He showed us a range of the 1d and 2d values from the Third Anniversary of Liberation issue, with its various watermarks, and plate flaws, its use in Guernsey and the eight authorised post offices on the mainland.
After the break, Mike Spencer, a Cyprus specialist, presented the "Refugee Issues", explaining why they were first needed, their ongoing use, and the reason for their contuinuance even today. He showed the initial study for the stamp first issued in 1977, with a photograph of the mother and child used for the stamp's design. Three different designs have been used and these were shown on covers and together on the miniature sheet issued in 1999.
| | | |
| --- | --- | --- |
| | | |
| Guernsey's first "airport", on the beach, initially used by the Occupation Forces | First Day Cover of the 1d value from the Third Anniversary Liberation Issue | First Day Cover with the two values, issued in Manchester, one of the eight mainland towns sanctioned to cancel these Guernsey stamps |
| | | |
| Study of the design used every year from 1977 until today | Cover with the Waddington's stamp, with the official slogan, 1987 | Miniature sheet showing the three designs of Refugee Stamps |
(chris wheeler)
*************************************************************
Members Displays - Open Class Topics
4 October 2018
Mike Trickett opened the evening with a wide range of postal items about Paris, including a humorous postcard, old postcards, letters, covers, stamps and two fake postcards. Also included were some rarely found Tuck postcards of the City. Rick Wilmott followed with an exploration of space travel, including some now very hard to find items, including authenticated signature covers, and cancellations relating the Rusian space exploration. Mike Houchen's theme was Rescue at Sea and he presented two frames of stamps, covers, labels, advertising sheets, etc. from countries all round the world collected mainly on one of his trips. Ken Parrott displayed stamp issues from Malta from 1860 to 1951 including the perforated Specimen issues from 1930. A range of different-facing watermarks was included. Chris Wheeler displayed two frames illustrating the achievements of Isambard Kingdom Brunel with a range of philatelic and non-philatelic items. Finally we were delighted to have Bryan Cribb's display of postard scenes covering the unusually seen views of villages in Dorset, a tiny part of his massive collection.
| | | |
| --- | --- | --- |
| | | |
| A Fake Postcard with Fake Stamp from France | Cover with authenticated signature of astronaut Yuri Gagrin | Rescue at Sea - cover from Norway with imprint |
| | | |
| Two 1930 Specimen stamps from Malta | Postacrd (with view of Bristol Temple Meads) posted in 1904 | Hhipton Gorfe, Dorset, one of many displayed of Forset scenes |
chris wheeler
**********************************************************
Thursday 20 September 2018
Members Displays - Emergency Services, Medicine and Health
Mike Houchen began the evening with three sheets covering the history of the RNLI on stamps, postcards and charts, closing with some covers from Lundy designed by one of the Club's previous members. Ken Parrott followed with a range of covers from various countries, each showing different aspects of healthcare and sickness prevention. Also included were stamps from round the world on medical themes,including some charity stamps, such as those from New Zealand. Chris Wheeler put up two frames of covers, some with letters and inserts, addressed to or from hospitals around the world used in general correspondence or commemorating their anniversaries. After the break, Michael Mawdsley displayed a range of stamps on medical issues from many countries, including the non-descript 8c Canada example below. Alan King concentrated on the first French Red Cross issues of 1914 and the orphan issues from 1917, and also sets of New Zealand Health stamps from 1929 to 1969. Finally MikeTrickett displayed a wide range of postcards and stamps covering many health-related topics including Finland's first Red Cross issues, and a set from Greece.
| | | |
| --- | --- | --- |
| | | |
| Isle of Man miniature sheet commemorating the RNLI Founder, Sir William Hillary | Three letters to Royston Hospital's patient Mrs J Jury | Parkes Drug Stores, London, postcard of shop frontage |
| | | |
| Canada 8c stamp - World Health Day | France - First Red Cross issues in 1914 | Finland - First Red Cross issues in 1914 |
| | | |
| Finland - First Red Cross issues in 1914 | France "Orphan" Charity stamps | Rescue at Sea issue, extract showing the top perforation in morse code "SOS" |
chris wheeler
~~~~~~~~~~~~~~~~~~~~~~~~~~~~~~~~~~~~~~~~~~~~~~~~~~~~~~~~~~~
Saturday 8th September, 2018
ANNUAL STAMP FAIR
The Annual Stamp Fair took place with a steady flow of visitors throughout the day. Some buyers and dealers were very satisfied with the day's results, and the seven raffle prize winners returned home with happy smiles!
| | |
| --- | --- |
| | |
| Setting up for the Fair | Checking the Raffle Prizes |
chris wheeler
###################################################################################
6th September 2018 - Autumn Auction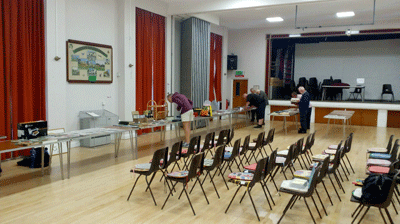 Setting up
Although the number of participants was lower than usal, there was active bidding throughout the evening, and many attendees went away with heavy hauls of purchases, much to the sellers' relief! The new display layout was most successful.. Well done yet again to the auctioneer, his helpers and the accountants!
(chris wheeler)