Reports on Meetings of the BSAP South West Section at Ringwood
___________________________________________________
Saturday 7 April, 2018
Dr Andrew Mortlock FBSAP - "A Further look at Aussie States"
Thirteen members met at the Greyfriars Community Centre for the last South West meeting of this season and
numbers were somewhat depleted owing to a clash with the Postal History Society. But what a wonderful meeting
we had, as back by popular demand was Dr Andrew Mortlock with a further look at "Aussie States. Andrew chose
to show a broad range of material from the mainland eastern Colonies and had selected ten different subjects from
New South Wales, Victoria and Queensland.
The first two frames showed the New South Wales 2.5d, starting with the allegorical design and then going onto the
'Record Reign' design, famously once voted the second ugliest stamp ever produced. Amongst the many blocks of
the allegorial 2.5d were five used copies of the very rare 12 x 11.5 perforation all used at Parkes and postmarked on
consecutive Sundays in the autumn of 1897. Amongst the many blocks of the second design the stand-out item was
the block of six printed on Victorian paper with reversed watermark.
The Victorian 2.5d was designed by Maximilian Tannenberg and was originally in red-orange on yellow paper, later
changed to a deep blue colour on conventional paper. The red stamps included a rare mint block of 24 whilst amongst
the many flaws of the 'No Postage' stamp was a block of thirty showing the two stamps in the bottom row which were
retouched.
The two frames of the Queensland 2.5d included a number of unique proofs and colour trials many of which came from
the Harrie Evann' collection. the 2.5d was unusual in being the subject of a number of colour trials which added a
considerable amount of colour to Andrew's display. This was followed with a full range of covers which included one
example of the 1898 four figure stamp in red which was only on sale for about three months and so is scarce on cover.
The final frame of the first half saw a range of the more dramatic flaws from across all six states including a number
used on cover. The largest item was a complete sheet of the Queensland 1d with the 'PE missing flaw' on stamp 2.
Amongst other items were examples of the broken corner flaw on the NAW halfpenny which we saw in all its states,
as illustrated in the ACSC.
Following afternoon tea, Andrew commenced the second half showing a number of less commonly displayed stamps.
With so many based on Queen Victoria the NSW 100 years' stamps made a pleasant change. We saw the evolution
of the 8d lyre bird through its twenty-five year life including the largest recorded blocks from two of the printings. The
design was adapted for the beautiful lyre bird 2/6 and Andrew then showed some very fine blocks of four from Mark
Dankin's collection.
The corresponding Victorian 9d showed the full range of varieties with reversed and sideways watermark and it was
possible to see the subtle variations in shade of each of the printings. Possibly the most impressive item was a rare
block printed on the V5 paper with the CA monogram, probably the most difficult of the pre-1913 monograms.
Andrew continued his display with the NSW Commonwealth 9d which included a number of very fine used blocks from
the Hutson collection. The rarest items shown were two copies printed on the first Victorian paper with perf 11; by
contrast there were two pages of the later perf. 11 stamp on the Crown over A paper!
The Fergusson and Michell one shilling included the unique double colour trial (illustrated in Kellow) and a number of
large multiples although Andrew felt that the strip of three stamps printed on V3 paper with upright (inverted) watermark
was probably the scarcest item in the display.
The small format Queensland two shilling was printed in quite small numbers and certainly in the first years of issue was
predominantly used for revenue purposes; consequently the original brown stamp is scarce in blocks and on cover. The
display included some fine imperforate and perforated colour trials and blocks showing different printings and papers. A
range of colour trials for the replacement design were shown, including examples printed from the 2.5 plate.
For the final frame Andrew chose to show a range of large format New South Wales registered and official postal stationery.
All six types of the large format 'H2' registered envelopes were shown, the majority were the official envelopes but included
an unrecorded variant of the 1d 'crop reports' alongside the popular 5d Captain Cook official registered envelopes.
South West Chairman Colin Mount thanked Andrew for giving such an interesting and in depth presentation and discussion
went on for quite some time after the display had finished. Andrew then joined us for supper at the Fish Inn when the
discussion continued over supper.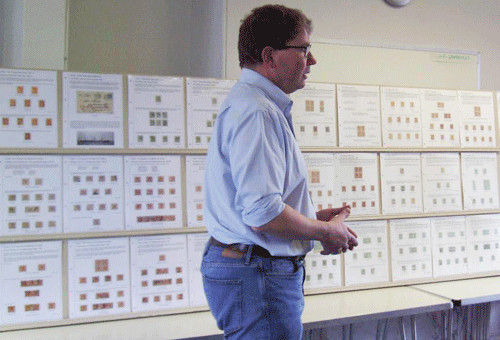 Dr Andrew Mortlock with part of his display
(colin mount)
%%%%%%%%%%%%%%%%%%%%%%%%%%%%%%%%%%%%%%%%%%%%%%%%%
Saturday 10th February 2018
The Last Hurrah or 65 Years of Collecting
Ken Killeen FBSAP
On the 10th February 2018, sixteen members and one guest were invited to "The Last Hurrah" or "65 years of Philatelic Displaying" when Ken Killeen, at 95 one of our oldest members came over from the Isle of Wight to present what we all believe will be Ken's last big display, but having seen the enthusiasm with which Ken guided us around his material, very few of us can believe this. Ken broke with South West's tradition of have only Australian material on show when he started by presenting his other love, the Postal History of Isle of Wight. And so the Ken started with a selection of ship letters from Cowes, Ryde, and Yarmouth from 1760 to 1850 which was followed by two Isle of Wight shipwrecks one from the "SS Eider" of 1892 and a second from the "PS Portsdown" of 1941. Prisoner of War Ship Mail followed from 1914-15. Next up was a number of the Official and Private Air Mail services both to and from the island during the 1930s. Then followed many stamps and covers relating to the Gerhardt Zuckers failed attempt to send Rocket Mail to the Island. Royalty featured with mail from Osborne House signed by "The Queen" 1876 and "AE" 1862 being the Prince of Wales. Several covers were also shown associated with Royal Yachts. Ken then displayed an extensive array of Post Office services which included various licences ranging from "Man Servants", Armorial Bearings, Dogs, Guns, wireless, TV and motor vehicles. Ken finished his first half with some artistic illustrated covers from the 19th and early 20th century.
Following a cup of tea everyone settled back to see Ken's second half entitled the Postal History and Stamps from Australia.and Ken opened up with some very early and unusual postal history items from Brisbane, followed by an extensive range of 1900-1910 Queensland covers from R.O.'s with Manuscript or Local handstamps. Next up was a small selection of the rarely seen documents outlining the closure of certain Post Offices or their transfer to new premises. Letter bills featured next, these were used in vast quantities but are rarely seen being used for the transfer of mail from Post Office to Post Office, interestingly this contained a small batch of 1898 receipts from a small Victoria Railway Station (Beech Worth) issued when accepting mailbags, wallets, pouches or mail for a carriage which has never been seen before. Ken then said he was going to deviate a little by displaying a selection of 1d red "Roos" plus a small array of plate flaws on the Queensland 1897 1d and 2d "Void Head 2" including some interesting
cracked plates. And to finish up Ken returned to his old favourite, TPO markings and this featured rare NSW "Posted at Railway Sidings" and also rare South Australia "Posted at Railway Stations". Ken ended his display with a number of postmarks in the category "Only One Known" or "Not Yet Recorded".
Chairman Colin Mount, on presenting Ken's certificate said how wonderful the display had been and with so much enthusiasm he felt it would be most unlikely that we would not see Ken displaying again. As many may know, Ken flew in Lancasters during the war and one of our members Alan Whittaker was able to obtain a wonderful framed picture of the Lancaster bomber which was presented to Ken and this prompted several wonderful short stories about Ken's exploits. A truly memorable occasion.
| | | | | |
| --- | --- | --- | --- | --- |
| | | | | |
| POW Ship SS Canada in the Solent | POW Postcard from Ship at Southend | Postcard with Ship Handstamp | Certificate of Posting in Welsh | Rocket Mail from Lymington |
| | | | | |
| Mourning Cover from Albert Edward, Prince of Wales, Osborne House | Worn date stamp used as an obliterator | Post Office Closure transfer Certificate | Registered letter with rare handstamps | Only known example of this TPO stamp |
| | | | | |
| Ken receiving his Certificate | Ken receiving his Gift | Ken studying his Gift | Ken showing his Gift | The Gift Inscription Plate |
(colin mount)