Reports on Meetings of the BSAP South West Section at Ringwood
2019 to 2020 Season
___________________________________________________
Saturday 2 November 2019 - Members' Personal Displays
Our President welcomed the seven of us who had braved the wet and windy weather, to a Members' Display afternoon. Apologies had been received from several of our regular attendees especially Colin Mount (at a Judging event) and Tom Gillespie (family event).
Before he introduced the five who had brought display material, David announced two meetings of the "Wessex" region, both to coincide with Michael Hale's Stamp Fairs. The first will be Members' Displays at 2pm on Saturday 15th February 2020, and the second will be a Speaker and Members' Displays on Saturday 18th April 2020 at 2pm. Further arrangements (Speaker, Venue and Refreshment details) to be announced through the Bulletin.
Pat Reid was first to display with a small slice of his recent 55 frame display at the "Royal". He focussed on Queen Victoria Side-face and Tablet Issues of Tasmania, which were brought in as an attempt to rationalise their issues but which continued alongside earlier issues. Many shown were over-printed to bring values into line with other States and to use up surplus stock eg 9 pence o/p 2½d. The new newspaper rate of ½d was achieved by over-printing the 1d (written as "HALFPENNY"), and some varieties and forgeries were shown including the AL of HALFPENNY sideways. Varieties in papers, perforations and quality of printing, as well as watermark were shown. These contributed to the very complicated display of nearly 900 sheets. The Tablet design also showed a very large range of usage including some on covers with interesting stories. Pat showed us that Tasmania could interchange fiscal and postage stamps from 1882 to 1900 as well as these newer issues with existing older issues.
Brian Hunt was up next to show some cover and postal history examples of the Development of the Empire Airmail Routes System 1919 to 1939 in three sections: Cairo to Singapore, Australia and then New Zealand to the Empire. One example was of the RAF based in Cairo digging 400 miles of trenches into the desert from Cairo to Basra to guide the early fliers with 26 refuelling areas. Covers showed many of the experimental flights which finally made up the London to Brisbane route which was the target. Brian's father had worked at the Short Aircraft Factory in Kent and the Short Flying Boats were vital to important parts of these routes before, during and after WW2.
Alan Whitaker then showed two Australian linked historical items from the interment of a particular soldier, who was captured during the German Occupation of the Channel Islands in WW2. He had been interred in Europe and he and colleagues were allowed to hold sporting and entertainment activities in the concentration camp, with a newspaper (The Times) and a Stage Programme being shown as examples – the latter in commemoration of Anzac Day. Alan thought many BSAP members would be interested in these unusual items.
The President himself then put up six pre-printed letters and envelopes from the six State Tax Administrations used for a new tax collection process from 1994 to 1995, which enabled tax fees to be posted in the form of stamps up to 20 dollars. A very specialised and interesting aspect of postal history.
Gordon Masson then displayed his up-dated range of States' Queen Victoria Designs, which focussed on the variations for each State :- throned, half-throned, head facing, side and half-facing, from different ages and with differing headdress/crowns etc. One or two of the examples raised some interesting comments from the floor concerning facsimile stamps and over-printing of letter cards. Emphasis was on the wide range of variation exhibited in early Australian philately.
A full afternoon of display and discussion was enjoyed, unmarred by weather or quantity of members, but favoured by quality and range of display.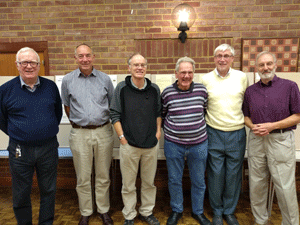 (Gordon Masson)