Reports on Meetings of the BSAP South West Section at Ringwood
___________________________________________________
Saturday 11th November 2017
Steve Paice FBSAP - "Australian King George V Heads and other Interesting Items"
Twelve members and one guest were entertained at the Greyfriars Community Centre when Steve Paice FBSAP. travelled over from Ashstead in Surrey to present Australian King George V Heads and other "Interesting" items. Steve started with a selection of the KGV 1d with a comprehensive study of the "Wattle Line" (7/31) and the "Flaw under Neck" (7/37) which included the retouch to the first re-entry and second (accidental re-entry these were in green with a smattering of reds. He then moved onto the 1½d Die I varieties including substituted and transferred cliches,also a fine example of a very thin paper variety with an RPSL certificate. A number of Primary and Secondary plate flaws were displayed before moving onto a selection of the 1½d Die II varieties.
The 2d Die I was next up showing an imprint block with the "Cut 2 in the right value" variety, we then moved to the 3d Die Ia with the Mullet Typo A & B using the marker plate technique. Varieties of the 4d Cooke plates were shown with varieties including the "Weeping 4" and the "Line through Fourpence". A number of varieties of the 5d and ¼d included an offset on a block of four and three pre-printing paper creases. The first half closed with examples of shades and a double perforation.
The second half started with a few KGV covers with flaws. Steve then went on to display a whole range of postmarks with Aboriginal town names, he mentioned the help he had got from the book written by Past President the late Derek Ray on this subject. We were then shown various George VI stamps including covers showing definitive issues between 1950/52 including booklet panes.The afternoon finished up with a series of covers which included the 1919/1969 Ross Smith 50th Commemorative flight GB/Aust with a Vignette replica.
The South West Chairman Colin Mount congratulated Steve for a most varied and interesting afternoon which was presented with a great sense of humour and fun.
.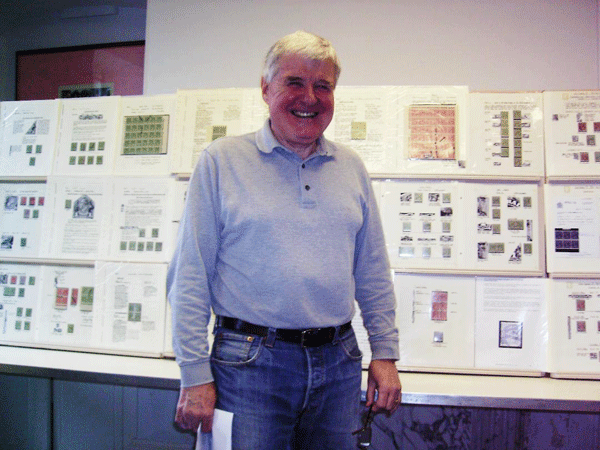 (colin mount)

***********************************************************************************************

Saturday 8th April 2017

Colin Tabeart - "Australia and New Zealand 19th Century Overseas Mail"

Sixteen members and one guest gathered at the Greyfriars Community Centre at Ringwood to welcome Cmdr. Colin Tabeart with a display entitled "Australia and New Zealand 19th Century Overseas Mail". Colin recently awarded an RDP went on to show us a remarkable display using a power-point presentation together with several frames of some incredible material. He explained that there was no regular mail service in Australia prior to 1788, but by the 19th century routes were established to the east via Atlantic, Mediterranean and overland to North India, followed by routes south via Malaya,
Singapore and then on to Sydney, but by the 1830's a mail service had been established between Liverpool and Sydney, with onward transmission from Sydney to the Swan River, Western Australia in 1933. The first letter sent from Australia to Liverpool that is known was in 1823. A route was established to New Zealand in 1840 and in 1843 a missionary sent a letter to another missionary which was displayed in Colin's presentation.

By 1845 Steam Packet boats were in use going via the Mediterranean, then overland and onto other ships for the journey south-eastward and it was around this time that duplicate letters were beginning to be written, with one letter being carried on the first ship and the duplicate on the next, these duplicates are very hard to find but Colin displayed a pair from 1846. As the volume of mail increased, virtually all mail was shipped to either Melbourne or Sydney, and then onward transmission was by coastal packet steamers. During this time the Australian States remained as separate entities. With increasing amounts of mail there was great competition to carry letters and more effort was made to speed up the mail, with the Royal Navy having ships in European and Australian waters obtaining a contract but its other duties often interfered with its Royal Mail contract so this was withdrawn and passed onto commercial ships. With the introduction of steamships this resulted in the faster movement of mail but a great amount of coal was used so ships turned to using some sail.

By the early 1860's shipping companies were looking for faster routes and turned to the Pacific Ocean routes with overland transhipments across the Americas. The first mail carried on this route was via Panama, but problems with yellow fever led to northerly routes via San Francisco and New York.. Following the introduction of the Empire Rate, much mail went via Canada, through Vancouver and Newfoundland. Towards the end of the 19th century saw the formation of many shipping lines, and it was in 1888 that the Post Office introduced a weekly service to Australia and New Zealand. Foreign ships entered the competition for carrying mail and in 1886 French ships started to carry mail via the Mediterranean, transhipped at Suez, and south east to Singapore, Malaya and on to Australia and New Zealand. In 1901 the German Nordeutsche Lloyd Line commissioned a very large steamship which at full steam consumed some 500 tonnes of coal per day. The wonderful selection of very rare covers were displayed and included a cover with an additional 1d "Ships Bag" a and A "Sailors Rate" 1d Postcard'. With the opening of the Goldfields in Western Australia, this increased sailings between Sydney and Melbourne and South Australia and Western Australia.

Following WW1 Australian airmen returning from the war often brought their planes home with them and started using them to carry supplies and mail between Australian towns and cities which obviously speeded up mail once it had reached Australia. Imperial Airways established a route between London and Karachi, and Australian postal servioces by which mail that was collected at Sydney was flown to Freemantle, transferred to ship to Karachi and then by air to London.
Three experimental flights were made between London and Sydney in 1931 and in December of that year a regular air service was started between the UK and Australia

South West Chairman Colin Mount said that this had been a quite remarkable display and everyone agreed that the "Roll of Distinguished Philatalists" that Colin had just been invited to sign was well justified in recognition of the wonderful research that he had undertaken over the past few years..

(colin mount)

************************************************************

Saturday 4th February 2017

Malcolm Price - "Australian Forces in Northern Territory during World War II"

then

Tony Finlayson - "Australian Civil Internees during World War II"

Fifteen members gathered at Ringwood to see a display by Malcolm Price entitled the "Australian Forces in Northern Territory during WWII. Malcolm started the first half by showing the postmarks associated with the Darwin Overland Maintenance Force and continued with the Post Master General's civilian operated Post Offices. With the bombing of Darwin in February 1942, the civilian authorities were moved from Darwin to Alice Springs and the whole area north of Birdum came under military control. The presentation continued with a selection of the military cancellations from points on the Stuart Highway between Alice Springs and Darwin. Examples were shown of the many styles of steel and rubber cancellations together with examples of mixed censorship, both civilian and military. Malcolm concluded with examples of RAAF cancellations, including those from the Netherlands East Indies Air Force together with the Darwin marks of the RAN.

The second half followed with Tony Finlayson showing "Australian Civil Internees during WWI. Tony started by saying that his subject had very little to do with philately as the items he was displaying did not require stamps on outgoing mail which was limited to one letter of one sheet of paper, written only on one side and one postcard each week, all had to be written in English with no more that 120 words. Needless to say these regulations were soon flouted and one's interest then turns to the various censor marks and their signatures, the various superscription's on the plain envelopes and the varieties of postal stationery. This was not a very memorable time for the Australian local government and the tide of anti-German feeling unleashed saw several Aussies dish the dirt on their neighbour's and trading rivals. Tony explained that this sort of material is very sort after, and therefore prices very much reflect this fact and so he decided to concentrate on just two camps one at Bourke which was situated in New South Wales and the other Molonglo which was just outside Canberra. Tony then went on to tell us how he had a chance link up with a lady in Australia who used to be a librarian at Bourke and was now the chief librarian at Dubbo, she was most interested when Tony told her he had covers from a Matilda Crafft, Capt. Moellermann Freudenberg, Margaret Rohrmann, Leon Lopinot and Mrs Freudenberg and she was able to provide Tony with chapter and verse. Tony then went on to explain the problems of trying to form a collection based on the story of the writer of a philatelic item. He said you can work up a story and find you can't find a philatelic item to hang the story on. This is the problem that he has had for over a year which concerns a young society lady from Western Australia who fell in love and married, against her family's wishes, a young German who owned a coffee plantation in Fiji. At the beginning of WW1 she found herself and her children under armed guard and in very primitive conditions on a banana boat bound for Bourke internment camp in the remote top left hand corner of NSW. She was very lucky not to be deported to Germany when the war ended. Tony went on to say there must be a letter or two either from or to her somewhere out there if only I can find it. In closing Tony said that the subject matter created so many frustrations, when you find a superb philatelic item with no information at all which will lead you anywhere on the writer. A most interesting subject that was put over with much humour and South West Chairman Colin Mount congratulated both speakers on giving us a most interesting and entertaining afternoon.
| | |
| --- | --- |
| | |
| Malcolm Price | Tony Finlayson |
(colin mount)
*******************************************************************************************************************************
Saturday 12th November 2016
Alan Griffiths FRPSL., FBSAP- "Queensland Postal Stationery"
Eighteen members and guests gathered at the Greyfriars Community Centre at Ringwood to be entertained by Past President Alan Griffiths, who was over from his other abode in South Africa to present "Queensland Postal Stationery 1880 - 1912. Alan started by saying that Postal Stationery in some way bridges the gap between stamp collecting and postal history which is the study of 'routes and rates' in that items of stationery are actually pre-stamped for a particular rate and in a few cases a particular route. In some cases additional postage was required for transmission outside the prescribed destinations for the cards which was quite often restricted to within the Colony. Reply cards, which are an unusual concept and were introduced in 1891 were displayed ,the original concept of a pair of unsevered cards were illustrated with the only recorded example of a proof pair. Post cards and illustrations of all issues to 1912 were shown with proofs and essays and in both used and unused condition and Alan had included examples of the post card essays of c.1910 bearing various stamp designs. The 1908 cards - the first commemorative issue post card issued simultaneously in many of the Colonies - to publicise the visit of the American 6th.Fleet to were shown used, unused and uprated.
Newspaper wrappers were comprehensively covered and included the only known example of an inverted image, being the only known copy from any of the Colonies. The range of different issues to 1910 was very impressive. Letter cards with examples of all the proofs and essays were displayed with many of the rare perforation and card varieties including some very scarce genuine uses of return cards even though they were used much later than was intended ! A range of envelopes were included including the rare commercial use of a large halfpenny envelope, the display concluded with a range of Registered envelopes which may not have had postage prepaid but apparently quite admissible because the registration fee was pre-paid and they are considered an important part of the history of Queensland's postal stationery.
South West Chairman Colin Mount congratulated Alan on a very fine display and added that Alan has nearly finished his book on this subject, which has been much neglected over the years, and the Society had agreed to support the publication which we can only look forward to with great expectations having seen this display.
(colin mount)
HHHHHHHHHHHHHHHHHHHHHHHHHHHHHHHHHHHHHHHHHHHHHHHHHHHHHHHHHHH
Saturday 2nd April 2016
Laurence Kimpton- "Our President Entertains"
The afternoon's meeting attended by 23 members comprised two topics. The first "The England to Australia Air Route from 1918 to 1939" started by featuring the early pioneers and their aircraft, and the various developing routes and airlines that mail was flown along, influenced by political and geographical factors. The talk was illustrated with copious extraordinary examples of covers flown on these varied routes, each with its own significant interest to those who had been involved in preparing the covers in the first place, to now, their avid collectors. The aircraft "Carthusian" was featured in the early part of the talk. Three notable covers were a mourning cover in tribute to Arthur Elliott, a pilot shot whilst overflying Iraq on a 1926 Cairo to Baghdad flight, a cover bearing a stamp designed by the pilot of the plane (his portrait), and a cover from Great Britain's Prime Minister Ramsay Macdonald to J A Lyons, his Australian counterpart, with no stamp as it was freepost. The introduction of passenger services from 1935, and the following year the introduction of the C Class flying boat, led to further examples of covers carried being displayed illustrating the many routes, services and rates.
| | | |
| --- | --- | --- |
| | | |
| 1919 cover to Karachi "First Through Aerial Mail Great Britain to India" flown on the "Carthusian" | 1929 cover flown on Imperial Airways' first service, addressed to Australia | 1934 freepost cover from Ramsay Macdonald to J A Lyons carried by Imperial Airways and Qantas |
| | | |
| 1938 cover from Glasgow to Singapore carried on the "First regular accelerated service" | 1938 cover to Berlin, carried by Qantas to Singapore, then by Empire Flying Boat Service to Athens | 1931 cover from Calcutta to Rangoon, flown onpart of the experimental route operated by Qantas and Kingsford Smith's Australian National Airways |
"Australian World War II Airmails" was the theme for the second half, again superbly illustrated with mainly commercial mail examples. First flights, varying routes, different rates and special covers relating to the War were displayed. Examples of Prisoner and Red Cross concessionary mail were included. The display ended with a souvenir sheet, and the story behind it, carried on one of the route survey flights, and the rather strange postage used on the first of the war planes converted for postal usage. Regular air services from Australia to Europe via Singapore resumed in 1946.
| | | |
| --- | --- | --- |
| | | |
| Censored Prisoner of War notelope with 1/- postage, from Perth to Germany carried on the Indian Ocean Service | Reproduction of a block of four 5/- 1939 "Cuba" Survey stamps, never issued as the experimental service was never commissioned | 1945 cover from Sweden to Australia on the combined sea-air Trans-Atlantic route, part flown on the converted Boeing B17 Fortress |
(chris wheeler)
@@@@@@@@@@@@@@@@@@@@@@@@@@@@@@@@@@@@@@@@@@@@@@@@@@@@@
Saturday 6th February 2016
Dr. Andrew Mortlock - "A Look at Australian States"
Despite the awful gales and rain 18 folk turned up at Ringwood to witness a quite remarkable display given by Dr Andrew Mortlock from Cheshire who entertained us with his presentation entitled "A Look at Australian States". Andrew started his presentation saying his collection comprises of some 2000 sheets of Australian States which includes stamps and postal stationery. New South Wales and Queensland are the strongest parts of the collection although the later issues of Victoria and the Tasmanian pictorials are also covered in some detail. He went on to say that the scope for building an interesting collection of the later States issues remains a huge attraction with material significantly undervalued and it is possible to acquire both large quantities of stamps and large unused multiples at very reasonable prices. Andrew went on to say, don't be misled by catalogue prices, he can remember the shock of finding a stamp catalogued at just £40 was one of less then twenty copies known.
Andrew then explained that in selecting material for the display he had identified twelve different subjects which he hoped would provide sufficient diversity for people to find at least a few items that would be of interest to them.

The first frame of the afternoon displayed the the New South Wales 2d (1862-88) a classic De La Rue design of the early 1860s, the 2d was initially printed in London but the Plate was sent to Sydney and the vast majority of stamps were printed in the Colony. A wide range of papers were used before the introduction of the Crown/NSW paper in the early 1870s. After 1880 there are numerous variations in perforation, many of which are rare. Both mint and used examples were shown of this stamp which included a block of 40 overprinted 'OS' for official mail.
This was followed with the New South Wales 'Record Reign' 2½d (1897-1912) which was famously voted to be the second ugliest stamp in the British Empire in 1905. The distinctive 2½d was a winning entry in the competition to design a set of stamps to mark Queen Victoria's 'record reign' The first plate was prepared from a boxwood die although the next two plates were prepared from a more conventional steel die. Amongst the items on display were a large block from the first printing in purple from plate 1, and stamps from the emergency printing on Victorian paper including a used pair and a block of six with unrecorded reversed watermark.
The third frame moved to Queensland with the 'Widowed Queen' Halfpenny (1897-1912). Queen Victoria's Diamond Jubilee was also the impetus to issue a commemorative stamp in Queensland and a design was prepared for a halfpenny stamp. Although this commemorative was never issued, a modified form of the design was finally issued in 1899. Items on show included die proofs of the original 1837 issue together with plate proofs of the final design which included the unique postally used pair and a full sheet of 120 showing the make-up from four separate electros of 40.

Andrew then moved onto the Queensland 'Four Figures' 1d (1897-1912). The most numerous of all Queensland stamps, the 1d in its final form was issued in 1897 and lasted to the end of 1912. Technically this is a fascinating issue with numerous perforation varieties and secondary flaws from the nine plates believed to have been used. Several major flaws were displayed with a selection of rouletted stamps including the largest recorded mint and used blocks of the rare perforated/rouletted stamps (SG 261). We then moved onto the Victoria Five Shilling Laureate (1867-1912). This issue used the Laureate head engraved by Frederick Grosse. The first two printings were made in blue on pale yellow paper with less then three thousand stamps being produced. Subsequently stamps were printed in red and blue before the stamp was replaced in 1885. In 1901 the stamps were re-issued with the colours reversed before, in its final incarnation, the word 'Postage' was added to the design.Examples of all the various colours were displayed.
This was followed with the Victoria One Penny (1901/1912) One of the most interesting of Commonwealth issues, this stamp was printed from 24 different plates, on four different types of paper and can be found with at least five different types of perforation. Add to this watermark variations, official stamps, booklet stamps, monograms, shade variations and a number of sub-types and it provides the collector with a lifetime's study. Examples of all the above were displayed together with a corner block of four with single-line gauge 11 perforation on V4 paper showing plate dots in marginal line which has not been recorded.

Andrew then went onto look at Reprints. Official reprints are known from many of the Colonies from the period after 1891 when they joined the UPU. Victoria went to the greatest lengths, producing many new plates to be able to produce UPU specimens of stamps long since withdrawn. A number of unofficial reprints were made illicitly with the aim of supplying collectors although some, such as the van Dyck reprints from New South Wales are much sought after in their own right. Examples of reprints from most of the Colonies were shown including a complete set of the New South Wales 'Reprint' stamps issued around 1891. Proof material was then presented, this type of material is both varied, and with the exception of plate proofs from Queensland and South Australia very rare. Examples of Master Die Proofs Plate Proofs and colour trials were shown together with Specimens for local Officials for New South Wales and Victorian later issues.

Next up, Andrew showed us the One Pound and Two Pound values (1880-1912) and stated that these high values have always been sought after by philatelists, partly because of the very small number of stamps issued. However, compared to the later 'kangaroo and map' stamps the high value stamps from the Australian States are much more affordable although still very rare, with many difficult to find in genuine postally used condition. Postally used £1 stamps were shown from New South Wales, Tasmania and Western Australia. The Queensland large Chalon design including a very rare example of the 1902 printing with retouch (SG271b) and a complete used sheet in 1902 to pay bulk postage. A rare postally used example of the South Australia £2 together with a number of examples of the Victoria King Edward V11 design including a rare example of the £2 postally used.
Andrew then moved on to the first issues of New South Wales and Queensland (1850-61), stating the early issues of each of the colonies have always been popular with collectors. The New South Wales Sydney views are a fascinating story of locally produced copper plates which rapidly wore requiring numerous re-engravings. By contrast the earliest Queensland stamps were printed in London and are amongst the most beautiful recess printed Perkins Bacon Stamps. Andrew then showed us a near comprehensive display of the listed shades of the 1d, 2d and 3d Sydney views including examples with partial retouches. A 2d Sydney View on paper showing the papermaker's watermark together with examples of the 2d and 3d Sydney Views on cover and examples of the 1d, 2d and 6d on Large Star paper, including the imperf 2d (RPSL certificate) and the rare perforated 1d.

We were then shown examples of the 1907 NSW Emergency printings owing to the fact that New South Wales ran out of stamp printing paper and was forced to use paper sent from Melbourne. Ten postage and five postage due stamps were printed on the Victorian paper, many in very small numbers. All ten postage stamps were shown together with all the known watermark variations, most of which are very rare together with complete sheets of the 1/2d, 1d, and 2d on Victorian paper.

Then to finish up Andrew showed some unusual usages of the Melbourne gauge 11 perforating machines which was bought in 1902 to perforate the large format Tasmanian pictorial stamps, the two single line gauge 11 machines were widely used on Victorian and Tasmanian stamps and also occur more rarely in Western Australian stamps printed in Melbourne. The use on stamps of Queensland, New South Wales and South Australia is known but extremely rare. The display also included some of the rare compound perforations from Tasmania, Victoria and Western Australia. The earliest recorded date 18/10/1902 of a Victorian 1d perf.11 stamp was shown together with a Victorian 1/- of which only 20 have been recorded.
I have no doubt missed out some of the other incredible rarities on show and know that this was one of those displays that one can feel it was a great privilege to have been present at, and this was the feeling of the entire room. Ian Greig gave the vote of thanks and congratulated Andrew on such a really remarkable display.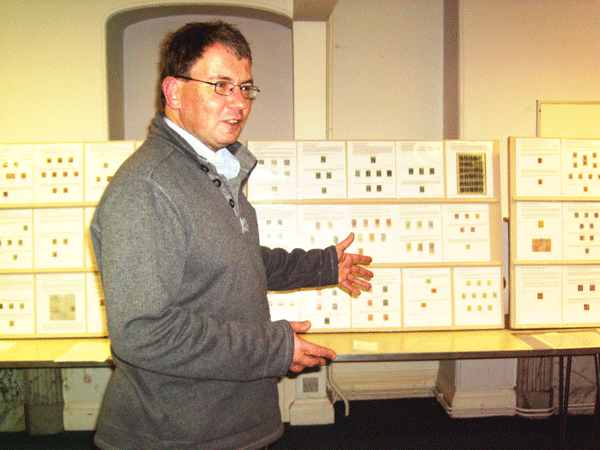 Dr Andrew Mortlock with part of his display
(Colin Mount)