THIS IS THE HISTORY PAGE
REPORTS FROM 2012, 2013 and 2014
Meetings of the BSAP South West Section at Ringwood
Saturday 11th February 2012

A somewhat disappointing attendance to the first meeting of the new year, but no doubt the changeable
weather had something to do with this, it was a shame because the subject was one that should be very
dear to all our hearts, that of "Issues of Philatelic Conservation". Our speaker Paul Skinner FRPSL is
the Assistant Curator of the British Library Philatelic Collections and started his presentation with a brief
look at the work that is involved with conserving stamps and philatelic documents for future generations.
He then went on to talk about the ideal environment, suggesting that collections should be stored at 18
centigrade with a relative humidity between 55 and 60%. Outside of these conditions material can run
the risk of fungal growth which can lead to foxing.

Paul then went onto discuss lighting stating that obviously complete darkness was the the best but was
not totally possible when you show your collection to your fellow collectors. Obviously one needs light,
but light intensity should not be above 50 lux, which in layman's terms is 50 candles at one metre. It was
disturbing to hear that at one big International show the light intensity in the display area was way over a
1,000 lux.

Next to be discussed was a paper saying that the pH of our album pages should be between
6.0 and 8.5, pH is the measure of the extent to which material is acidic or alkaline.
Paper that is acidic tends to go brown and philatelic material can suffer, the most obvious examples of this
are postal stationery (post cards) which can be so bad that the cards life can be restricted to only a few years.
Paul suggested that we should ask when buying our philatelic accessories like album pages which should
comply to the ISO 9706 standard for permanent paper. A great deal has been written about protectors in
the stamp world but museums and libraries only use products made from polyester, without static coatings
and the products made with Myler or Melinex are strongly recommended, Paul said never use PVC which
can ooze plasticisers and forms acid as it decomposes
.
Gum was discussed at some length and it was soon obvious that the correct storage was vital when considering
gum, when the storage is too dry the gum can crack. Modern stamps which are self adhesive could also be
a problem in the future and are creating major conservation concerns. Products such as Sellotape and other
similar products are to be avoided at all costs as they create brown stains which cannot be removed.
Paul touched on physical damage stating that collections should be stored away from silverfish, insects and
other vermin as this physical damage is impossible to repair. He went on to say that any philatelic material
that needed any treatments should be referred to a paper conservator
.
In conclusion, Paul said we were only custodians of our material and we were responsible to conserve it for
future generations.

Chairman Colin Mount said during his vote of thanks, that Paul had again opened our eyes
to this considerable problem that we all face and thanked him for a most interesting and informative afternoon.
CVM
@@@@@@@@@@@@@@@@@@@@@@@@@@@@@@@@@@@@@@@@@@@@@@@
Report of the South West BSAP Meeting on the 14th April 2012

Members and guests were entertained by the President John Crowe who had travelled over from Kent to
provide us with an excellent display of Australia and the Olympic Games. John told the story of how
the Olympic movement started and illustrated this with many covers, postmarks and stamps many of
which were very difficult to obtain.
CVM
zzzzzzzzzzzzzzzzzzzzzzzzzzzzzzzzzzzzzzzzzzzzzzzzzzzzzzzzzzzzzzzzzzzzzzzzzzzzzzzzzzzzzzzzzzzzzzzzzzzzzzzzzzz

The 2012-2013 Programme
| | | |
| --- | --- | --- |
| Saturday 10th November 2012 | Mike and Neville Carr from the Isle of Wight | "The Carr Brothers Entertain" |
| Saturday 9th February 2013 | Tom Gillespie FBSAP from Bognor Regis | "The Stamps & Postal History of Western Australia" |
| Saturday 6th April 2013 | John Crowe, BSAP President, from Sevenoaks | "From Cook to Qantas" |
Saturday 10th November 2012
Mike & Neville Carr from the Isle of Wight
"The Carr Brothers Entertain"
The first 2012-2013 meeting of the South West Branch was a very special one when two members from the Isle of Wight gave their very first displays to the society.
Mike and Neville Carr have attended most of the South West meetings since it started over 12 years ago and had decided to entertain us with a selection of their Australian interests. Neville was first up and gave a comprehensive introduction to the Recess printed issues of 1913, this included a history of the changeover from the various State issues to the Kangaroo design and then onto the King George V 1d Recess issue with all its problems regarding the time it took to produce. Neville went into the printing and the drying of the sheets which once dried had then to be gummed and dried again and were then perforated on an 11 gauge line machine. All this was carried out at the Note Printing Branch.
After tea the second half was started by one of our members David Ashby from Downton who had brought along 16 sheets of some very early New South Wales which was destined for the auction house and this was possibly the last chance we had to see this material.
Next up was Mike Carr who is doing a detailed study of the outback explorers from 1813 through to 1870. Mike discussed the research needed to progress this study and whilst this is very much work in progress it was quite fascinating to hear how Mike was proposing to develop his display.
Neville then came back to finish up the afternoon with a interesting display of the surface printed King George V Heads describing how electrotype printings were much softer and prone to wear and as the electrotype plates wore out they were replaced with steel plates made by Perkins Bacon.
This afternoon created a great deal of discussion amongst the members and it was most pleasing to see just what the BSAP is all about, not just stamps and postal history but great friendships being extended and this was to carry on into the evening when 14 members stayed on to continue chatting over supper. Mike and Neville are to be congratulated on a most interesting and entertaining afternoon.

CVM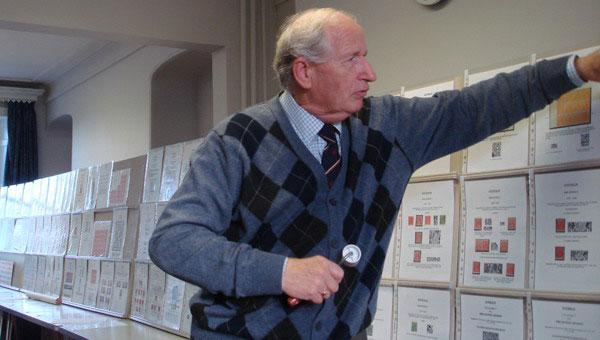 Neville Carr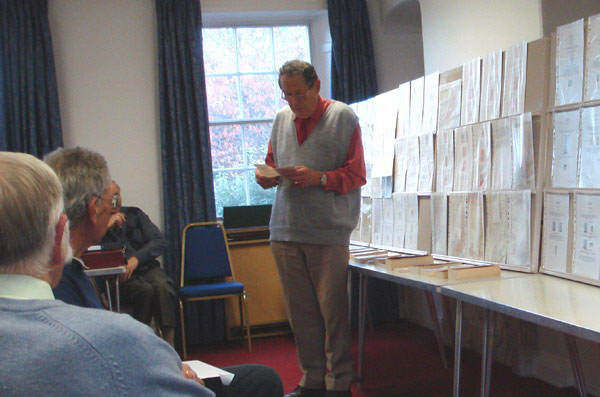 Mike Carr
***************************************************************************************************************************************
Saturday 9th February 2013
Tom Gillespie FBSAP from Bognor Regis
"The Stamps & Postal History of Western Australia"
On the the 19th February 17 members and guests gathered at the Greyfriars Community Centre at Ringwood to see a display of "The Stamps of Western Australia" given by Tom Gillespie. This area of philately is often overlooked and one could understand why when Tom started to present his display. The famous "Black Swan" was first issued in 1854 and was the forerunner of a number of issues presented in a number of various frame formats. Western Australia was the first colony to have its stamps printed abroad. The1d black swan was printed in England and as it was soon discovered that one value was not enough and there was not sufficient time to order stamps to the value of 4d and 1s from England so arrangements were made to have them produced locally.
Transfers of the swan only were sent to Perth and various frame types were created . Eventually the government lithographer was able to create lithographic stones from which the new stamps could be printed. Apart from some local rouletting and perforating, stamps were not generally available perforated until 1861. Interestingly the very first Western Australian stamps were printed on watermarked paper that depicted a swan. Tom talked at some length about the many shades of red and how very confusing they could be. Many block of both mint and used were on show together with an interesting section on early W.A. postal stationery. Tom finished up with a small section showing the stamp issued in 1954 to commemorate the Western Australian Postage Stamp Centenary.
Dr Pat Reid giving a vote of thanks stated that Tom had created a great amount of interest in these stamps and congratulated him on presenting such a difficult area.
******************************************************
Saturday 6th April 2013
John Crowe, BSAP President, from Sevenoaks
"From Cook to Qantas"
Members and guests gathered at the Greyfriars Community Centre at Ringwood in Hampshire for a welcome return vist by our President John Crowe. His presentation was entitled "From Cook to Quantas". He started by describing the achievements of Captain James Cook which was illustrated with stamps, covers and photographs. The display covered his early life, his three world voyages in 1768-71, 1772-75 and 1776-79 and his death in Hawaii in February 1799 in a fracas with the "natives", a very sad end to a remarkable man.

John then went on to display pioneer flights of the England-Australia route from 1919 to 1934. This included covers carried by Ross Smith, Alan Cobham, Bert Hinkler, Charles Kingsford Smith, Charles Scott, Jean Batten and a number of other less well-known pilots. In 1919 Ross Smith and his crew flew from Hounslow to Darwin in 28 days; in 1934 Charles Scott and Tom Campbell Black flew from Mildenhall in Suffolk to Mebourne in less than 3 days, quite remarkable progress in just 15 years.
The second half of John's display began with the development of commercial flights of the England-Australia route from the RAF's Cairo-Baghdad service in 1921 to the regular weekly service by Imperial Airways and Qantas Empire Airways in December 1934. (Qantas Empire Airways was a 50:50 company owned by Imperial Airways and Qantas). This led to the question - why did Imperial Airways choose Qantas as its partner when there were several other Australian companies that they might have chosen?
John then went on to show flight covers illustrating just what Qantas had achieved since its incorporation in 1920. By 1934 it was operating a 1,500 mile network in Queensland, with an excellent record for reliability and safety and this, no doubt was what had impressed Imperial Airways.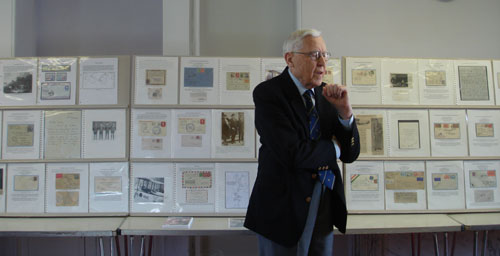 A wonderful display with much information together with a vast array of very scarce material.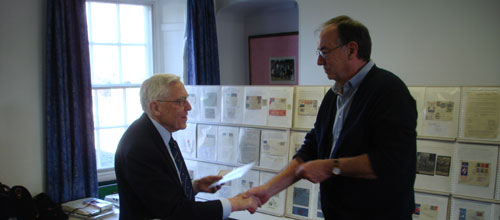 Alan Whittaker gave the vote of thanks.
**********************************************************


The 2013-2014 Programme
Saturday 9th November 2013

David Ashby from Downton




"19th Century New Zealand and Australian Postal History"

Saturday 8th February 2014

Brian Hunt from Bridport



"Australian King George V"

Saturday 12th April 2014

Colin Mount, FBSAP

FRPSL

"Our President Entertains" - The story of the early development of the King George V 1d Red
November 9th 2013
David Ashby:-
"19th Century New Zealand and Australian Postal History"

Thirteen members and one guest assembled at the Greyfriars Centre at Ringwood to witness a
superb display given by David Ashby from Downton in Wiltshire. The title of his afternoon display was "19th Century New Zealand and Australian Postal History". We had been promised a remarkable display and it certainly was. David started with a map showing the various routes taken by the Toulmins Packet Service and displayed several entires which included a first packet sailing from Australia in 1846, a Missionary letter from Raratona, Cook Islands some 3,000 miles east of Sydney together with the first 5 Toulmins routed via India to connect with P&O.

A selection of Riverina entires from 1865 to 1871 franked NSW and Victoria and an 1879 entire franked NSW and SA. Then followed a selection mail carried by Clipper during the early 1850's this included a Schomberg wreck cover. David then showed another map with routes used during the pioneer steam period, illustrated with many entires this included a letter carried on the Cleopatra which the late Trevor Davis maintained was one of only three known.

The European & Australian contract was discussed and included a quote from Colin Tabeart's book Australia, New Zealand, UK Mails Vol. 1 to 1880, quoting specifically from the chapter on this line, "The whole concept of the European and Australian contract was crazy. There was already an excellent service between Southampton and Galle, and indeed as far as Singapore. All that was needed was a service to link either port with Australian prime centres of population; P&O had already offered to do just that for £84,000 a year. Instead the contracting parties ended up with a full service between England and Australia that duplicated the P&O service for much of its length, at a cost of £185,000 instead of £85,000 and they failed to deliver a satisfactory service". The E&A's major mistake was to agree to a contract that was impossible to achieve with the technology that was then available and to penalty clauses that were too harsh. When the Admiralty sought tenders for the steamship contract at the end of the Crimean War early in 1856 only P&O and E&A considered the contract but P&O withdrew owing to the impossible timetable and the penalties that were threatened. David then showed a number of entires that had been carried on the various routes by E&A. and then went onto the inaugural sailing by Salsette by P&O (1859-75) and its monopoly of the via Suez route although the canal wasn't until 1883 and only then because of the war in Egypt.

The display continued with many rare entires and covers far too numerous to list but on giving a vote of thanks South West Chairman Colin Mount asked Colin Tabeart to sum up this remakable display and Colin said it stands as one of the finest collections of its type and it is unlikly that you will see such a collection of so many fine and rare items in one display again.
CVM
HHHHHHHHHHHHHHHHHHHHHHHHHHHHHHHHHHHHHHHHHHHHHHHHHHHHHHHHHHHHHH
Saturday 8th February 2014
Brian Hunt - "Australian King George V"

The stormy weather had a major effect on the numbers attending when only nine members and guests were at Ringwood to see the presentation given by member Brian Hunt from Bridport. Brian had travelled up from Dorset to present his display entitled "Australia - King George V".
His presentation started with the story behind the first Kangaroo & Map series. A stamp design competition held in 1911 was won by Herman Altman but his design was rejected when the new Postmaster-General, C.F. Frazer was appointed in October 1911. As a result, Australian artist Blamire Young was commissioned to produce new designs, no details of these are known and Young's exact role in the development of the Kangaroo and Map design is obscure but following the release of the proposed design in April 1912, the Postmaster stated that " the approved design was a combination of ideas, and is not the work of any one person in particular".
At this point Brian showed a commemorative miniature sheet depicting Blamire Young, he then went on to show a comprehensive display of the various Kangaroo values. He then proceeded to present the engraved 1914 1d issue of the King George V head issued in December 1913 and the 6d Kookaburra issued in August 1914 both issues being printed by T.S.Harrison at the Note Printing Branch in Melbourne. This was followed with a comprehensive display of the surface printed George V heads, all the values were shown and the various watermarks were discussed.
Brian then took a look at the other issues of the KGV reign starting with the first commemorative stamp issued by Australia, the 1927 Opening of Canberra Parliament House. The 1929 Airmail issue, the 1929 Centenary of Western Australia, 1930 Centenary of Sturt's Exploration then followed, in fact all the issues of the reign including the 1935 Silver Jubilee of King George V which was issued on the 2nd May 1935 and shows the King mounted on his black charger "Anzac" a gift from the Australian Government. King George V died on the 20th January 1936 aged 70 years.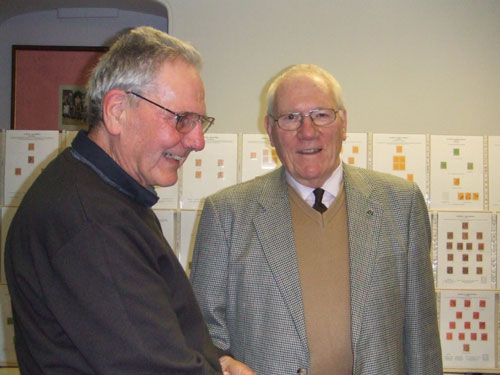 BSAP National President Colin Mount when giving the vote of thanks said that this was what our society is all about, many members have great collections and very rarely display them to the membership and he congratulated Brian on a very entertaining afternoon.
CVM
UUUUUUUUUUUUUUUUUUUUUUUUUUUUUUUUUUUUUUUUUUUUUUUUUUUUUUUUUUUUUU
Saturday 12th April 2014
Colin Mount - "Our President Entertains" - The story of the early development of the King George V 1d Red
A fine crowd of 17 members gathered at Ringwood to see Colin Mount's long-awaited President's Display, the planned previous outing having been derailed by the prospect of a Tube strike.

Colin introduced his subject, the GV 1d Red, as "The most studied stamp on the planet", and said that new flaws are still being found. He thinks he has inspected around 750,000 examples.

When he worked in Cambridge in the mid sixties, he joined the Cambridge Philatelic Society and met Derrick Ray, who persuaded him to join the BSAP, and he has not looked back since.

Looking at the early development of the stamp, the first was the 1d recess printed but this
took far too long to print the number required daily so it was decided to produce them by the letterpress method.

The consensus is that much design work was done by De la Rue, but a better price for the job was offered by Perkins Bacon. He showed a fine example of the Die Proof (ex Peter Bolton) and an example of the 'Prancing Horse' essay, followed by examples of Plate Proofs, a diagram showing the plate layout and a photo of the printing press.

Colin explained how the so-called "Die II" came about, showed us examples of CA/JBC monograms in the margin (Commonwealth of Australia/J B Cooke). Early printings were both line and comb perforated, but the comb perforated stamps were not issued until November 1914. We saw a range of perforation and watermark varieties.

During WWI, different papers were used because of supply problems, and this affected the colour. The thickness varied between 7 and 14 microns. The preferred source of paper arranged through De la Rue was Plaxtol Mill, near Sevenoaks. Photo's of the manufacturing process was shown.

In 1918, there was a trial printing on multiple watermark paper (just before Cooke was sacked for evasion of Customs Duty on machinery). Cooke was succeeded by Harrison. We saw examples of 'office repairs' to perforations to ensure that the paper was not wasted.

Colin noted that the 'CNE' flaw, although well-known, was not plated until 2005 some ninety years after it was issued.

This was followed by examples of coils, coil joins, booklet panes, 'Tin Shed' flaws, OS perfins, including doubles, NSW and T perfins and flaws from dirty plates and a fine example of a "Make Ready" attempt that had moved.

A study of the shades then followed, including a certificated copy of the Eosin dye, followed by variations arising from paper thickness together with the standard shade collection purchased from the Estate of H. J. Eldridge (ex J. Williamson).

The first part concluded with Scans of the Die III proofs, with a comment that only a small number of Die III stamps were perfinned for official purposes.


The second half followed with a comprehensive display of all the major and more popular plate varieties which included the "Rusted Clichés" and the "Substituted Clichés".

Colin then explained the complex system adopted to substitute the clichés and the reason for the rapid deteriation of the clichés following their substitution.

Several of the varieties were included used on cover and a well explained presentation of the various stages of a "Make Ready" on the "Ferns Flaw" variety.

A fine display of the various types of Postal Stationery produced using the same Die as was used to produce the stamps rounded off a most enjoyable afternoon.

Former "1d Red" collector Tony Finlayson gave the vote of thanks, congratulating Colin on a fine, informative and entertaining display, and said that Colin follows a number of very prominent collectors studying this remarkable stamp.
| | |
| --- | --- |
| | |
| Colin starting his talk | Colin under way! |
Dr Pat Reid
The 2014-2015 Programme
Saturday 1st November 2014

Malcolm Price from Hurstpierpoint


and
Ken Killeen FBSAP from Newport, IOW

"B.C.O.F. Japan from an Australian Perspective"
and
"Uncommon Australian Postal History"

Saturday 7th February 2015

Ben Palmer FRPSL from Cavendish Auction Gallery


"New South Wales Letter and Printed Matter Rates 1850-1912"
Saturday 11th April 2015

Colin Mount, FBSAP

FRPSL

"Our President Entertains"
Saturday 1st November 2014
Malcolm Price from Hurstpierpoint - "B.C.O.F. Japan from an Australian Perspective"
Malcolm Price began the afternoon meeting with his presentation on the British Colonial Occupational Forces, Japan from an Australian Perspective. The Potsdam Declaration of 26 July 1945, followed by the Japanese Surrender on 2 September 1945 set the scene for the BCOF to take control of Japan. This resulted in a varied assortment of now rare postal stationery being used, which formed the content of Malcolm's display. There was mail to and from the vessels in the harbours around the country, POW mail, mail relating to repatriation, and associated Red Cross mail. He included examples of airmails using the flying boats, as well as examples of commercial mail accepted by the Forces, and inward mail to Japan, all forming this amazing display which had taken six years to accumulate and write up.
| | |
| --- | --- |
| | |
| Malcolm explaining his display | The Hurry Hurry "Hubba Hubba" Covers |
and
Ken Killeen FBSAP from Newport, IOW
"Uncommon Australian Postal History"
Ken Killeen also put up six frames of philatelic material, the first four relating to "Uncomon Australian Postal History". Starting in Queensland, he explained how the myriad ways the receiving offices set up all over the State cancelled their mail, before it was sent to Brisbane for franking and delivery. All covers are now very scarce. Frame 2 gave examples of obliterators used in Brisbane, 1873 damaged letter marked "Received Torn, Brisbane", and told the story of one letter which travelled 1,700 miles around the state before reaching its destination, on 400 miles away. Brisbane Railway Station was the hub where the Post Office was located, and he then showed examples of a TPO with a chain letter asking recipients to send their used stamps back in order to fund a Children's Home.
The last two frames were used to display rare post office items from the Isle of Wight. This included mail dried out in Southampton after the sinking of the SS Eider and being under water for six weeks, and damaged mail from a ship blown up en-route from Portsmouth to the Isle of Wight. Mail from Osborne House including two original items written by Queen Victoria and Prince Albert were on display. Finally he showed examples of private stamps used from the rocket mail trials; and closed with other post office material such as the Licence for use of display of armorial items, keeping a dog and employing a male servant.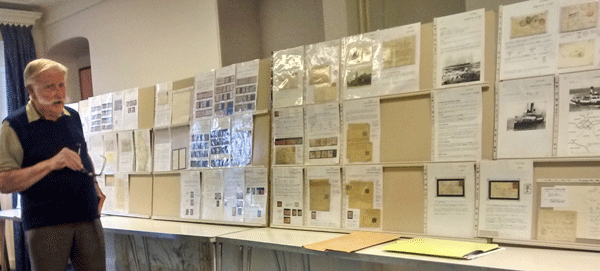 Ken with his display
| | |
| --- | --- |
| | |
| The wreck of the SS Eider | Brisbane Railway Station (Post Office) |
| | |
| The 1,700 mile route | The Printed Multi-purpose Licence, 1924 |

Chris Wheeler, 2 November 2014
*****************************************************************************************************************
Saturday 7th February 2015
Ben Palmer FRPSL from Cavendish Auction Gallery
"New South Wales Letter and Printed Matter Rates 1850-1912"
A splendid crowd of 19 members gathered at the Greyfriars Centre to see Ben Palmer's display. Introducing him, Colin Mount reminded us that he is a distinguished philatelist, being entitled to use the initials FRPSL and APR (Australian Philatelic Researcher) after his name, as well as being a Fellow of the Royal Sydney Philatelic Society and a National Judge (both in the UK and Australia). He is also a Director of Cavendish.
Ben explained that he was an Exhibitor rather than a Collector, and he sought and bought items specifically to enhance exhibits. His first Gold Medal Collection was formed by 2006. He acknowledged that his trade contacts helped him source material.
The display was entitled "NSW Letter and Printed Matter Rates 1850-1912". The NSW postal reforms of 1849 simplified the postage rates and the postal system. The Sydney Views were issued in three denominations: 1d for local (drop) letters; 2d for Inland Mail and 3d for Ship Letters. Supporting this we were shown town mails followed by mails to: Victoria Port Philip; Queensland; Moreton Bay; Tasmania; South Australia and Swan River (Western Australia).. These were followed by Riverina Combination covers (used because delivery was quicker) and Pacific mail to: New Zealand; Pacific Islands; Fiji; German New Guinea, New Caledonia; Samoa; Tonga and Hawaii. Asian Mail included items to: Netherlands Indies; the Phillipines; Hong Kong; China; Indo-China; India and Ceylon. Next, mail to the Middle East and Africa include items to: Algeria, Morocco; Niger (Old Calabar) Aden; Cape of Good Hope; Natal, Orange River Colony Mauritius and Réunion.
Finally he turned to mail to Great Britain (which comprised 95-98% of the total). Full prepayment was only required from 1853, so we saw a range of rates over different time spans. These included: part paid mail; mail via Marseilles (about 5 days quicker than the long sea route, though more expensive); a combination cover via Melbourne. Particular highlights were: a quadruple rate cover plus 6d Late Fee; an 1857 cover via Marseilles at the quarter ounce rate plus 6d Late Fee, redirected to Rome; an 1861 military cover countersigned but not sent via the Post Office, taxed 2d on delivery. During the Franco-Prussian War, Marseilles was closed (this was not known in Australia) and mail was diverted via Brindisi, but surcharged a single rate. He showed the only recorded amended Brindisi cachet.
The second part concentrated on Australia – Europe and the Rest of the World mail. Some mail from the Australian States has been left out as a (large) number of covers exist that have been forged or tampered with (caveat emptor!). The write-up indicates the rarity of items. France: examples were shown of different rates at different times and additive rates. From the 1870s each colony (state) was allowed to go their own way on postal rates. Between 1870 and 1891, when all the colonies joined the UPU, covers showing double rates; Registration; taxing and Late Fee are all scarce. Among the covers shown was the only recorded double example of the 1½d handstamp.
Additional material was shown going to: Netherlands; Thurn & Taxis; Bavaria; Prussia; Schleswig Holstein and Hanover. Many of these were treated as unpaid as the prepayment was not recognised. A cover to Austria was the earliest fully prepaid cover from NSW sent overseas. Additional destinations represented were: Switzerland; Sardinia; Italy; Roumania; Greece; Turkey; Portugal; Spain; Montenegro; Russia; Finland; Denmark and Sweden.
Moving to South and Central America and the Caribbean; we were shown mails to :Brazil, Dutch Guiana; Argentina; Chile; Uruguay; Bolivia; Ecuador; Paraguay; Peru , Colombia, Mexico and Panama. In the Caribbean, we were shown a cover to Nevis; a remarkably well-travelled cover to Haiti (the addressee had died, so the cover, having travelled out via San Francisco and New York, was returned via New York and the first voyage from Vancouver); mails to Jamaica, Guadeloupe and the Turks & Caicos Islands. Finally, North America. We saw the only recorded covers to Nova Scotia and British Columbia; also mails to Canada, the USA and New Brunswick including a combination cover from Great Britain to NSW to San Francisco.
Colin Mount gave the vote of thanks, commenting that as the material was written up for competition at the highest level, it was easy to follow and a great pleasure to see and enjoy.
Ben Palmer giving his display
(PGER 3/3/15)
*****************************************************************************************************************
Saturday 11th April 2015
Colin Mount FBSAP, FRPSL - "Our President Entertains"
Eighteen members and guests enjoyed a memorable display given by our President Colin Mount when he presented his "Our President Entertains" afternoon. It was obvious that the display would include some of his favoured Australia King George V 1d Red and the 1d Red "Buffs" were not disappointed. Colin started with Plate Proofs but then went on to show a number of the less seen varieties, which many would call "Fly Speck" varieties but do play a large part in the history of this remarkable stamp. The story of the "Rusted Cliches" and the subsequent replacement cliches were described and displayed. He explained how the two cliches were cut from the steel plate and replaced with two that are believed to have been made of copper so obviously they started to show many varieties from the first printing. Booklet panes were shown which had been made up from blocks taken from sheets. Some bisects were shown on cover and piece, these came about when a halfpenny war tax was introduced and it is thought that some of the post offices may not have had halfpenny stamps available so cut some 1d stamps in half to make up the correct payment.
The second half was a little different when Colin displayed a range of examples of King George V 1d Red Postal Stationery, this included Post Office Envelopes, Post Office Lettercards, Post Office Postal Cards, both Post Office and Stamped to Order Wrappers, Military Envelopes and Lettercards and Stamped to Order Lettersheets. He went on to change the theme with a study of the QE II Baron Studios Protrait Issue 1959 to 1962 which included complete sheets, varieties booklets and paper types. Colin then finished up with a small display of the Centenary of the Northern Territory Exploration issue the design of which was taken from a water colour painting entitled "The Overlanders" by Sir Daryl Lindsey.
Giving the vote of thanks Dr.Pat Reid said that the display had been very different from what had been expected and congratulated Colin for a very enjoyable and interesting afternoon. Then 14 of those present retired to the local Fish Inn to put the world to rights and enjoy a leisurely supper.
| | |
| --- | --- |
| | |
| Examples of Plate Proofs | Booklet Cover and Stamps |
| | | |
| --- | --- | --- |
| | | |
| Use of yellow ½d and bisected 1d red to make up 1d letter rate | Bisected 1d red on Cover | Plate Varieties |
(Colin Mount)
*****************************************************************************************************************
Saturday 7th November 2015
Alan Whittaker - "Australian Air Mails 1921 to 1939"
The opening meeting of South West Group's new year welcomed seventeen members to a remarkable display given by Alan Whittaker from Romsey in Hampshire. Alan started by explaining that from the very first official air mail service in 1921 from Geraldton to Derby in Western Australia, till the outbreak of WWII many pilots created small airlines and applied for contracts to carry mail thus giving them a guaranteed income and a regular route.

It was Norman Brearley who won the contract for the Western Australia route and he formed Western Australian Airways. It was about this time that the Australian Government realised that they had no control over the companies that were setting up so they started a Civil Aviation Department within the Defence Department. This would bring both aircraft and pilots under their control just in case there was another war. They issued the pilots with licenses, the aircraft with airworthy certificates and the engineers with licenses so that they had total control.
Alan's display showed many first flight covers which included some from survey flights made by a number of companies many of which failed either through crashes, loss of pilots, losing their contract or by being taken over by other companies wanting their routes. Alan included many interesting anecdotes like the Bristol Tourer plane which had been a a first world war bomber that flew at just 70 miles an hour fullfilling a contract to fly with mail 1100 miles and pioneer routes that included stopping at cattle stations. By 1939 many of these small companies had ceased to exist and the Government needed aircraft and pilots so many were taken in for the duration of the war.
The Chairman commented on the amount of research that Alan had undertaken and for giving us all a wonderful insight to the early development of Australian Airmails. Fourteen of us then retired to the Fish Inn for supper.

During supper we learnt that one of our overseas members Ken Killeen from the
Isle of Wight had been awarded France's highest military honour the "Legion D'Honneur" following the French president's announcement at the 70th D.Day anniversary that surviving servicemen who took part in the liberation of his country would be awarded the medal. Ken was just 19 when he became an RAF navigator flying 30 operations in Lasncaster bombers during the intense period of the D-Day landings. Many Congratulations Ken!
| | |
| --- | --- |
| | |
| Alan starting off | Alan under way |
| | |
| Spellbound audience | Studying the exhibits |
Colin Mount
@@@@@@@@@@@@@@@@@@@@@@@@@@@@@@@@@@@@@@@@@@@@@@@@@@@@@
Saturday 6th February 2016
Dr. Andrew Mortlock - "A Look at Australian States"
Despite the awful gales and rain 18 folk turned up at Ringwood to witness a quite remarkable display given by Dr Andrew Mortlock from Cheshire who entertained us with his presentation entitled "A Look at Australian States". Andrew started his presentation saying his collection comprises of some 2000 sheets of Australian States which includes stamps and postal stationery. New South Wales and Queensland are the strongest parts of the collection although the later issues of Victoria and the Tasmanian pictorials are also covered in some detail. He went on to say that the scope for building an interesting collection of the later States issues remains a huge attraction with material significantly undervalued and it is possible to acquire both large quantities of stamps and large unused multiples at very reasonable prices. Andrew went on to say, don't be misled by catalogue prices, he can remember the shock of finding a stamp catalogued at just £40 was one of less then twenty copies known.
Andrew then explained that in selecting material for the display he had identified twelve different subjects which he hoped would provide sufficient diversity for people to find at least a few items that would be of interest to them.

The first frame of the afternoon displayed the the New South Wales 2d (1862-88) a classic De La Rue design of the early 1860s, the 2d was initially printed in London but the Plate was sent to Sydney and the vast majority of stamps were printed in the Colony. A wide range of papers were used before the introduction of the Crown/NSW paper in the early 1870s. After 1880 there are numerous variations in perforation, many of which are rare. Both mint and used examples were shown of this stamp which included a block of 40 overprinted 'OS' for official mail.
This was followed with the New South Wales 'Record Reign' 2½d (1897-1912) which was famously voted to be the second ugliest stamp in the British Empire in 1905. The distinctive 2½d was a winning entry in the competition to design a set of stamps to mark Queen Victoria's 'record reign' The first plate was prepared from a boxwood die although the next two plates were prepared from a more conventional steel die. Amongst the items on display were a large block from the first printing in purple from plate 1, and stamps from the emergency printing on Victorian paper including a used pair and a block of six with unrecorded reversed watermark.
The third frame moved to Queensland with the 'Widowed Queen' Halfpenny (1897-1912). Queen Victoria's Diamond Jubilee was also the impetus to issue a commemorative stamp in Queensland and a design was prepared for a halfpenny stamp. Although this commemorative was never issued, a modified form of the design was finally issued in 1899. Items on show included die proofs of the original 1837 issue together with plate proofs of the final design which included the unique postally used pair and a full sheet of 120 showing the make-up from four separate electros of 40.

Andrew then moved onto the Queensland 'Four Figures' 1d (1897-1912). The most numerous of all Queensland stamps, the 1d in its final form was issued in 1897 and lasted to the end of 1912. Technically this is a fascinating issue with numerous perforation varieties and secondary flaws from the nine plates believed to have been used. Several major flaws were displayed with a selection of rouletted stamps including the largest recorded mint and used blocks of the rare perforated/rouletted stamps (SG 261). We then moved onto the Victoria Five Shilling Laureate (1867-1912). This issue used the Laureate head engraved by Frederick Grosse. The first two printings were made in blue on pale yellow paper with less then three thousand stamps being produced. Subsequently stamps were printed in red and blue before the stamp was replaced in 1885. In 1901 the stamps were re-issued with the colours reversed before, in its final incarnation, the word 'Postage' was added to the design.Examples of all the various colours were displayed.
This was followed with the Victoria One Penny (1901/1912) One of the most interesting of Commonwealth issues, this stamp was printed from 24 different plates, on four different types of paper and can be found with at least five different types of perforation. Add to this watermark variations, official stamps, booklet stamps, monograms, shade variations and a number of sub-types and it provides the collector with a lifetime's study. Examples of all the above were displayed together with a corner block of four with single-line gauge 11 perforation on V4 paper showing plate dots in marginal line which has not been recorded.

Andrew then went onto look at Reprints. Official reprints are known from many of the Colonies from the period after 1891 when they joined the UPU. Victoria went to the greatest lengths, producing many new plates to be able to produce UPU specimens of stamps long since withdrawn. A number of unofficial reprints were made illicitly with the aim of supplying collectors although some, such as the van Dyck reprints from New South Wales are much sought after in their own right. Examples of reprints from most of the Colonies were shown including a complete set of the New South Wales 'Reprint' stamps issued around 1891. Proof material was then presented, this type of material is both varied, and with the exception of plate proofs from Queensland and South Australia very rare. Examples of Master Die Proofs Plate Proofs and colour trials were shown together with Specimens for local Officials for New South Wales and Victorian later issues.

Next up, Andrew showed us the One Pound and Two Pound values (1880-1912) and stated that these high values have always been sought after by philatelists, partly because of the very small number of stamps issued. However, compared to the later 'kangaroo and map' stamps the high value stamps from the Australian States are much more affordable although still very rare, with many difficult to find in genuine postally used condition. Postally used £1 stamps were shown from New South Wales, Tasmania and Western Australia. The Queensland large Chalon design including a very rare example of the 1902 printing with retouch (SG271b) and a complete used sheet in 1902 to pay bulk postage. A rare postally used example of the South Australia £2 together with a number of examples of the Victoria King Edward V11 design including a rare example of the £2 postally used.
Andrew then moved on to the first issues of New South Wales and Queensland (1850-61), stating the early issues of each of the colonies have always been popular with collectors. The New South Wales Sydney views are a fascinating story of locally produced copper plates which rapidly wore requiring numerous re-engravings. By contrast the earliest Queensland stamps were printed in London and are amongst the most beautiful recess printed Perkins Bacon Stamps. Andrew then showed us a near comprehensive display of the listed shades of the 1d, 2d and 3d Sydney views including examples with partial retouches. A 2d Sydney View on paper showing the papermaker's watermark together with examples of the 2d and 3d Sydney Views on cover and examples of the 1d, 2d and 6d on Large Star paper, including the imperf 2d (RPSL certificate) and the rare perforated 1d.

We were then shown examples of the 1907 NSW Emergency printings owing to the fact that New South Wales ran out of stamp printing paper and was forced to use paper sent from Melbourne. Ten postage and five postage due stamps were printed on the Victorian paper, many in very small numbers. All ten postage stamps were shown together with all the known watermark variations, most of which are very rare together with complete sheets of the 1/2d, 1d, and 2d on Victorian paper.

Then to finish up Andrew showed some unusual usages of the Melbourne gauge 11 perforating machines which was bought in 1902 to perforate the large format Tasmanian pictorial stamps, the two single line gauge 11 machines were widely used on Victorian and Tasmanian stamps and also occur more rarely in Western Australian stamps printed in Melbourne. The use on stamps of Queensland, New South Wales and South Australia is known but extremely rare. The display also included some of the rare compound perforations from Tasmania, Victoria and Western Australia. The earliest recorded date 18/10/1902 of a Victorian 1d perf.11 stamp was shown together with a Victorian 1/- of which only 20 have been recorded.
I have no doubt missed out some of the other incredible rarities on show and know that this was one of those displays that one can feel it was a great privilege to have been present at, and this was the feeling of the entire room. Ian Greig gave the vote of thanks and congratulated Andrew on such a really remarkable display.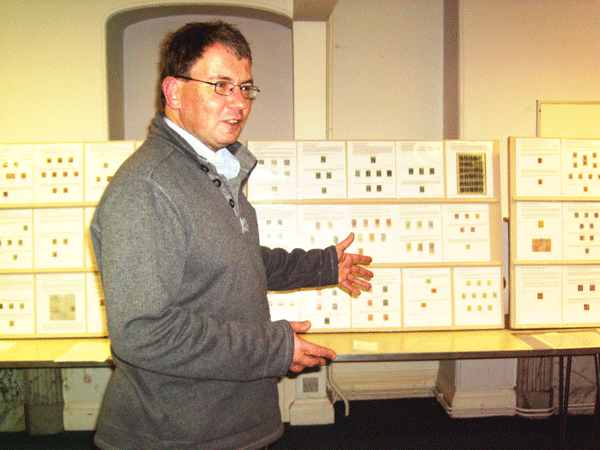 Dr Andrew Mortlock with part of his display
(Colin Mount)
HHHHHHHHHHHHHHHHHHHHHHHHHHHHHHHHHHHHHHHHHHHHHHHHHHHHHHHHHHH
Saturday 2nd April 2016
Laurence Kimpton- "Our President Entertains"
The afternoon's meeting attended by 23 members comprised two topics. The first "The England to Australia Air Route from 1918 to 1939" started by featuring the early pioneers and their aircraft, and the various developing routes and airlines that mail was flown along, influenced by political and geographical factors. The talk was illustrated with copious extraordinary examples of covers flown on these varied routes, each with its own significant interest to those who had been involved in preparing the covers in the first place, to now, their avid collectors. The aircraft "Carthusian" was featured in the early part of the talk. Three notable covers were a mourning cover in tribute to Arthur Elliott, a pilot shot whilst overflying Iraq on a 1926 Cairo to Baghdad flight, a cover bearing a stamp designed by the pilot of the plane (his portrait), and a cover from Great Britain's Prime Minister Ramsay Macdonald to J A Lyons, his Australian counterpart, with no stamp as it was freepost. The introduction of passenger services from 1935, and the following year the introduction of the C Class flying boat, led to further examples of covers carried being displayed illustrating the many routes, services and rates.
| | | |
| --- | --- | --- |
| | | |
| 1919 cover to Karachi "First Through Aerial Mail Great Britain to India" flown on the "Carthusian" | 1929 cover flown on Imperial Airways' first service, addressed to Australia | 1934 freepost cover from Ramsay Macdonald to J A Lyons carried by Imperial Airways and Qantas |
| | | |
| 1938 cover from Glasgow to Singapore carried on the "First regular accelerated service" | 1938 cover to Berlin, carried by Qantas to Singapore, then by Empire Flying Boat Service to Athens | 1931 cover from Calcutta to Rangoon, flown onpart of the experimental route operated by Qantas and Kingsford Smith's Australian National Airways |
"Australian World War II Airmails" was the theme for the second half, again superbly illustrated with mainly commercial mail examples. First flights, varying routes, different rates and special covers relating to the War were displayed. Examples of Prisoner and Red Cross concessionary mail were included. The display ended with a souvenir sheet, and the story behind it, carried on one of the route survey flights, and the rather strange postage used on the first of the war planes converted for postal usage. Regular air services from Australia to Europe via Singapore resumed in 1946.
| | | |
| --- | --- | --- |
| | | |
| Censored Prisoner of War notelope with 1/- postage, from Perth to Germany carried on the Indian Ocean Service | Reproduction of a block of four 5/- 1939 "Cuba" Survey stamps, never issued as the experimental service was never commissioned | 1945 cover from Sweden to Australia on the combined sea-air Trans-Atlantic route, part flown on the converted Boeing B17 Fortress |
(chris wheeler)
*******************************************************************************************************************************
Saturday 12th November 2016
Alan Griffiths FRPSL., FBSAP- "Queensland Postal Stationery"
Eighteen members and guests gathered at the Greyfriars Community Centre at Ringwood to be entertained by Past President Alan Griffiths, who was over from his other abode in South Africa to present "Queensland Postal Stationery 1880 - 1912. Alan started by saying that Postal Stationery in some way bridges the gap between stamp collecting and postal history which is the study of 'routes and rates' in that items of stationery are actually pre-stamped for a particular rate and in a few cases a particular route. In some cases additional postage was required for transmission outside the prescribed destinations for the cards which was quite often restricted to within the Colony. Reply cards, which are an unusual concept and were introduced in 1891 were displayed ,the original concept of a pair of unsevered cards were illustrated with the only recorded example of a proof pair. Post cards and illustrations of all issues to 1912 were shown with proofs and essays and in both used and unused condition and Alan had included examples of the post card essays of c.1910 bearing various stamp designs. The 1908 cards - the first commemorative issue post card issued simultaneously in many of the Colonies - to publicise the visit of the American 6th.Fleet to were shown used, unused and uprated.
Newspaper wrappers were comprehensively covered and included the only known example of an inverted image, being the only known copy from any of the Colonies. The range of different issues to 1910 was very impressive. Letter cards with examples of all the proofs and essays were displayed with many of the rare perforation and card varieties including some very scarce genuine uses of return cards even though they were used much later than was intended ! A range of envelopes were included including the rare commercial use of a large halfpenny envelope, the display concluded with a range of Registered envelopes which may not have had postage prepaid but apparently quite admissible because the registration fee was pre-paid and they are considered an important part of the history of Queensland's postal stationery.
South West Chairman Colin Mount congratulated Alan on a very fine display and added that Alan has nearly finished his book on this subject, which has been much neglected over the years, and the Society had agreed to support the publication which we can only look forward to with great expectations having seen this display.
(colin mount)
______________________________________________________________________________________________________________
Saturday 4th February 2017
Malcolm Price - "Australian Forces in Northern Territory during World War II"
then
Tony Finlayson - "Australian Civil Internees during World War II"
Fifteen members gathered at Ringwood to see a display by Malcolm Price entitled the "Australian Forces in Northern Territory during WWII. Malcolm started the first half by showing the postmarks associated with the Darwin Overland Maintenance Force and continued with the Post Master General's civilian operated Post Offices. With the bombing of Darwin in February 1942, the civilian authorities were moved from Darwin to Alice Springs and the whole area north of Birdum came under military control. The presentation continued with a selection of the military cancellations from points on the Stuart Highway between Alice Springs and Darwin. Examples were shown of the many styles of steel and rubber cancellations together with examples of mixed censorship, both civilian and military. Malcolm concluded with examples of RAAF cancellations, including those from the Netherlands East Indies Air Force together with the Darwin marks of the RAN.

The second half followed with Tony Finlayson showing "Australian Civil Internees during WWI. Tony started by saying that his subject had very little to do with philately as the items he was displaying did not require stamps on outgoing mail which was limited to one letter of one sheet of paper, written only on one side and one postcard each week, all had to be written in English with no more that 120 words. Needless to say these regulations were soon flouted and one's interest then turns to the various censor marks and their signatures, the various superscription's on the plain envelopes and the varieties of postal stationery. This was not a very memorable time for the Australian local government and the tide of anti-German feeling unleashed saw several Aussies dish the dirt on their neighbour's and trading rivals. Tony explained that this sort of material is very sort after, and therefore prices very much reflect this fact and so he decided to concentrate on just two camps one at Bourke which was situated in New South Wales and the other Molonglo which was just outside Canberra. Tony then went on to tell us how he had a chance link up with a lady in Australia who used to be a librarian at Bourke and was now the chief librarian at Dubbo, she was most interested when Tony told her he had covers from a Matilda Crafft, Capt. Moellermann Freudenberg, Margaret Rohrmann, Leon Lopinot and Mrs Freudenberg and she was able to provide Tony with chapter and verse. Tony then went on to explain the problems of trying to form a collection based on the story of the writer of a philatelic item. He said you can work up a story and find you can't find a philatelic item to hang the story on. This is the problem that he has had for over a year which concerns a young society lady from Western Australia who fell in love and married, against her family's wishes, a young German who owned a coffee plantation in Fiji. At the beginning of WW1 she found herself and her children under armed guard and in very primitive conditions on a banana boat bound for Bourke internment camp in the remote top left hand corner of NSW. She was very lucky not to be deported to Germany when the war ended. Tony went on to say there must be a letter or two either from or to her somewhere out there if only I can find it. In closing Tony said that the subject matter created so many frustrations, when you find a superb philatelic item with no information at all which will lead you anywhere on the writer. A most interesting subject that was put over with much humour and South West Chairman Colin Mount congratulated both speakers on giving us a most interesting and entertaining afternoon.
| | |
| --- | --- |
| | |
| Malcolm Price | Tony Finlayson |
(colin mount)
***********************************************************************************************
Saturday 8th April 2017
Colin Tabeart - "Australia and New Zealand 19th Century Overseas Mail"
Sixteen members and one guest gathered at the Greyfriars Community Centre at Ringwood to welcome Cmdr. Colin Tabeart with a display entitled "Australia and New Zealand 19th Century Overseas Mail". Colin recently awarded an RDP went on to show us a remarkable display using a power-point presentation together with several frames of some incredible material. He explained that there was no regular mail service in Australia prior to 1788, but by the 19th century routes were established to the east via Atlantic, Mediterranean and overland to North India, followed by routes south via Malaya,
Singapore and then on to Sydney, but by the 1830's a mail service had been established between Liverpool and Sydney, with onward transmission from Sydney to the Swan River, Western Australia in 1933. The first letter sent from Australia to Liverpool that is known was in 1823. A route was established to New Zealand in 1840 and in 1843 a missionary sent a letter to another missionary which was displayed in Colin's presentation.

By 1845 Steam Packet boats were in use going via the Mediterranean, then overland and onto other ships for the journey south-eastward and it was around this time that duplicate letters were beginning to be written, with one letter being carried on the first ship and the duplicate on the next, these duplicates are very hard to find but Colin displayed a pair from 1846. As the volume of mail increased, virtually all mail was shipped to either Melbourne or Sydney, and then onward transmission was by coastal packet steamers. During this time the Australian States remained as separate entities. With increasing amounts of mail there was great competition to carry letters and more effort was made to speed up the mail, with the Royal Navy having ships in European and Australian waters obtaining a contract but its other duties often interfered with its Royal Mail contract so this was withdrawn and passed onto commercial ships. With the introduction of steamships this resulted in the faster movement of mail but a great amount of coal was used so ships turned to using some sail.

By the early 1860's shipping companies were looking for faster routes and turned to the Pacific Ocean routes with overland transhipments across the Americas. The first mail carried on this route was via Panama, but problems with yellow fever led to northerly routes via San Francisco and New York.. Following the introduction of the Empire Rate, much mail went via Canada, through Vancouver and Newfoundland. Towards the end of the 19th century saw the formation of many shipping lines, and it was in 1888 that the Post Office introduced a weekly service to Australia and New Zealand. Foreign ships entered the competition for carrying mail and in 1886 French ships started to carry mail via the Mediterranean, transhipped at Suez, and south east to Singapore, Malaya and on to Australia and New Zealand. In 1901 the German Nordeutsche Lloyd Line commissioned a very large steamship which at full steam consumed some 500 tonnes of coal per day. The wonderful selection of very rare covers were displayed and included a cover with an additional 1d "Ships Bag" a and A "Sailors Rate" 1d Postcard'. With the opening of the Goldfields in Western Australia, this increased sailings between Sydney and Melbourne and South Australia and Western Australia.

Following WW1 Australian airmen returning from the war often brought their planes home with them and started using them to carry supplies and mail between Australian towns and cities which obviously speeded up mail once it had reached Australia. Imperial Airways established a route between London and Karachi, and Australian postal servioces by which mail that was collected at Sydney was flown to Freemantle, transferred to ship to Karachi and then by air to London.
Three experimental flights were made between London and Sydney in 1931 and in December of that year a regular air service was started between the UK and Australia
South West Chairman Colin Mount said that this had been a quite remarkable display and everyone agreed that the "Roll of Distinguished Philatalists" that Colin had just been invited to sign was well justified in recognition of the wonderful research that he had undertaken over the past few years..
(colin mount)
*********************************************
Saturday 11th November 2017
Steve Paice FBSAP - "Australian King George V Heads and other Interesting Items"
Twelve members and one guest were entertained at the Greyfriars Community Centre when Steve Paice FBSAP. travelled over from Ashstead in Surrey to present Australian King George V Heads and other "Interesting" items. Steve started with a selection of the KGV 1d with a comprehensive study of the "Wattle Line" (7/31) and the "Flaw under Neck" (7/37) which included the retouch to the first re-entry and second (accidental re-entry these were in green with a smattering of reds. He then moved onto the 1½d Die I varieties including substituted and transferred cliches,also a fine example of a very thin paper variety with an RPSL certificate. A number of Primary and Secondary plate flaws were displayed before moving onto a selection of the 1½d Die II varieties.
The 2d Die I was next up showing an imprint block with the "Cut 2 in the right value" variety, we then moved to the 3d Die Ia with the Mullet Typo A & B using the marker plate technique. Varieties of the 4d Cooke plates were shown with varieties including the "Weeping 4" and the "Line through Fourpence". A number of varieties of the 5d and ¼d included an offset on a block of four and three pre-printing paper creases. The first half closed with examples of shades and a double perforation.
The second half started with a few KGV covers with flaws. Steve then went on to display a whole range of postmarks with Aboriginal town names, he mentioned the help he had got from the book written by Past President the late Derek Ray on this subject. We were then shown various George VI stamps including covers showing definitive issues between 1950/52 including booklet panes.The afternoon finished up with a series of covers which included the 1919/1969 Ross Smith 50th Commemorative flight GB/Aust with a Vignette replica.
The South West Chairman Colin Mount congratulated Steve for a most varied and interesting afternoon which was presented with a great sense of humour and fun.
.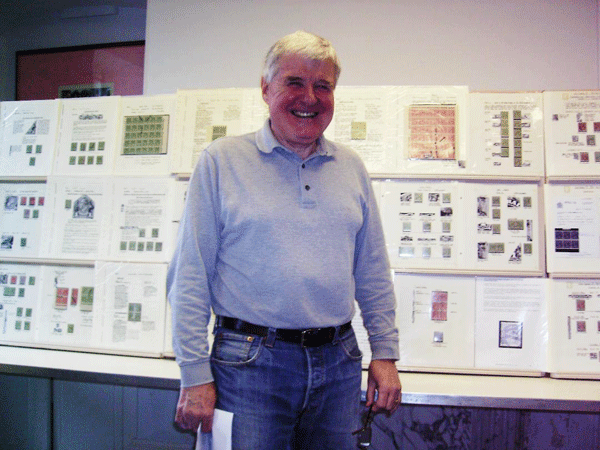 (colin mount)
______________________________________________________________________________
Below is the programme for 2017-2018
| | | |
| --- | --- | --- |
| Saturday 11th November 2017 | Steve Paice FBSAP | Australian King George V Heads and other Interesting Items |
| Saturday 10th February 2018 | Ken Killeen FBSAP | The Last Hurrah or 65 Years of Collecting |
| Saturday 7th April 2018 | Dr Andrew Mortlock FBSAP | A Further look at Aussie States |